The roar from the "Boys of Summer," will be at the Las Vegas Motor Speedway (LVMS) this coming Friday and Saturday, with a neat doubleheader taking place – the Smith's 350 for the NASCAR Camping World Truck Series, paired with a first time event for the speedway, the Global RallyCross on Saturday, Sept. 29.

Over the years, the Camping World Truck Series races have earned a reputation of producing first-time winners and thrilling green-white-checkered finishes. Last year, Ron Hornaday Jr. held off a late-race challenge by Matt Crafton to take the victory – his only win ever at LVMS. Johnny Sauter won his first-ever NASCAR Truck Series race in the 2009 Smith's 350. Todd Bodine grabbed the lead from Ted Musgrave on the final lap to win the 2005 Smith's 350.

This season is shaping up for more fireworks when the drivers get to Las Vegas. Four first-time winners have been crowned in the series' past six races. Young Ryan Blaney was a surprise winner in Newton, Iowa, three weeks ago. Ty Dillon scored his first NASCAR win in the Truck Series at Atlanta on Aug. 31, and Nelson Piquet Jr. did likewise in Michigan on Aug. 18. Joey Coulter started the run by winning his first NASCAR race on Aug. 4 at Pocono, Pa. Last week, James Buescher tightened up the race for the title, by winning at Kentucky Speedway, moving him within four points of leader, Dillon.

Just 30 points separate the top four drivers in the series as the season winds down. Leader Ty Dillon is four points ahead of Buescher, with Tim Peters trailing by 26 points, and Parker Kligerman 30 points behind the leader. All four are battling to win their first championship. In the 15 Smith's 350s held at LVMS, only two repeat winners have emerged: Jack Sprague (1996, 1998) and Mike Skinner (2006, 2008).

This year, the Truck Series race is paired with the Sylvania SilverStar zXe Las Vegas Global RallyCross Championship (GRC). GRC, as top competitor Tanner Foust describes it, is "Racing for people with attention deficit disorder. It's all of the best, most entertaining parts of racing packed together in a short track. There's jumping, sliding, door-to-door action in insanely-fast small cars and the stars of the X Games – all packed into one."

This writer compares the RallyCross to a mixture of a road rally, a little bit of off-road racing and high speed speedway racing. I'm anxious to watch the practice Friday evening, with the actual competition following the truck race Saturday evening.

Red Horse Racing has responded to an invitation to visit Nellis Air Force Base, and the Red Horse Airborne team, while here for the truck race. Drivers, Tim Peters, Todd Bodine, and Kligerman, will all be on hand for the visit on Thursday, Sept. 28, beginning at approximately 12:00 pm. Drivers, Red Horse Racing crew members and Red Horse Airborne team members will all interact and perform several demonstrations together, as well as tour some of the areas of the AFB. Should be a fun afternoon for both teams.

The Smith's 350 is slated to start at 5:30 p.m. on Saturday, with the Sylvania SilverStar zXe Global RallyCross action on the schedule at approximately 8:30 p.m. Spectator gates will open at 3 p.m. Tickets for the doubleheader may be purchased at the LVMS ticket office, online at www.LVMS.com or by calling (702) 644-4444.




TOP OF NEXT COLUMN
THIS AND THAT QUICKLY:
Warner Bros. Consumer Products (WBCP), DC Entertainment (DCE), and Nick Grace of Water Lane Productions Ltd (WLP), have announced that "Batman Live," the unique action-packed live arena show, will come to Las Vegas at the Thomas & Mack Center, Oct. 3-7, for eight performances only. This North American tour follows a popular and acclaimed arena tour throughout the United Kingdom, Europe, and Latin America. Two and a half years in the making, "Batman Live" is a visually stunning, state-of-the-art production, which brings Batman, a host of iconic characters, and the settings from the famed world of DC comics, live and on stage for the very first time in North America.
"We can't wait until Batman Live arrives this fall," said Mike Newcomb, Executive Director, Thomas & Mack Center. "To have the Thomas & Mack Center turned into Gotham City will make for a great event for everyone, from mothers to kids to comic book enthusiasts."
Tickets are on sale now and start at just $19, and can be purchased through www.UNLVtickets.com, the Thomas & Mack Center ticket office by calling 739-FANS, and at the Town Square Las Vegas concierge.
"Show Us Your Assets," and recreate the iconic Crazy Girls pose, as the longest running topless revue on the Strip celebrates its 25th Anniversary with Las Vegas' Longest Butt Lineup on Oct. 2. Arm-in-arm and hip-to-hip, women 21 years of age and older are invited to make history at the Riviera Casino & Hotel. Craig, Al and Andy, from KOMP 92.3's morning show, who will broadcast live from the event from 1 – 3 p.m., are giving away a host of fabulous prizes, including: Staycations, dining and entertainment packages. All participants will receive a commemorative t-shirt as well as access to food and drink specials and entertainment passes. Take home a titillating memento as you're placed in the historic "No Ifs, Ands or…" photo, with help from a green screen and Las Vegas Entertainment Productions. Commemorative photos are $5, and all proceeds benefit American Cancer Society as part of Breast Cancer Awareness Month. Slidin' Thru food truck will park by the famous Crazy Girls statue on Las Vegas Blvd., and the Le Bistro Lounge is offering $2 beer specials and PBR for 92 cents. Registration begins at 11 a.m. by Le Bistro Lounge, located on the Riviera casino floor, and the lineup will take shape beginning at 12:30 p.m. Interested women, over 21, can pre-register by sending their name and phone number to Butts@CrazyGirlsLV.com.
The Wildlife Habitat at the Flamingo Hotel Las Vegas is now home to two recently rehabilitated brown pelicans, rescued by the Pacific Wildlife Project. The Flamingo adopted the birds, one male and one female, which were rendered flightless following injuries sustained after being entangled by fishing lines. The pair, named "Bugsy" and "Virginia," was introduced into their new home last week, and seem to be adjusting quite nicely.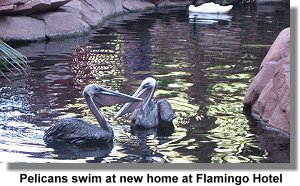 The Wildlife Habitat has undergone renovations to best accommodate the new inhabitants. The island, which was originally home to a colony of penguins, has been repainted, repaired and a dock structure was installed as a perching area for the pelicans. There are also plans for the island to be replanted with lush greenery. This free attraction is open 24 hours a day, with two presentations daily at 8:30 a.m. and 2 p.m.

Well, gang, that's about it for this week. I'm outa here!

CONTINUE ON TO...:
>It's The Norm Article Archives
>Las Vegas News - "Heard Around Town"
>Las Vegas Leisure Guide