Pole Position Raceway officials have announced that the company will open a new 47,000-square-foot facility in the Summerlin area of Las Vegas very soon. The company's fifth indoor karting venture will be located near Lake Mead Blvd. and Tenaya Way. This will be the second indoor speedway the company has opened in our little village since December 2007.
Pole Position Raceway Las Vegas is a state-of-the-art indoor motorsports experience, featuring one of the largest indoor kart racing tracks in the United States. "Everyone at the raceway appreciates how well the Las Vegas community has embraced the indoor karting experience," Kurt Busch, NASCAR champion and company shareholder, said. "To be able to expand to a second location in Las Vegas, in our current economy, is an incredible achievement."
International European star, Dyana Dafova, and her supporting artists of singers, ballet dancers and musicians, will perform a special one-night benefit show at the Golden Nugget, downtown, this Monday, Sept. 28th. Dyana's music is a combination of elements from different genres and has a unique sound. The songs from her latest album, "Charisma," are a contemporary interpretation of folklore and orthodox music and are inspired by the search of the creative person in the supernatural world. Ticket prices start at $35 plus tax and fees, with proceeds benefiting the WRRP (Wellness, Redemption & Rehabilitation program), may be purchased by calling (866) 946-5336.
Back by popular demand, Jimmie J.J. Walker will be headlining at the Comedy Stop in the world famous Congo Room at the Sahara Hotel & Casino, from Monday, Sept. 28 through Oct. 4... On stage with the beloved comedian and actor (and resident of Las Vegas) will be fellow stand up comedians Paul Lyons and Greg Vaccariello.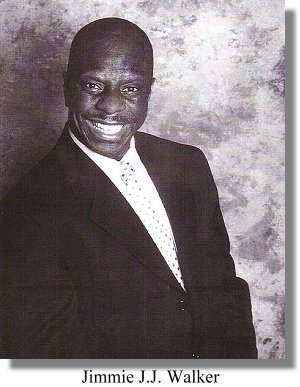 Walker is very possibly one of the most popular comedians working the comedy circuit today. Jimmie starred in Norman Lear's comedy series, "Good Times," for six years, from 1973 to 1979. "Dyn-o-mite!," was the phrase associated with J.J., and it became famous world-wide. Time magazine named him Comedian of the Decade. Walker did the comedy album, "Dyn-o-mite!" and it was a huge hit and a best seller. J.J. currently tours the country, performing 25-30 weeks a year. Vaccariello is a native of The Bronx and attended high school on Long Island. After graduating from college with a teaching degree, he decided to become an actor and enrolled in acting classes in New York. He started doing stand up in 1989.
Vaccariello has appeared on such hit TV shows as "ED," "Law and Order: SVU," "Law and Order: Criminal Intent," "The King of Queens" and "Hope and Faith." Lyons is a winner. He's been the inspirational coach for the Washington Generals, Lindsay Lohan and Ted Kaczynski. Paul is always looking on the bright side of everything: although his cat won't use the kitty litter box, Paul says, "My cat thinks outside the box." Reviewers agree: "Lyons is a deviously creative funnyman and is wonderfully wholesome, significantly different and just pure gold."
Showtime for the Comedy Stop is 9 p.m. nightly. Tickets are priced from $24.95 plus tax and fees, with a special ticket for Nevada residents (with a valid Nevada drivers license) priced at $19.95 plus tax and fees. Call (702) 737-2515 for further information.
Speaking of the Sahara Hotel, it will kick into high gear this coming Thursday (Oct. 1-4) as the official hotel and party headquarters for the 2009 Las Vegas BikeFest. There will be a weekend of jam-packed activities including concerts, fashion shows, poker and slot tournaments and much more. It will also mark the re-opening of the world famous steak room, House of Lords, which has been closed for re-modeling.
One of this writers favorite singing groups, Shades of Sinatra (of course Vocal Soup, which is at the Suncoast this weekend, and who will be singing the National Anthem tomorrow, Saturday, Sept. 26, at the Las Vegas Motor Speedway for the NASCAR Camping World Truck series race, tops the list), returns to the Suncoast Showroom Friday, Oct 2-4.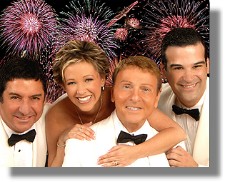 Designed as a vintage, off-the-cuff Vegas show, Shades of Sinatra (which was created by Mrs. Clint Holmes—Kelly Clinton in 2007) doesn't try to impersonate The Man, but instead blends signature Frank Sinatra favorites with some of the most beloved sounds from his era. It's a fabulous trip down Memory Lane. Tickets are available starting at $19.95 plus tax. Showtime will be 8 p.m. and call (702) 636-7075 for more information or to purchase.

Went to a fabulous birthday party for my longtime friend, Nelson Sardelli, held at his beautiful home last Sunday. Anyone who was anyone, or was at one time someone, was there partaking of fantastic Italian food, great booze and a ton of entertainment. If I started naming the great stars of yesterday, or today, that turned out to honor the birthday kid, I would be writing for the next month. Needless to say his two daughters were there and everything turned out terrific.

Well, gang, that's it for this week.
I'm outa here!



CONTINUE ON TO...:

>It's The Norm Article Archives
>Las Vegas News - "Heard Around Town"
>Las Vegas Leisure Guide<