As many of you know, I just happen to really admire a lady by the name of Deana Martin. I've written about her numerous times—especially when she's appearing in Las Vegas. You may also remember, that I first met her when her famous father, Dean Martin, would have her come to Las Vegas during the summer, when he was appearing at the Sands, and later at the original MGM (now Bally's), and then at the Riviera. Yeah, gang, we go way back. Now she has come out with something, I believe, will be a terrific gift for this coming holiday season.
As Christmas is a time of merriment, cheer, and good will towards all, it's only natural that the musical soundtrack of the season is in the talented hands, and voice, of Deana Martin. Deana swings into the season with "White Christmas," her new collection of Yuletide favorites worthy of her Rat Pack showbiz heritage. This CD is a musical Christmas card, direct from Beverly Hills!
The season sizzles right from the start on this CD, as Deana sets the tone with "I've Got My Love to Keep Me Warm." "Silver Bells" is both playful and has enough brass for eight Salvation Army Santas, and their orchestras! Some of these holiday favorites, ten in all, were previously recorded by Deana's dad and extended family members, Uncle Frank (Sinatra) and Uncle Sammy (yes, that Sam!). Deana's performances are as thrilling and timeless as the tunes collected here.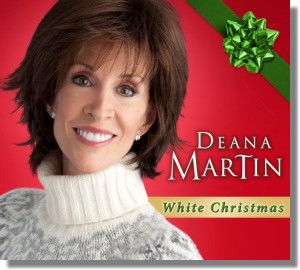 On the title track-- Irving Berlin's cherished classic, "White Christmas," Deana is joined by legendary entertainer, Andy Williams. The meeting of these two voices in the studio makes for an instant Christmas classic. "White Christmas" by Deana Martin is one of the most refreshingly creative and swinging Christmas releases in years; it's a five-star festival of holiday cheer. In the tradition of her Dad at Christmas, Deana Martin is making spirits bright! You can check it out on her Web site, www.deanamartin.com.
THIS AND THAT QUICKLY:
Last Saturday, Sept. 17, we drove over to the Tropicana Las Vegas Resort & Casino, to hopefully get a chance to meet Brad Garrett, and to renew old acquaintances with one of his buddies, Ray Romano. See, beginning in 1992, when it opened, this writer was the Public Relations Director for Bob Kephart's original Comedy Stop at the Tropicana in 1992 (that's when it opened). Geeze, we had a lot of comedians coming through those back stage doors, who have gone on to become very well known: Rosie O'Donnell and Romano were just two of the present day biggies that I can easily recall. Well, you see, Garrett was hosting his second "All-In for All-Good" Hold 'Em Poker Tournament.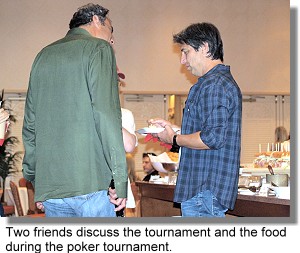 Garrett was joined by professional poker players and celebrity guests like Romano, Jason Alexander, Cheryl Hines and poker champion Annie Duke (there were a number of celebrities entered), to compete for a $5,000 grand prize. The tournament was open to the public with an entry fee of $500, which included a great buffet. Spectators were able to watch their favorite celebrities for $75. All proceeds, which I've been told hit the cash drawer at $154,000, will benefit the Maximum Hope Foundation.
Garrett is the founder of Maximum Hope Foundation at www.MaximumHopeFoundation.org, a non-profit organization that offers compassionate, practical assistance to families caring for a child with life-limiting illness. The foundation's mission is to provide struggling families with everyday essentials like housing, utilities and groceries, so they can focus on what is most important: their child. The first tournament was held in Los Angeles last year, and raised, so I've been informed, $100,000.
There were numerous professional poker players in the tournament, including local resident, Dennis Phillips (I met his girlfriend while partaking of a very nice lunch). One of the ways Brad was able to really raise extra dollars (over the original buy-in) was the re-buys (that's when you go broke at the table, and you are allowed to purchase more chips—there is a limit to the number of re-buys—until the time limit is reached). Phillips had told his lady friend that he, and many of the other professionals, were in the game for the fun of it, and as soon as the time limit was hit on the re-buys, he would be out of the game! And, that's what happened. Professional poker champion, Jamie Gold, and another local resident, realtor George Champi, battled it out until the last flop for the championship trophy and $5,000. Champi won the last hand and immediately gave it back to Garrett. Taking third place was former baseball great, Jose Canseco.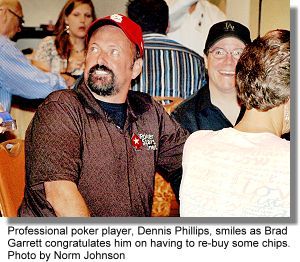 Garrett was the ultimate host, and a really neat guy. Like Romano, both comedians appear to have their life in great shape—by that I mean they are down to earth, likable, friendly guys who I'm sure haven't forgotten where they started. When asked how his Comedy Club (which is located inside the Trop, where the old Comedy Stop was) is doing, Brad answered honestly (with a smile), "We're beginning to see it turning from a real expensive hobby, to a nice hobby." I believe this is Garrett's way of paying it forward for the young comedians of today. Oh, yeah, when I asked him if he may be able to make a brief appearance at the benefit for Michaelina Bellamy Oct. 16th at the South Point Hotel/Casino, he said "If I'm in town that weekend, you can count on it, and especially since my buddy, John Katsilometes is co-hosting it!"
Well, gang, that's about it for another week. I'm outa here!


CONTINUE ON TO...:
>It's The Norm Article Archives

>Las Vegas News - "Heard Around Town"
>Las Vegas Leisure Guide<