Classic Rock worlds collide when Domenick Allen stars in VINYL - The Classic Rock Experience, for one night only, Friday, Sept. 28, 2012, at 8:00p.m., in the Shimmer Cabaret at LVH (Las Vegas Hotel & Casino).

Domenick, formerly with Foreigner, will lead 10 of Las Vegas' finest musicians to shake the walls, and rock the house, in an exciting show that re-visits and re-imagines some of Classic Rocks most popular platinum hits. You can take it from this writer, Allen literally explodes on a stage, and can play just about any instrument ever invented. One small side note on my friend--he is a collector of anything to do with his favorite entertainer, Sammy Davis Jr.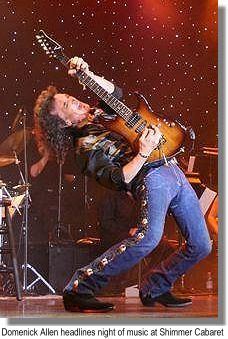 Famous for his high-energy vocals and versatility on many musical instruments, Domenick said, "We want you to hear Classic Rock that you know and love as if it's for the very first time!"
To make the evening unique, Domenick will share the stage with a very special guest, a true Rock Icon: the legendary Denny Laine, former lead singer/co-founder of the Moody Blues, and co-founder, along with Sir Paul McCartney, of Wings. For the first time on any concert stage, Domenick and Denny will combine their talents to create an unforgettable musical event. Experience the music of The Beatles, Wings, Foreigner, The Moody Blues, The Who, Jimi Hendrix, Chicago, and all the great rock bands of the past, right up to today's fabulous groups.
Stop anything you had planned for this particular evening, and take yourself, and some friends, to the LVH for a night to remember. A night you watched the very performers, the ones who actually were there when the hits were created, and helped to make them hits. You will be hearing them performed right there in front of your eyes and ears. Don't miss this amazing evening with Domenick Allen and Denny Laine in VINYL - The Classic Rock Experience," and help them celebrate what makes Classic Rock Classic!
THIS AND THAT QUICKLY:
Las Vegas entertainer, Wes Winters, and his unique 'One-Man-Lounge-Show', which is built around his acclaimed vocals, award winning piano and unique showmanship, has added Tuesday nights at the Rampart Casino in Summerlin to his weekly show line-up, beginning October 2nd , from 6-9pm in Addison's Lounge. "This addition of Tuesday night will give more people in Summerlin a chance to come out and party at the Rampart. Don't forget there is a dance floor for my dancing fans!" Winters said.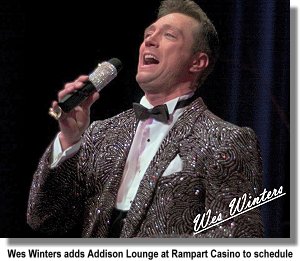 The Addison's Lounge crowd at the Rampart Casino will love Winters' musical variety. A typical evening may include Jerry Lee Lewis to Michael Buble to Floyd Cramer, Bobby Darin, Barry Manilow, Liberace, Big Band, Country and Western, Dean Martin, Broadway, Fats Domino, Disco, Rock & Roll, and Doo-Wop, with much, much more. Winters began his career performing in his hometown of Kansas City. When it came time to make a change, Wes picked Las Vegas as his destination, and made the move in February 2003. With an extensive background in musical theater, including a one-man cabaret show, it wasn't long before he was a local hit. Wes has been entertaining professionally for more than 25 years, and has fans from around the world. Winters has many recordings, including, Las Vegas Saturday Night ('09), Piano Favorites ('05), Wes Winters Live ('05), and Send Down an Angel ('01), the last with music and lyrics all being original works by Wes, that reflect events in his personal life. Other past recordings include Wes Winters Christmas, Light the Lights and Curtain Up. Winters' busy schedule includes numerous concert dates with private, corporate and convention performances, in Las Vegas and throughout the U.S., Canada, Europe and South America. Rampart Casino Resort at Summerlin is a popular destination for both locals and tourists, and is located at 221 North Rampart in Summerlin. You must be 21 years old and older. The Addison's Lounge seats 75, and features a raised stage. There is no cover charge
TOP OF NEXT COLUMN
The '80s return to Las Vegas when "LegWarmers – An '80s Musical," opens at the "V" Theater inside Miracle Mile Shops at Planet Hollywood Resort, Thursday, Sept. 27, and will run nightly at 9pm. "LegWarmers," is jam-packed with your favorite '80s hits and a storyline straight out of a John Hughes' film. The show tells the story of six friends and the night that changed their lives forever. Audience members can sit back and enjoy the show, or sing along with their favorite songs. It's part comedy, part love story, and all fun! As for the music, there is no shortage of hits! From one-hit wonders and new wave sensations to rock & roll classics, and pop masterpieces, this show features the very best of the '80s!
"If you're looking for a unique experience with songs you know and love, a story you can follow, and enough fun to last your entire time in Vegas, LegWarmers is for you," said Sirc Michaels, director and producer of the show. The musical will take the stage at V Theater, home to eight other stage productions including, "V The Ultimate Variety Show," "Evil Dead the Musical," and the world-famous, "Stripper 101" classes. "V Theater" owner, David Saxe, is proud LegWarmers is joining his stellar entertainment roster. "Audiences love interactive shows," said Saxe. "LegWarmers combines all of the best music, and styles of the '80s, with a great storyline and audience participation that's perfect for the whole family."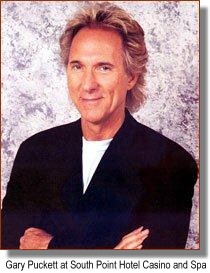 Gary Puckett and the Union Gap will be performing in the showroom at the South Point Hotel Casino and Spa, Friday through Sunday, Sept. 21-23, with show time set for 7:30 p.m. The Union Gap was one of the most successful musical groups of the '60s, and Puckett's unmistakable signature voice garnered six consecutive gold records and ten top Billboard hits. The Union Gap disbanded in the seventies. In 1974, "Young Girl" was reissued in England, where it received a silver record award for attaining a top five position on the pop charts, several years after its initial release. Tickets, ranging in price from $30 to $40, may be purchased at the South Point box office, or by calling 702-797-8055.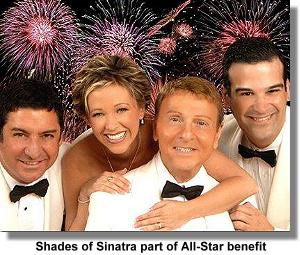 Well, gang, let me remind you of the big Lions Club benefit this Sunday, Sept. 23rd , at the South Point Hotel Casino and Spa. The Lions Club helps those who cannot afford to pay for health scans get them free of charge. The Annual "Laugh-A-Thon" benefit has 14 of the best entertainers in Las Vegas, giving of their time and talents for this great cause, ranging from Gordie Brown to Rich Little.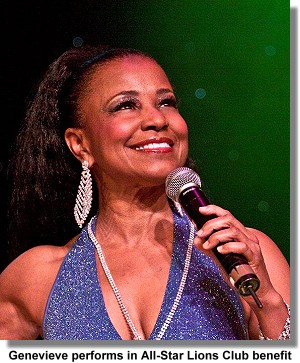 The All-Star performances will cost you $25.00, and is tax deductible. So, if you want to be well entertained, get your ticket at the South Point box office, and enjoy the show from 2:00 to 4:00 p.m., with doors opening at 1:30 p.m.

I'm outa here!

CONTINUE ON TO...:
>It's The Norm Article Archives
>Las Vegas News - "Heard Around Town"
>Las Vegas Leisure Guide