Went to the 30th Annual San Gennaro Feast opening night (Tuesday, Sept. 15) at the invitation of publicist Jackie Brett and Tony Sacca. It was mammoth this year, with a giant carnival on site, and was at a new location in a huge parking lot at West Flamingo and Grand Canyon Ave. The Feast opened at 4 p.m. daily and went until late into the night, ending Sunday, Sept. 20. This year there was also a giant Carnival on site. It had been quite a few years since this reporter attended the local San Gennaro Feast, as I honestly hated the long drive from my home on East Russell Road to the western part of our little village. But, it once again, brought back some old memories of days past.
In 1980, I was doing publicity for a number of entertainers. I got a phone call from some individual (can't remember who) asking me which of my clients would like to participate in the First Las Vegas San Gennaro Feast. Right away I asked what it was all about, and where it would be taking place. The caller filled me in on the history of these feasts (they take place all over the world) and asked could I help. I immediately got on the phone and two of my clients (and personal friends), Sonny King and Freddie Bell, said to count them in.
That was the first year. Over the years it began to grow slowly and the big name entertainers like Sergio Franchi, Nelson Sardelli, Dean Martin, Robert Goulet, Bill Acosta, Pete Barbutti, Buddy Hackett, Liberace, Debbie Reynolds, Shecky Greene, Don Rickles and hundreds more would travel to the Feast, and its outdoor stage. Individual acts from all the great revues such as Casino de Paris, Folies Bergere and Jubilee! would troop down to the Feast. Gosh, the entertainers who worked on the Feast stage were, and are legendary. And, know what? The one constant has always been the Italian Food stands.
Sacca has been associated with the local Feast since 1982, as an entertainer, host and for a number of years now, in charge of the entertainment. There was a variety of traditional Italian Folk music daily, from 4 p.m. till about 7:45 p.m. At 8 p.m., the free entertainment began with Sacca kicking it off singing a number of Italian songs. As host and emcee, Tony had the delightful job of introducing such luminaries as Dick Contino, Lena Prima, Teddy Davey, John Garofalo, Jami Edwards (as Marilyn), Drew Anthony (as Dean), Rick Faugno (from Jersey Boys), Zowie Bowie, Matt Lewis (as Elvis), Ronn Lucas, Robbie Howard (as Frank), Shades of Sinatra and a number of surprise stars from The Strip.
The San Gennaro Feast is produced by Anthony Palmisano, a fourth generation member of the Festival. The first 15 years the Feast was held on the Las Vegas Strip or right off the Strip. If you're looking for a fun evening for the whole family, there isn't a better place to be! The San Gennaro Feast returns next May.
Three veterans of stand up comedy will take over the stage of the Comedy Stop in the Congo Room at the Sahara Hotel, Monday Sept. 21, for seven consecutive nights of laughter. Producer Bob Kephart has Phil Palisoul heading up the cast, with Mitchell Walters and Jackson Perdue filling out the roster.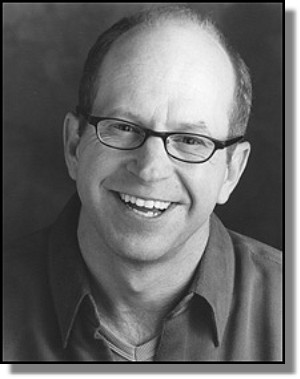 Palisoul is one funny dude, according to those who have reviewed him over the years. Palisoul has appeared on many of the top television shows including: "The Tonight Show with Jay Leno," "Comedy Central's Premium Blend," NBC's "Last Comic Standing" and "The Rosie O'Donnell Show." His amusement park routine is considered a classic as is most of his material: "Would you believe that I woke up one morning and I was bald…."
Walters' comedy has been said to be a fit for every man. From musings about relationships to family life, he keeps audience members in stitches. Walters has performed in almost every comedy club throughout Canada and the United States, and toured for three years as one of the "Outlaws of Comedy," starring the late Sam Kinison.
The youngster of the group, Jackson Perdue, grew up in San Diego, Calif., and was obsessed with baseball and dreamed of one day becoming a professional player. "The problem was I could field like Brooks Robinson, but I hit like Doris Day." Jackson's father was in the Navy when he married Kiyoko in Japan. Perdue talks about his cross cultural background in his act: "Dad would take me fishing and mom would eat the bait on the way there…"
Showtime for the Comedy Stop, inside the Congo Room is 9 p.m. nightly. Tickets are priced from $24.95 plus tax and fees, with a special ticket for Nevada residents (with a valid Nevada drivers license) priced at $19.95 plus tax and fees. For information call (702) 737-2515.
The Las Vegas Motor Speedway will play host to the Las Vegas 350 NASCAR Camping World Truck series race Saturday, Sept. 26, with 36 of the best trucks and drivers competing on its 1 ½ mile high banked super speedway.
A special treat this year will be the singing of our national anthem performed by "Vocal Soup," one of the nation's most diverse musical quartets. It will be the first time the group has performed the anthem, but each member has sung the anthem as an individual. The group is comprised of Clint Holmes, actress and entertainer Susan Anton, ex-Foreigner frontman Domenick Allen and Philippine Super Star, Martin Nievera.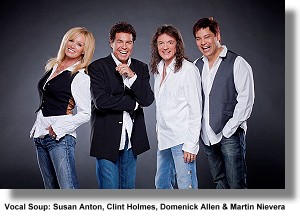 "I have never been to a NASCAR event, so this will be an incredibly exciting evening of firsts," Holmes, co-founder of the group, said. "I could only be more thrilled if I were driving."

The group will sing the anthem on National TV at approximately 6:05 p.m. Qualifying for the race will take place at 3:50 p.m. Saturday, with the green flag set to wave at 6:30 p.m.

Immediately following the anthem, "Vocal Soup" will head for the Suncoast Hotel & Casino, where they open on Friday, Sept. 25, and will be performing their special brand of music, starting at 8:00 p.m. The show runs through Sunday evening. Conductor to the Stars, Vince Falcone, will be their special guest for the three nights

Tickets for the Las Vegas 350 are still on sale. Neon Garage passes are available for just $10, with entertainment provided by David Saxe and the "V" Theater at Planet Hollywood.

That's about it for this week.
I'm outa here!






CONTINUE ON TO...:


>It's The Norm Article Archives
>Las Vegas News - "Heard Around Town"
>Las Vegas Leisure Guide<