One of the best smiles I've ever seen is owned by a young lady who works for Sprint. No, she doesn't climb the telephone poles, and she isn't stuck in an office signing up new users. However, if you are a NASCAR fan, and you watch the races on television, then you have seen that smile standing by just about every Sprint Cup race winner, as the winner climbs out of the car for a live interview. Yep, that's who I'm talking about!
Monica Palumbo has become synonymous with the Miss Sprint Cup program to many fans and industry members, with a warmth and character that endears her to everyone she meets. Before she was hired to be the face of Sprint, Monica was named Miss North Carolina in 2001, and went on to place 15th in the Miss America finals, where she was awarded the title of Miss Congeniality.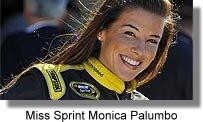 Now, after four years in the Miss Sprint Cup program, Palumbo has notified Sprint that 2011 will be her last in the role that has made her one of the most recognizable faces in NASCAR.
"For many fans, Monica Palumbo is Miss Sprint Cup," said Tim Considine, director of sports marketing for Sprint. "She's been a tremendous representative for Sprint and the NASCAR Sprint Cup Series during the past four years.There was never a time where she was too busy for the fans, always taking an extra moment to pose for a picture, sign an autograph, or just spend a few minutes talking with anyone who approached her. We sincerely hate to see her go, and we thank her for everything she's done for Sprint and the Miss Sprint Cup program. We wish her all the best and are excited to see what her future holds."
"I've been Miss Sprint Cup for four years, experienced everything under the sun, and I am forever grateful to have held on to this role for so long," said Palumbo. "It has been a dream job, but you just know when it's time to close one chapter and begin a new one, so I recently let Sprint know this will be my final season. I am looking forward to the next challenge and the next opportunity. I always knew my job as Miss Sprint Cup wouldn't last forever, but it will forever be a part of me."
Fans will have the opportunity to meet Palumbo at a number of races during the 2011 Chase for the NASCAR Sprint Cup, including the Chicagoland Speedway, New Hampshire Motor Speedway, Speedway, Charlotte Motor Speedway, Martinsville Speedway, Texas Motor Speedway and Homestead-Miami Speedway. Fans are encouraged to stop by the Sprint Experience, located in the display area at every NASCAR Sprint Cup Series event, for photos and autographs with Palumbo as she closes out her final season as Miss Sprint Cup.
We personally will miss her in 2012, when the "Boys of Thunder" arrive at the Las Vegas Motor Speedway (LVMS) for the annual NASCAR Sprint Cup race. It hasn't been announced yet, but I'm guessing one of the networks that cover NASCAR events just might be smart enough to hire her as a pit reporter, etc. I sure hope so!
Column Continues Below Advertisement
THIS AND THAT QUICKLY:
While we are on the subject of NASCAR and the LVMS, the NASCAR Camping World Trucks will be arriving at the speedway on Friday, Oct. 14, 2011, for the Saturday afternoon race. In the past, the trucks raced in the evening. However, since the Indy League will be here for a Sunday afternoon race, it made more sense to begin the 146 lap event at 12:30 p.m.
A wonderful friend of this columnist, Ms. Deana Martin, is flying in from her home in Branson, Mo., to perform the National Anthem for the nationally televised truck race on Saturday, and then staying over to perform in a special benefit being held at the South Point Hotel & Casino on Sunday, Oct. 16th. for Michaelina Bellamy, a local performer who is battling Leukemia.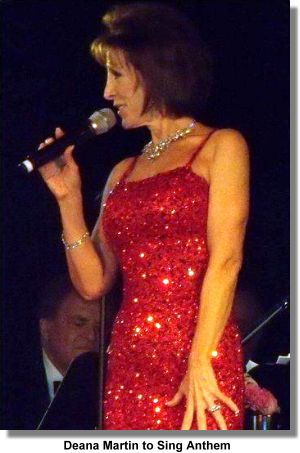 A new musical group will be making their Las Vegas debut at the South Point Hotel/Casino, this Tuesday (Sept. 20), and actor Danny Aiello personally "guarantees you'll have a ball," as you sit and listen to The Bronx Wanderers. This is a wonderful group that still believes in the great music-makers of the past, as they play their way through the street harmonies of the '50s and '60s, and go from Doo Wop to the music of Dion. Tickets are on sale now and range from $20 to $30. Call 702-797-8055 for reservations or further information.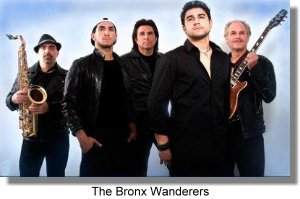 Attendance at the downtown indoor FEED Farmers Market seems to be growing. They had a big ribbon-cutting ceremony earlier this week, with Mayor Carolyn G. Goodman and Councilman Ricki Y. Barlow "smashing" some fall squash. Downtown FEED features more than 20 growers, with a selection of the regions freshest fruits, vegetables, herbs, bread and other edibles, plus live music and a neighborly atmosphere. The indoor event takes place every Thursday from 10 a.m. to 1 p.m. and is free to the public. FEED is located in the yellow building behind the El Cortez Hotel/Casino, at 7th and Ogden.

The Lake Las Vegas' Independence Day fireworks spectacular, which was canceled due to rain on July 3, has been rescheduled for this Saturday, Sept. 17 at 8:30 p.m. Lake Las Vegas welcomes friends, families and visitors to a lakeside celebration. This event is free and open to the public of all ages. It is sure to keep the whole family entertained with a performance by The Walt Blanton Quintet. An exhibition by extreme artist Jean Francois will add excitement to a night of fun activities.

Well, gang, that's about it for this week. I'm outa here!


CONTINUE ON TO...:
>It's The Norm Article Archives
>Las Vegas News - "Heard Around Town"
>Las Vegas Leisure Guide<