The last time this reporter sat and watched the "Cuchi-Cuchi" gal perform in our little village, was in 2002 at the Sahara Hotel. And, I must say, I thought that was a terrific performance. But, what I watched the other evening at the Riviera Hotel & Casino, in the old "Crazy Horse" showroom, topped all expectations!
Oh, did I forget to mention her name, as if you didn't already know who I was writing about? Charo is the name, and music is her business!
Since the early `70s, Charo, the comedian, stage and screen performer, musician and singer, has been an integral proponent of contemporary Latin music. When no one else was presenting the fire and passion of Latin music in the nightclubs of Las Vegas, Atlantic City and other showrooms across the nation, Charo was. When no one else was singing in English and Spanish (called Spanglish), Charo was. When no one else was playing classical guitar on TV talk and variety shows, Charo was.
Her show at the Riviera is one of the best this reporter has sat through in a long time. It reminded me of the great days of Las Vegas, when every marquee on the Strip (except for, perhaps, three revues) had names of famous entertainers who were performing in the showrooms: The Rat Pack, Wayne Newton, Robert Goulet, Debbie Reynolds and Johnny Carson, to name just a few who worked regularly in our village. Those were the days, my friends, those were the days!
There was no big orchestra on Charo's stage, just three very talented musicians who can play the heck out of those drums, guitars and electronic devices. Charo also has surrounded herself with six fantastic Flamenco dancers. The first half of the nearly
90-minute show is devoted to a couple of fast tempo Latin songs, with the dancers exhibiting their fantastic moves, and Charo singing as only she can.
One of the highlights for the audience is when Charo devotes about 10 to 15 minutes telling little stories, etc. in her cute broken English accent. Not only is Charo in perfect shape (small but mighty), but her delivery of funny stories is really wonderful. Her timing is impeccable. She learned comedy from watching or working with some of the best in the business. Comedians like Carson (she appeared on the "Tonight Show" more than 45 times), Milton Berle, Jackie Gleason, George Gobel, Jack Benny, George Burns, Danny Thomas, Carol Burnett and Bob Hope. If this little package of dynamite wanted to, she could easily be a stand up comedian-she's that good!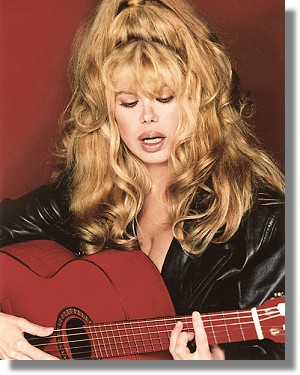 Now comes the best part of Charo. Yes, the entire show is a great display of Latin music, but when she returns to the stage in her black tuxedo suit, and explains what is going to happen next--playing the classical guitar, as she had been taught by the world-famous master, Andres Segovia. There are two large TV screens off to the side of the stage. You can watch her finger movements up close on the screens, which really tells the story of her passion for the classics. The first of five classical and one disco version of a famous song is "Picante," followed by "Malaguena," the moving "Bolero," "Luna De Fuego," quickly pursued with a disco version of "Bolero," and the closing classical number, "Serenata." As you watch her work, you will see a metamorphous occurs, as the serious side of Charo takes over her entire body! It is beautiful to see and shows the love this little gal from Murcia in southeastern Spain has for her music!
Showtimes for Charo at the Riviera Hotel & Casino is 7:30 p.m. Wednesdays through Mondays. Tickets are $62.95 and $84.95, plus tax and fees. Call (702) 794-9433 for reservations.
Promoter Phree J. Bartley has put together a tremendous package for those wanting to get away from the city, and spend a few cool hours on the waters of Lake Las Vegas. Tonight (Sept. 4), and repeating on Saturday evening, you along with your friends and family can climb aboard the elegant 80-foot luxury yacht, La Contessa at 8:15 p.m. And, for the next 2 hours enjoy delicious appetizers and hors d'oeuvres, prepared by Chef Bernard from his lake front Bistro, and dance to the music of Mike Vidal. The cash bar will serve all varieties of cooling concoctions. And, what is a bargain during these days of squeezing the dollar is the price--$25.00 all inclusive. The public is invited to participate in the after party at the dock beginning at around 10:30 p.m. Sounds like a cool evening to me! .
Producer Bob Kephart, has once again reached out to the best stand up comedians in the country, and will be presenting three of them at the Comedy Stop in the famous Congo Room at the Sahara Hotel, during the week of Sept. 7-13. Leading the pack is Jay Black, who will be joined by Al Ducharme and Bernadette Pauley. Each will give out with their humorous look at life today in America.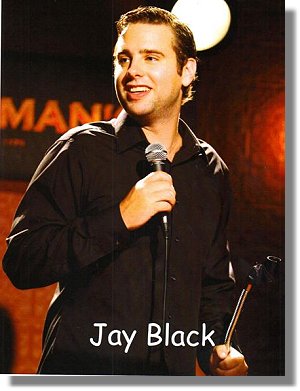 In six short years, Jay Black has gone from a high school teacher to one of America's most accomplished young headliners. Black has headlined at more than 300 colleges, as well as at the top comedy clubs in the country. Campus Activities Magazine named Jay its "Reader's Choice for 2008 College Comedian of the Year." Black starred in the award-winning movie, "Goodbye Baby," and wrote the screenplay for "College Sucks," to be released in 2010. Al Ducharme has been doing stand up comedy for more than a decade, and offers a combination of observational humor, comical characters and celebrity impressions enhanced with organic sound effects that create a unique act that packs a powerful punch. Ducharme has appeared on \B>"The Dating Game," "Liars Club" and "Mission: Organization" as a host., Comedian Bernadette "Bernie" Pauley, is the daughter of a Boston, Mass. Cab driver and Union steward-which is where a lot of her down home humor began. Pauley has been described as "blunt, honest and shocking.." by Amanda Chico of the Brooklyn Excelsior. She has been seen on Animal Planet's "A-List" and "Wild 100," Comedy Central's "Tough Crowd with Colin Quinn," and VH1 and MTV to name a few. Bernie is a contributor to Life & Style Weekly's "Style Slip Ups" section.

Showtime for the Comedy Stop, inside the Sahara Congo Room, is 9 p.m. nightly. Tickets are priced from $24.95 plus tax and fees, with a special ticket for Nevada residents (with a valid Nevada drivers license) priced at $19.95 plus tax and fees. For further information call (702) 737-2515.

Well, gang, that's about it for another week
I'm outa here!




CONTINUE ON TO...:


>It's The Norm Article Archives
>Las Vegas News - "Heard Around Town"
>Las Vegas Leisure Guide<