Multi-talented entertainer and showman, Earl Turner, returns to the Suncoast Showroom this weekend, celebrating the Labor Day holiday as only he can. Show times are 7:30 p.m., both Saturday and Sunday.
Turner began performing at the age of 13, and by age 19, was traveling the U.S. as a front man with various show bands. Trying his hand as a solo artist, Turner scored a Top 40 dance hit in Europe in the mid-1980s, "Love Caught You by Surprise."
Turner is a renowned Las Vegas performer, having appeared at numerous resorts and showrooms on and off the Las Vegas Strip. In 2004, Harrah's New Orleans transformed the Mansion Ballroom into The Earl Turner Theater, where he performed for two years.
Turner has received numerous awards, including being named "Male Vocalist of the Year" by the

Las Vegas Review-Journal. In 2005, Turner was voted as one of the "People to Watch" by New Orleans Magazine and was inducted into the New Orleans Music Hall of Fame. He works closely with a number of prominent charities, including The Special Olympics, Opportunity Village of Las Vegas and The Blood Center of Louisiana.
Tickets are available at the Suncoast from $15.95, plus tax and convenience fees. Tickets can be purchased at any Coast Casinos box office, or by calling 702.636.7075.
Column Continues Below Advertisement
For the first time, Holunape, one of Hawaii's premier music groups, will headline this year's Prince Kuhio Ho'olaule'a Festival in Henderson. The award-winning trio will perform at 12 p.m., both Saturday and Sunday, Sept.10-11, at the Henderson Events Plaza, 200 S. Water Street, in the Water Street District. Admission is free.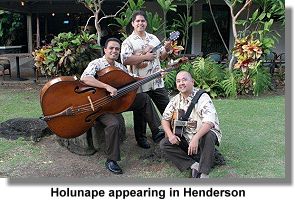 "We're proud and honored to be hosting Holunape," said Tamar Hoapili, President of the Las Vegas Hawaiian Civic Club. "This Na Hoku Hanohano Award-winning trio will be a great highlight to our annual event."
Comprised of vocalist/bassist Kekoa Kaluhiwa, vocalist/guitarist Kanai'a Nakamura and vocalist/bassist Kama Hopkins, Holunape has been a fan favorite for 10 years. Their acoustic set paints the perfect picture of island life - peaceful, relaxing and true to the aloha spirit. The ensemble's blend of timeless Hawaiian tunes from the '40s and '50s, with original compositions which highlight the contemporary sounds found in today's music, as well as beautiful harmonies and witty humor, appeals to audiences of all generations.
THIS AND THAT QUICKLY:
Hash House A Go Go has opened its fourth restaurant at the legendary and newly renovated Plaza Hotel and Casino in downtown Las Vegas. After a full hiring process, the new restaurant now has all positions filled with 83 employees. These employees have been in training to prepare for yesterdays opening, and they are more than ready to welcome guests to the new location. The restaurant seats 165 guests and is ideally located at the front entrance of the Plaza, right next to the hotel registration and lobby, making it easy for guests checking in to stop by and relax with their favorite Hash House A Go Go entrée or cocktail.
Sway Pool & Lounge at the Silverton Hotel & Casino, will get a taste of punk/rock on Saturday, Sept.3, with a performance by Reel Big Fish. This band from Southern California broke into the music scene when their single "Sell Out" hit it big in 1997, and became an MTV favorite as well as making it into the Top 100. Before they went main stream, they were an underground band that released its debut album in 1995. Reel Big Fish eventually signed with Mojo Records and released their first professionally produced album in 1996. The band went on to continue making hits and in 2001 they signed under Jive Records. After releasing some new material and making a name for itself, the group ended up covering songs by legendary bands like Poison and the Eagles.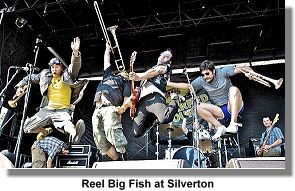 On Friday, September 9, the alternative rock band, Marcy Playground, will show off its music to the crowds at Sway Pool & Lounge. This group of Midwest boys who met in New York City got its big break when the guys signed with Capitol Records and released their debut album in 1997. The band continued to release albums, including its most recent, "Leaving Wonderland…In a Fit of Rage," in 2009. With numerous albums under their belt and having made a name for themselves, these guys are one group that is a must see. Guests under 21 years of age must be accompanied by a parent or guardian for both events.

"Nina Blackwood's Absolutely 80s" music festival at Fremont Street Experience is the place to be Labor Day weekend with a free concert by Howard Jones Saturday, Sept. 3 at 9 p.m. on the 3rd Street Stage. Throughout the weekend, visitors can also enjoy a stage extravaganza from The Nancy Rayguns; the original production show "VJ Invasion: Launch Date 8.1.81"; Las Vegas-based premier cover band, Venus Rising; the end of Blackwood's countdown of her 100 greatest songs of the '80s on Viva Vision and a chance to travel Back to the Future with a rare '80s icon, a DeLorean DMC-12. Fremont Street Experience's three stages will be active every night of Labor Day weekend.

Well, gang, that's about it for this holiday weekend. I'm outa here!



CONTINUE ON TO...:
>It's The Norm Article Archives
>Las Vegas News - "Heard Around Town"
>Las Vegas Leisure Guide<