Following a successful debut last year, popular Las Vegas entertainers Bill Fayne, Teddy Davey, and Chris Coyne, who comprise "Voices 3," will return to the Suncoast Showroom, Saturday and Sunday, Sept. 22 and 23.

Voices 3 is a unique blend of musical styles and genres, featuring three admired entertainers. Mixing everything from rock to Motown, Broadway to swing, the show spans more than 100 years of memorable music. The performers' distinct styles voices come together to fill the Showroom with a wonderfully blended, harmonious sound.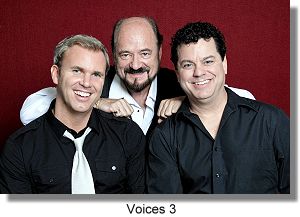 With more than 40 years in the music industry, Fayne has delighted audiences, not only as a popular entertainer, but as a music director, pianist, singer, arranger, composer, and producer, including a decade on the Las Vegas entertainment scene. In addition to Voices 3, Fayne created The Las Vegas Tenors and Voci Vegas.
Davey has been singing and acting for most of his life. Teddy was a member of The Las Vegas Tenors, as well as a solo artist on stages throughout the Las Vegas Valley. As a classically trained singer and Shakespearean actor, Davey also enjoys performing in musical theater, and singing romantic songs in a variety of languages. Over the years, he has worked as a director, teacher, writer and producer.
Coyne has traveled the world, performing in musical theater productions such as "Hair" and "Evita," and was a lead singer in "Jubilee!" and "Folies Bergere." Chris has also sung on many occasions with The Las Vegas Tenors, and shares the love of musical theater as well as film, television and classic rock performance.
Showtime each evening is 7:30 p.m. Tickets are available from $15.95, plus tax and fees. Tickets can be purchased at any Coast Casinos box office, by calling 702.636.7075, or visiting www.suncoastcasino.com.
THIS AND THAT QUICKLY:
Whoopi Goldberg, who has been delighting audiences since the age of eight, will return to Treasure Island, this Friday, Aug., 31 at 9 p.m. Goldberg began her career working in theater and creating characters that became "The Spook Show," and evolving into the hit Broadway show, Grammy® Award-winning album, and HBO special that helped launch her career. During her Broadway show, Goldberg grabbed the attention of Steven Spielberg, who cast her in "The Color Purple," her first big-screen role. Since then, she has starred in many other films, including "Ghost," "How Stella Got Her Groove Back," and "Girl, Interrupted." Goldberg has appeared in a variety of television programs, and hosted the Academy Awards®. She currently serves as moderator of "The View," and is making guest appearances in the Broadway musical "Sister Act," a show she also produces. Goldberg recently guest starred in multiple episodes of the hit television show "Glee." In 2002, Goldberg became part of a very elite group of artists who have won a Grammy® ("Whoopi Goldberg"), an Academy Award® ("Ghost"), a Golden Globe® ("The Color Purple" and "Ghost"), an Emmy® (as host of AMC's "Beyond Tara: The Extraordinary Life of Hattie McDaniel") and a Tony (as producer of "Thoroughly Modern Millie"). Tickets are available starting at $79, plus tax and handling fees, and can be purchased by calling the box office at 800-392-1999 or 702-894-7722. Purchases can also be made on-line at www.treasureisland.com.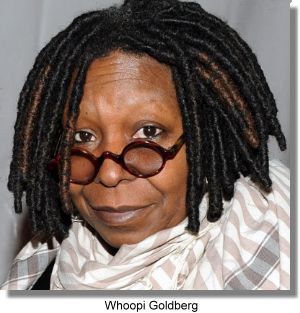 TOP OF NEXT COLUMN
Three Square Food Bank will host its annual benefit event, DISH Las Vegas, presented by IGT, and Smith's Food & Drug Stores, and will feature a variety of delicious tasting stations by top Las Vegas restaurants, an array of refreshing cocktails, and an intimate concert by local favorites, Zowie Bowie. The event will take place at the Palms Casino Resort, utilizing its pool and bungalows, on Thursday, September 20, from 6:30 to 9:30 p.m. Proceeds will help provide nutritious food to Southern Nevada children, seniors and families struggling with hunger. Attendees will experience an exciting and unique culinary event, providing an opportunity to taste delicious food from more than 20 of Las Vegas' best restaurants, including Bagatelle Las Vegas, NOVE Italiano, Top of the World Restaurant, LAVO Italian Restaurant & Nightclub, and Bar+Bistro @ The Arts Factory, among others. Attendees can also mingle with Las Vegas' top chefs and bid on high-end silent auction items. Zowie Bowie brings a unique blend of today's hottest dance, hip-hop, top 40 and classic Las Vegas music to audiences. The musical talent of Chris Phillips, Marley Taylor, and a high-energy band creates a sound that has become a Las Vegas mainstay. Tickets are all-inclusive (apart from auction items) and are priced at $100 per person for advanced tickets, and $150 per person when purchased at the door. For further information and to purchase tickets, visit www.threesquare.org or call 702.644.FOOD (3663). Guests must be 21 and older to attend.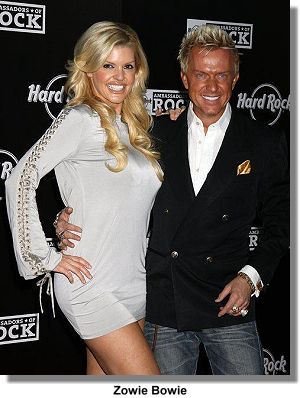 The next event at the Bullring at Las Vegas Motor Speedway is this weekend, a Labor Day doubleheader featuring a total of 11 classes over two days. On Saturday, Sept. 1, the NASCAR Whelen All-American Series (Super Late Models, Super Stocks, and Bombers) continues, joined by the USAC Ignite Midget Series, Hoosier Tire Late Model Series, SB2 Late Model Series, American Band Legend Cars, and Silver Star Plumbing Bandoleros. Sunday, Sept. 2, the 3/8-mile asphalt oval will feature the USAC Ignite Midget Series (twin features), ASA Truck Series, Hoosier Tire Late Models, American Band Legend Cars and Silver Star Plumbing Bandoleros.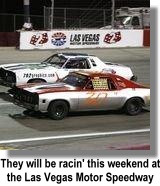 Sunday's show also marks the return of the incredibly-popular "waterless boat races." The race – Bombers dragging boats behind them around the oval – was quite the spectacle, when it made its initial appearance at the July 3, "Night of Fire," which left the audience cheering for more. Spectator gates will open at 5 p.m. each day. The Bullring's concession stand offers a family-friendly dollar menu, including $1 hot dogs and $1 Coca-Cola products. General admission parking always is free. Fans may save money by purchasing tickets in advance. Adult admission tickets, which may be obtained at the LVMS ticket office, are $10 in advance or $12 on race day. Senior citizen and military personnel tickets are $8 in advance and $10 on the day of the show. Children's admission tickets are $6 for ages 6-14. Kids 5 and under are free. A USLCI points race and Bullring practice will take place Friday evening.

Well, gang, that's about it for this week. Have a safe and sane Labor Day weekend. I'm outa here!

CONTINUE ON TO...:
>It's The Norm Article Archives
>Las Vegas News - "Heard Around Town"
>Las Vegas Leisure Guide