Jack Jones will be appearing this weekend at the South Point Hotel & Casino, opening Saturday, Aug. 27-28, with a 7:30 p.m. show time. Jones is one of those rare entertainers who just seems to grow better with age—like a fine wine! His renditions of songs from the American songbook are considered, by many, as classics.
Jones was practically "born in a trunk." He is an award-winning singer born to the late talented singer/movie star Allan Jones and actress Irene Hervey. Jack's early training with an operatic vocal coach has led him into an entirely new career track. Until now, anyone who knew Jones associated him with records, the concert stage and nightclubs. An extended 3-month run as Sky Masterson in Guys and Dolls at the Desert Inn in the spring of 1995, and his recent portrayal of Emil de Beque in the Theatre League production of South Pacific, has changed that perception. Jack is now viewed as a foremost interpreter of musical theatre, besides being one of the world's most highly regarded solo concert artists.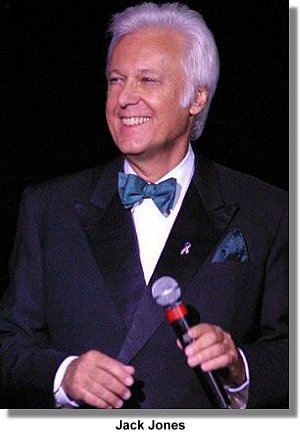 What Jones finds particularly gratifying is that he continues to have a robust career on records, the concert stage and television. His recent album, on the Sony/Legacy label, is simply titled "Jack Jones: The Gershwin Album." Jack's most current album, on the Honest Entertainment label, is "Jack Jones: Live at the Palladium." He appeared on the PBS special "The World's Best Love Songs" with the Skitch Henderson Orchestra, and he also starred in the Carnegie Hall tributes to the music of Frank Sinatra and the music of Ella Fitzgerald. Sinatra was quoted as saying that, "Jack is one of the major singers of our time."
Since making his professional debut at the age of 19 at the Thunderbird Hotel and Casino, Jack has gone on to win several highly coveted awards. Among them are two Grammys for "Best Male Vocal Performance," the first for "Lollipops and Roses," and his second for "Wives and Lovers." He was additionally nominated for "Best Male Vocal Performance" for "Impossible Dream," and his recording of "Wives and Lovers" was nominated for the "Record of the Year" award.
For more information call 702-797-8055. Ticket prices for Jack Jones at the South Point start at $30 plus tax and fees.
Column Continues Below Advertisement
THIS AND THAT QUICKLY:
"Nina Blackwood's Absolutely 80s" music festival at the Fremont Street Experience is the place to be Labor Day weekend, with a free concert by Howard Jones Saturday, Sept. 3 at 9 p.m. on the 3rd Street Stage. Throughout the weekend everyone can also enjoy a stage extravaganza ranging from The Nancy Rayguns; the original production show "VJ Invasion: Launch Date 8.1.81"; Las Vegas-based premier cover band Venus Rising; the end of Blackwood's countdown of her 100 greatest songs of the 80s on Viva Vision, and a chance to travel Back to the Future with a rare 80s icon, a DeLorean DMC-12.  Fremont Street Experience's three stages will be active every night of Labor Day weekend.
The presentation of the annual 2011 NAACP Theatre Awards, on August 29 at the Directors Guild in Hollywood, will be preceded by a "festival weekend" of panels and performances at Los Angeles Theatre Center in downtown LA. This particular awards event is very important to a legendary Las Vegas resident, in that his daughter, Giovanna Sardelli, has been nominated for one of the prestigious trophies: Best Director--Equity. Of course Nelson Sardelli will be there to cheer his daughter on. The festivities begin Friday, August 26th with a reception and a performance of Just Once in a Lifetime, starring Obba Babatunde as Sammy Davis Jr. Panel discussions and performance of 10-minute plays will dominate the Saturday and Sunday itineraries. On Monday, August 29, the action moves northwest to daytime and evening awards ceremonies. Awards for directors, choreographers and designers will be announced in an event that starts at noon. The other awards will be distributed in a 7p.m. ceremony, after a reception that starts at 5 p.m.. Best Director – Equity In The Heights – Thomas Kail, The Whipping Man – Giovanna Sardelli, Take Me Out – Michael Matthews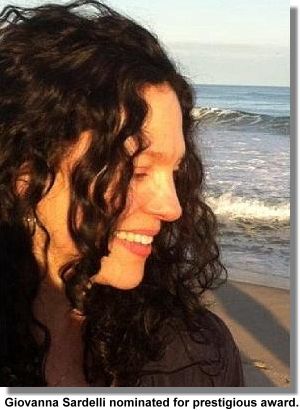 Actor and comedian Paul Rodriguez, along with special guest, Murray Langston, "The Unknown Comic," will be bringing his quick wit and hilarious standup style to the Riviera Hotel & Casino's Starlite Theatre, performing Wednesday-Sunday, August 31-September 11.

Revered as one of the first Latin Kings of Comedy, Rodriguez has spent more than 40 years making audiences laugh all over the world in English and Spanish. His first big break came while doing comedy warm-ups for Norman Lear's show, "Gloria," and has had a successful career since then with starring roles, and featured appearances, in more than 40 films and countless television shows and comedy specials.

The Suncoast Hotel & Casino will present, "BILL FAYNE AND FRIENDS….A SONDHEIM CELEBRATION!" on Saturday and Sunday, October 8 & 9, with show times set for 7:30 p.m. Fayne will celebrate the music and lyrics of musical theater's genius and treasure, STEPHEN SONDHEIM. The show will feature many of Bill's friends, and a great orchestra. The musical presentation will feature highlights from shows like Follies, Company, West Side Story, Sweeney Todd, A Little Night Music, Into the Woods, and Gypsy. Bill promises that this will be a show not to be forgotten. Sondheim turned 80 years old last year and had tributes in New York and in London. This is a slightly delayed Las Vegas version of those Birthday celebrations.

Well, gang, that's it for another week. I'm outa here!

CONTINUE ON TO...:
>It's The Norm Article Archives
>Las Vegas News - "Heard Around Town"
>Las Vegas Leisure Guide<