The lineup for the first Newport Pacific Records "Jazz at the Highlands" has been finalized for the two nights of great entertainment at the DrangonRidge Country Club Saturday and Sunday, Aug. 27-28. This first of its kind concert will benefit two wonderful charities: Cancer and the Philharmonic Orchestra.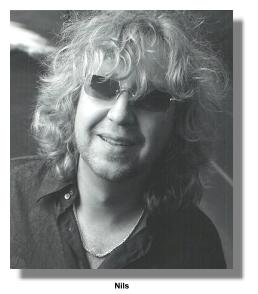 Topping the list of entertainers is the Number One Jazz guitarist Nils, who has added the chart topping "Pacific Coast Highway" album to his recent credits. Devoted Spirits, comprised of former members of the original Earth, Wind & Fire Larry Dunn, Morris Pleasure and Sheldon Reynolds, will perform a tribute to the famous group. Susan Anton, who has sung in just about every venue in the world, will be on hand as will Rick Latham and the Groove Doctors.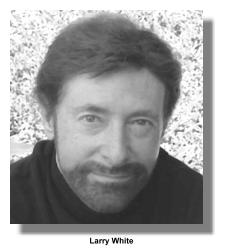 Other entertainers appearing on the two outdoor concert stages during the evening performances include the Larry White Jazz Band, guitarist Doug MacDonald, national recording star David Van Such, Len Levine and his swing band Jump, Jive & Wail, John Nasshan's jazz band Quintessence, Rick Arroyo and the Latin Percussion Ensemble, singer / songwriter Shelley Fisher, songstress Shelly Taylor, Motown natives The Brothers Ali, piano twins Mark & Clark and local 11-year old singing sensation Malia Civetz plus a possible surprise guest artist or two.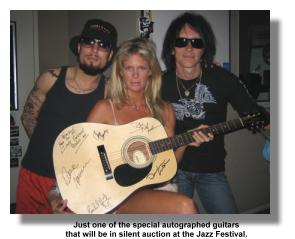 There will also be guest appearances by radio personalities from both The Oasis and KUNV. Sharon Osbourne will be on hand with a friend or two. One hundred percent of ticket sales on Saturday and Sunday will go directly to the Sharon Osbourne Colon Cancer Program at the Cedars-Sinai Medical Center and the Las Vegas Philharmonic Orchestra respectively. Showtimes are at 5:00 to 6:30 pm. at Stage One, with Stage Two set to begin at 7:00 pm.
There is also a fine arts display in a special area of the club property under the direction of famed gallery manager Jack Corbin. Tickets may be obtained via the festival website: (website closed). There will be a silent auction where specially autographed guitars are up for grabs along with fabulous jewelry and many other donated items worth thousands. There will also be a food court ranging from Barbecued ribs to fine dining.
Went to the Hilton Hotel the other evening to once again visit with an old friend - Wayne Newton. There is no taking away from this talented guy, who began his Las Vegas career downtown at the old Fremont Hotel. That's when I first saw his talent on display along with his older brother Jerry. Over the years I've watched him grow both in talent, and of course as a man. This time I watched a man who is the consummate entertainer do what he does best - give 100 percent of his talent towards his people, the audience who loves him and whom he loves. Wayne is on top of his game with the fabulous Don Vincent Orchestra comprised of 20 pieces including strings (Wayne always makes sure he has the best musicians available) and of course three wonderful backup singers Jeff Brandt (he's been with Wayne for up-teen years) gospel singer Francis Lee and newcomer Patricia Welch (a personal friend). One thing about Wayne, he likes to feature various members from the orchestra. Each of the backup singers is featured in their own slot as are members of the band. Guitarist Scotty Alexander is one of those featured band members who joins the leader out front. And of course the banter between Wayne and Vincent (who has been with Wayne I would venture to guess at least 20 plus years) is obviously meant to be funny and it works.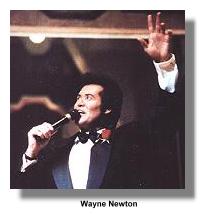 I'll say this one more time (whenever I get the opportunity to see Wayne Newton I repeat myself) you will not find another entertainer who puts so much energy into a show. In the old days you could expect him to go on-and-on for as long as 2 1/2 to 3 hours. Of course this is impossible today what with the corporations running things - but he's still able to bend the rules and give out little extra time to his fans, who expect nothing but the best from their man, the "Midnight Idol."
Unfortunately for me that particular evening, Wayne was busy with some special guests and I was unable to say hello personally. But, hey, he's a busy man these days what with the USO duties he inherited from Bob Hope. In my estimation it was the best choice ever made by the group of people dedicated to entertaining our troops all over the world. You go Wayne. You're still the best!
THIS AND THAT QUICKLY: My good friend Ted Quillin was part of the class of 2005 to be inducted into the Nevada Broadcasters Hall of Fame the other evening. More than 400 were in the audience and gave him a standing ovation upon accepting the award for 60 years of broadcasting excellence. Congrats good buddy... The great granddaughter of Ida and Isidor Straus (they went down with the Titanic on April 15, 1912) appeared at the Tropicana's to discuss and see the display "Titanic: The Artifact Exhibition." Anne Musgrave told stories never before revealed during her short visit. The display is open to the public from 10 am to 10 pm daily with a moderate admission price... Engelbert Humperdinck has returned to The Orleans Showroom through Sunday with an 8 pm. showtime. Tickets range from $49 plus tax... The Bellamy Brothers open tonight (Friday) with a 7:30 pm. show in the Suncoast Showroom...
Well, gang, that's about it for another week.
I'm outa here!

CONTINUE ON TO...:
>It's The Norm Article Archives
>Las Vegas News - "Heard Around Town"
>Las Vegas Leisure Guide