They call him the "Man in Black." The magical artistry of "Esteban," and his guitar, will make its debut at The Smith Center, Thursday, Sept. 13, and Sunday, Sept. 16, 2012. A Las Vegas resident, "Esteban," will perform along with his daughter, violinist Teresa Joy, and his band of outstanding musicians, in the Jazz Cabaret Room, with show times set for 7 p.m.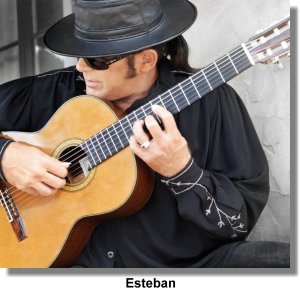 Stephen Paul, was given his special name by the legendary classical guitarist, Andres Segovia, who called him, "Esteban," during his years of study with the master in Spain (1974-1978), and in the United States. Born in Pittsburgh, Pennsylvania, the son of a steel mill worker, Esteban saw his first guitar in a shop window when he was 8-years-old. His uncle bought it for him and Esteban says, "It never left my hands."
From that moment on, Esteban focused on the guitar, teaching himself to play and practicing every spare moment. He wanted to study with legendary classical guitarist Andres Segovia, but being self-taught, it seemed impossible. He gave up on that quest for a while, attended college, and graduated from Carnegie Mellon University in 1972. Even after his graduation, Esteban's quest of studying with Segovia remained, and he began leaving hundreds of messages for Segovia, while the Master was on his world tours, saying, "My life is meaningless unless I can study with you."
After a relentless pursuit in Los Angeles, Segovia finally permitted Esteban to play for him in 1974. When Segovia heard Esteban play, he invited him to Santiago de Compostela, in northern Spain, for master classes. After these classes, Segovia invited Esteban to Madrid to study privately with the maestro in Segovia's famous 4th floor studio. For four years, Esteban studied with the master in Spain and in the U.S. In 1978, Segovia gave Esteban his endorsement. Esteban returned to the U.S. and began touring.
One year later, Esteban was in an automobile accident, hit by a speeding drunk driver. Because of severe damage to his left arm and hand, he lost his ability to play the guitar for 10 years. By 1990, through dedication and love of music, he began to again play the guitar he so loved. Since then, Esteban has topped the Billboard charts many times with his numerous albums, videos and DVDs, and has had first-time music history successes never before accomplished by any guitarist. He has been on the front page of the Wall Street Journal for his famous appearances and record-setting album sales on Home Shopping Network.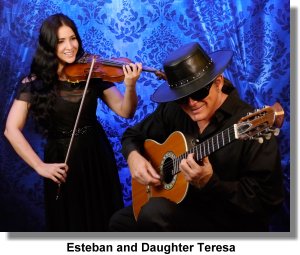 Esteban's concerts are memorable moments of the heart, and whether he performs solo or with his band, the reviews are sensational and the expressions of the inner soul run deep, for the glory of all. Tickets are on sale at The Smith Center box office and are priced at $35, $45 and $59. Call 702-749-2000 for further information.
TOP OF NEXT COLUMN
THIS AND THAT QUICKLY:
Dangerous Curves, one of Las Vegas' most critically acclaimed female trios, and a personal favorite of this writer, is producing their very first Christmas CD, and have launched a "Fan-based" campaign on IndieGogo.com to help raise the funds to actually get it finished, packaged, and ready for sale!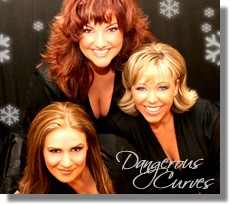 Named one of the Best Female Cabaret Artists appearing in Los Angeles, in 2011 by Don Grigware of BroadwayWorld.com, Lisa Smith (soprano), Margaret Menzies (mezzo) and Karen Michaels (alto) are well-known for their spectacular blend of powerhouse vocals and delicious harmonies, and have already performed in many of Las Vegas' most renowned hotels, including The Flamingo, The Four Seasons, The Orleans, and Treasure Island. The group's popularity is predicated on their ability to navigate through the timeless music of yesterday, and an eclectic mix of Broadway, jazz, contemporary pop, cabaret, and even country. In short, they reinvent or "curvify" everything they sing with their incredible arrangements. Their first CD, "Girl Talk," was released in 2009 to rave reviews, and this latest recording project should be no exception.
To find out how YOU can help these talented gals reach their goal (and receive special "perks" like: advanced/signed copies of the CD; entrance to an invitation-only VIP champagne reception, with exclusive performance and CD Release Party; show tickets; limited-edition Dangerous Curves merchandise; associate or executive producer credit on the CD; and much, much more....), go to www.IndieGogo.com/ DangerousCurvesLasVegas and watch their fun video! Then, tell all your friends. What's $5.00 today, gang?
Legendary comedian and impersonator, Rich Little, has announced, "Jimmy Stewart & Friends," has once again been extended at LVH - Las Vegas Hotel & Casino. Due to the overwhelming response, the hilarious one-man show will continue its run at the Shimmer Cabaret through October 3, 2012. "I'm thrilled to once again extend `Jimmy Stewart & Friends' at LVH - Las Vegas Hotel & Casino," Rich Little said. "The show continues to evolve and we couldn't be happier with the audience reactions we've received on a nightly basis." Featuring more than 30 celebrity icon voices, including Cary Grant, George Burns, Ronald Reagan, Katharine Hepburn and John Wayne, among others, "Jimmy Stewart & Friends" will take you on an adventure through the life of the famed Jimmy Stewart.
The Formula DRIFT Series (www.formulad.com), and the world's best drivers, will return to The Strip at Las Vegas Motor Speedway, Aug. 24-25, for the sixth (and next-to-last) round of the 2012 season. New for 2012 is the Thrill Zone VIP reserved-seat grandstand. Thrill Zone amenities include reserved seating, a cash bar, concession stand and private rest rooms. The $50 Thrill Zone VIP ticket is good for both days: Friday qualifying and Saturday eliminations. Now in its ninth season, Formula DRIFT is recognized as the North American professional drifting championship, and provides a forum for professional drifters to compete in seven events nationwide for the coveted championship crown.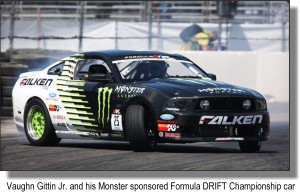 Vaughn Gittin Jr., is leading the charge to Las Vegas, and is hoping to continue his drifting streak. Gittin, the series' 2010 champion, won the most recent Formula DRIFT events in Belmar, N.J., and Monroe, Wash., and is at the top of the point standings. Gittin, 31, is a native of Maryland and drives a Ford Mustang sponsored by Monster Energy and Falken Tires. Qualifying is set for Friday, Aug. 24, with eliminations on Saturday, Aug. 25. General admission tickets are good for both days. The event also will include a car show, manufacturers' midway and DJs. Fans may save money by purchasing tickets in advance at the LVMS ticket office, online at www.LVMS.com, or by calling (702) 644-4444. Parking is free.

Well, gang, that's about it for this week. I'm outa here!

CONTINUE ON TO...:
>It's The Norm Article Archives
>Las Vegas News - "Heard Around Town"
>Las Vegas Leisure Guide