As promised last week, this reporter traveled out to Lake Las Vegas in Henderson to catch the singing and piano artistry of Loretta St. John at Bernard's Bistro. The Bistro is located right down on the water front (you get there by parking at the Monte Lago Casino, and then walking down the cobblestone path towards the lake). It is a quaint restaurant with indoor and outdoor seating and clean, white linen table coverings. We were greeted by Chef Bernard (I believe he makes it a point to greet all his guests during the evening), and we opted to sit at the cozy little bar and await the star of the evening.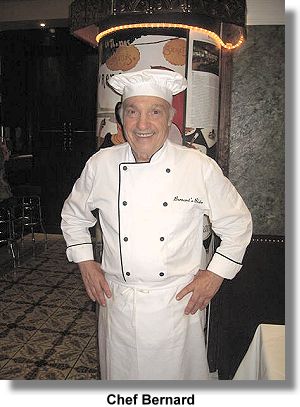 At exactly 8 p.m., as promised by promoter, Phree Bartley, a young lady in red sat down at the piano, located in the far corner of the room. Honest, gang, it sorta reminded me of the nightclub in the 1942 movie "Casablanca," starring, Humphrey Bogart and Ingrid Bergman. St. John's first song was appropriately, "As Time Goes By." That set the tone for the entire evening. Ms. St. John is definitely a pro and knows all the great classics. The one thing I feel is missing is a good sound system, as it was hard to hear the vocals from where we were sitting. I have been told that by this week, that should be no further problem.
Classical pianist Rosita Kanes, who has played for Kings, Queens and Presidents, will be this week's guest entertainer. Following Ms. St. John's three hours, Ms. Kanes gave us an example of what to expect this coming Wednesday and Thursday. And if what we heard as a sample is any indication, then wow, everyone should be wonderfully entertained by this beautiful musician. Entertainment gets started at 8 p.m and goes until 11 p.m. I guarantee you a wonderful experience at Bernard's Bistro, 15 Via Bel Canto.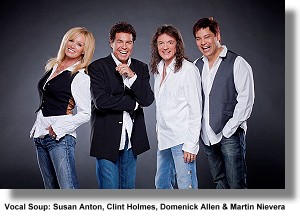 You are reading this item first right here: Vocal Soup, comprised of Clint Holmes, Susan Anton, Domenick Allen and Martin Nievera, will be back at the Suncoast in September. However, the big news (for me at least) is that the group (minus Nievera who will be in concert in the Philippines) will be singing the National Anthem for the Las Vegas 350, part of the NASCAR Camping World Truck Series, at the Las Vegas Motor Speedway. The race will be nationally televised and gets underway around 6:15 p.m. Saturday, Sept. 26. Tickets are very reasonably priced, beginning at $24.95 general admission and reserved seating is going for $39.95. Tickets for the NASCAR Sprint Cup Series Race in March, 2010, are now on sale at special discount pricing. Call (702) 644-4444 for further information on all the events.

Bob Kephart's Comedy Stop, in the Congo Room at the Sahara Hotel, continues its policy of offering the best in comedy, by booking three headliners week-after-week. Brian Scott McFadden, Chris Coccia and Mariette "Peaches" Rodriguez, will be at the Comedy Stop Aug. 24-30.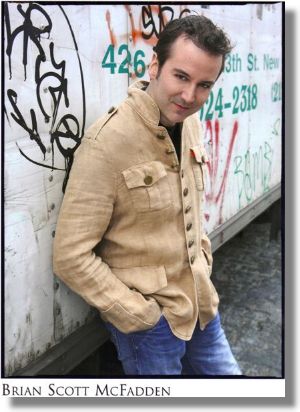 McFadden is one of the hottest stand up comics working today. In addition to being a classically trained actor, Brian has been a regular on the New York comedy club circuit and has recently taken his act to a whole new level. A well established voice over actor with a vast range of accents and character voices in his repertoire. Brian's credits include such films as "Ice Age," starring Ray Romano, and "Robots" with Robin Williams. He is also the voice of "The #1 Sheep" in the award winning Serta Mattress commercials.

Chris Coccia's act is a perfect combination of hilarious material and the ability to present it "in the moment," flowing seamlessly between material and improvised interaction with the audience. Coccia won the $10,000 Grand Prize in the Purina Pet Comedy Challenge.

Mariette "Peaches" Rodriguez, a world class "Break Dancer" in the '80s, is a Latina stand up comedienne from Connecticut, who turned to comedy to express her inner feelings. She has done three USO tours of duty, including the most recent to five Middle East countries: Afghanistan, Pakistan, Quatar, Saudi Arabia and Oman.

Showtime for the Comedy Stop, at the Sahara Hotel is 9 p.m. nightly.

THIS AND THAT QUICKLY: -- Tickets for Kid Rock, who will be performing at the Pearl inside The Palms, Thursday, Sept. 17th, are now on sale. Prices range from $49 to $89...

The Jan & Dean Show will be at the Henderson Events Plaza, as part of the 10th Annual Super Run Classic Car Show, Friday, Sept. 25, at 8 p.m...

My good buddy, Carme, reports that sales of his new book, "Sing to Me Deadly," has been good, and he now has a Web site where the book can be purchased: www.singdeadly.com. This book is fiction (based on some truths) and is a good read...

Dionne Warwick will be making one of her rare appearances in Southern Nevada, when she does a one-night gig at The Club inside the Cannery in North Las Vegas, Saturday, Oct. 10th , at 8 p.m. Over the span of her career, Ms. Warwick, has had so many hits she can't sing them all in one night, but she'll try her best to get as many as she can into this one performance_

Well, gang, that's about it for thisr week.
I'm outa here!





CONTINUE ON TO...:


>It's The Norm Article Archives
>Las Vegas News - "Heard Around Town"
>Las Vegas Leisure Guide<