Well, gang, my friend, and a friend of many Las Vegans, was sent off to the Big Stage with a wonderful send off last week. Babe Pier has joined his buddies on that very special stage, with all the vigor he used to show when he performed on earth.

Two of the first to greet him, I'm sure, was Sonny King and Freddie Bell. Members of The Vagabonds and The Happy Jesters were standing in the line. Gosh, I could see the smile on his face right now, as fellow rubber faced impressionists, Frank Gorshin, greeted his friend. Fay McKay and Blackie Hunt were smiling as he walked toward the stage. Off to the side were Wallace Beery and Barry Fitzgerald, asking each other, "who will be doing us now?" Sammy Davis, Jr. and Buddy Hackett were wondering the same thing. Lou Costello sat down next to Bud Abbott to watch the master of impressions, get the golden microphone from Lawrence Welk. John Wayne and Johnny Cash stood off to the side as Pier began his routine. Back on earth, Kirk Douglas, Robert De Niro, Sylvester Stallone, Tony Bennett, and Joe Pesci were toasting the man who did them so well, with his impressions.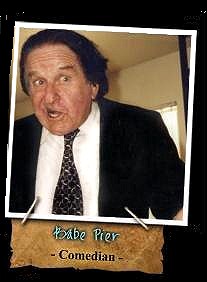 Following the Memorial Service held at the Palms Mortuary on North Main Street, Angelo Cassaro (who loves the National Hot Rod Association drag meets at the Las Vegas Motor Speedway), threw open the doors of the Italian American Club for those who wanted to remember Pier one more time. Cassaro had the kitchen prepare those wonderful meatballs (Babe loved 'em), and some great Italian sausage and peppers, along with donating a lot of free wine. Attending both gatherings were a number of members from the F.I.O.R.E. club, along with Nelson Sardelli, Lou Toomin, Marty Allan, Bill Acosta, Donnie Moore, Linda Lashever, Brenda Weems, Cindy Pier and family, and Rollie Pier (brother), , to name just a few of his friends that partook of the food and beverages.
Babe's comedy routines will be greatly missed. His annual comedy boxing matches, hopefully, will be picked up as a tribute to, "The Man of 100 Faces." Enjoy the Golden Mic, Babe, you earned it!
THIS AND THAT QUICKLY:
Society of Seven (SOS), one of the top variety acts of all times, with star, Jasmine Trias, has become a headlining show at the Riviera Hotel & Casino. Society of Seven will bring their high energy show, with songs and laughter for the whole family, to the Starlite Theatre in the all new improved Riviera. Shows are scheduled nightly at 9 p.m. dark Tuesday and Wednesday.
"We are thrilled to call the Riviera home," said Tony Ruivivar of Society of Seven. "This long-term engagement gives loyal fans, who have supported us throughout the years, the opportunity to see us on a regular basis and for others to discover us."
Tickets are VIP $59.95, Preferred $44.95 and General Admission $29.95 plus tax and fees. Special $10 tickets "Under 7 or Over 70" with ID plus tax and fees.Tickets can be purchased at the Riviera Box Office or by visiting www.rivierahotel.com.
TOP OF NEXT COLUMN
Following the successful "Bill Fayne and Friends" last fall, Fayne returns to the Suncoast Showroom, Saturday and Sunday, August 18-19 with "Bill Fayne and Friends - Rodgers & Hart, and Hammerstein, Too!" It will also be a musical salute to other well-regarded Broadway legends. The show will feature memorable hit songs from such renowned musicals as "Pal Joey," "Babes in Arms," "Carousel," "The King and I," and "The Sound of Music," composed by the legendary duos of Richard Rodgers and Lorenz Hart, and Rodgers and Oscar Hammerstein.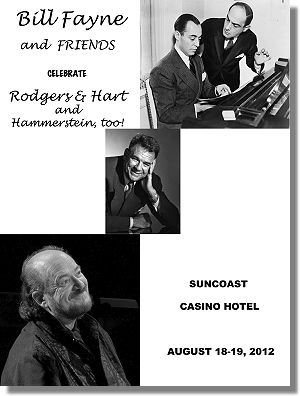 Joining Fayne in the musical event are Suncoast favorites Robin Vincent, Lou DeMeis and Denise Clemente. Other "friends" joining the celebration are Tara Palsha from "Vegas! The Show," Richel Kompst from "Menopause The Musical," Gail Bennett from "The Producers" and "Cinderella," and James Allen from "Jubilee!" Tim Bennett from "Disney's The Lion King" will direct, with choreography by Tara Palsha, and featuring Rodgers' ballet "Slaughter on Tenth Avenue," with a medley of his well-known waltzes.
Showtime is 7:30 p.m. Tickets are available from $15.95, plus tax and convenience fees. Tickets can be purchased at any Coast Casinos box office, by calling 702.636.7075, or visiting www.suncoastcasino.com.
---
Whoopi Goldberg, who has been delighting audiences since the age of eight, will return to Treasure Island, August 31 at 9 p.m. Goldberg began her career working in theatre and creating characters that became "The Spook Show," and evolved into the hit Broadway show, Grammy® Award-winning album, and HBO special that helped launch her career. During her Broadway show, Goldberg grabbed the attention of Steven Spielberg who cast her in "The Color Purple," her first big-screen role. Since then, she has starred in many other films, including "Ghost," "How Stella Got Her Groove Back," and "Girl, Interrupted."
In 2002, Goldberg became part of a very elite group of artists who have won a Grammy® ("Whoopi Goldberg"), an Academy Award® ("Ghost"), a Golden Globe® ("The Color Purple" and "Ghost"), and an Emmy® (as host of AMC's "Beyond Tara: The Extraordinary Life of Hattie McDaniel") and a Tony (as producer of "Thoroughly Modern Millie").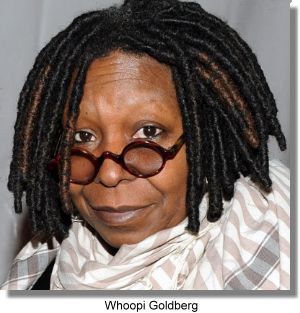 Goldberg has also penned many books, including the children's book, "Alice," the best-selling book, "Whoopi's Big Book of Manners," and "Sugar Plum Ballerinas."

Goldberg has appeared in a variety of television programs, and hosted the Academy Awards®. She currently serves as moderator of "The View," and is making guest appearances in the Broadway musical, "Sister Act," a show she also produces. Goldberg recently guest starred in multiple episodes of the hit television show, "Glee."

Tickets are available starting at $79, plus tax and fees, and can be purchased by calling the box office at 800-392-1999 or 702-894-7722. Purchases can also be made on-line at www.treasureisland.com.

Well, gang, that's about it for this week. I'm outa here!

CONTINUE ON TO...:
>It's The Norm Article Archives
>Las Vegas News - "Heard Around Town"
>Las Vegas Leisure Guide