Another favorite singer of mine, Loretta St. John, will be entertaining at Bernard's Bistro, by Lake Las Vegas, 15 Via Bel Canto, Henderson, the evenings of Wednesday, Aug. 19 and Thursday, the 20th. This is a singer with a big voice and tons of talent! Everything will get underway at 8 p.m. and go until 11 p.m.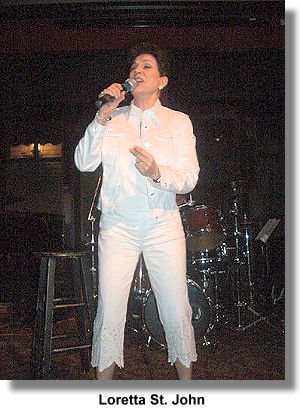 Like Loretta said in a note: "This will be a wonderful two nights of great music, fantastic food, some beautiful wine and just lots of music and fun. By the way, there is no cover charge!"
The host for the evenings is none other than Phree Bartley, known around the village as the Feng Shui Lady, who has teemed up with the world famous "Chef Bernard," to present great entertainment alongside fabulous culinary delights.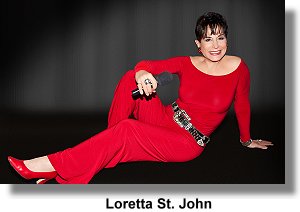 For those of you who have never watched Ms. St. John perform, let me give you just a short version of where she has worked and who with: Wayne Newton to name one, Billy Eckstine, Della Reese, Frankie Avalon, Bobby Vinton and Frankie Randall. Early in her career the versatile performer (she also plays piano) was a backup singer for the great Bobby Darin.
Hot off the Press: Frank Sinatra Jr., to perform at the Suncoast Hotel & Casino, Saturday and Sunday, Sept. 5-6. It's been quite a while since Sinatra Jr., appeared in our little village. If memory serves me, it was in the Hollywood Theater at the MGM a few years back.
What I like about Frank, is he pays homage to his wonderful father. He doesn't try to copy him or sound like him. He tells little inside stories and will explain the history of a song or what turned his father towards certain music.
"When I was a boy, my father would often bring me to Las Vegas. I saw all the stars perform, and late at night, there would always be a name band playing in a lounge somewhere," Sinatra Jr recalled. "I remember listening to Harry James, Count Basie, Phil Harris and many other famous bands. I always try to recapture those late night sessions in my own show."
Frank Jr. is a perfectionist on stage. He knows why a composer used a certain note or a particular instrument to play that note, and he shows that in his arrangements. And, gang, he hits just about every great song his father, The Man, ever sang_at least you feel that way when you leave the showroom.
Tickets are now available starting at $29.95 plus tax. Showtime will be 8 p.m. and you can get your tickets by calling the box office, (702) 636-7075.
The Comedy Stop in the Congo Room at the Sahara Hotel & Casino has booked three top headliners for the week of Aug. 17-23. Producer Bob Kephart signed stand-up headliner, Tim Walkoe, Manny Oliveira and Glen Jensen to deliver a one-two-three punch for the week.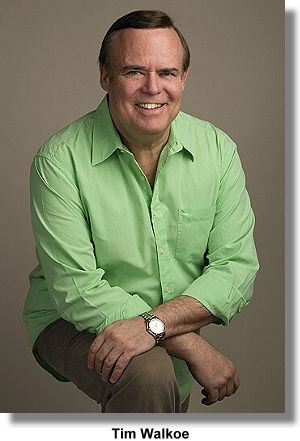 Walkoe is a veteran headliner, appearing at more than 100 comedy clubs across the country, and has been a featured performer at the Chicago Comedy Festival for the past four years. Tim is a $10,000 grand prize winner on ABC TVs "America's Funniest People." He has appeared in a recurring role on Fox TVs "Murder in Small Town X" as Mayor Emerson Bowden.

"Nonstop laughter from start to finish," is what the Chicago Tribune had to say about Walkoe's comedy performance. The writer went on to comment, "Walkoe's rapid fire delivery and shoot from the hip style, leaves audiences laughing so hard, it's hard to catch up to the next joke.".

Oliveira has been performing professionally for more than 30 years, beginning his career as an actor in Boston. Manny followed up by moving into the world of stand-up comedy, where he has received critical acclaim. He has appeared on HBO and other prestigious television comedy shows. Oliveira can also be seen as Father Cisero in an upcoming film, "Crossroads," and most recently appeared on Lifetimes Network hit, "Army Wive's."

Oklahoma born Jensen, is not only a stand-up comedian, but has appeared in more than six major movies and, most recently, the television series, "Forensic Files," where Glen played the lead detective. In the 2006 psychological thriller, "Fingerprints," he played one of the pivotal roles, Kowaski, to perfection." Glen delivers a hilarious mixture of down home views, wrapped in a cynical urban coating. Glen won "Philly's Funniest Comedy Competition" and has also been an opening act for, The Doobie Brothers, Al Jarreau and Spyro Gyra.

Showtime for the Comedy Stop is 9 p.m. seven nights a week, inside the Congo Room. Tickets start at $24.95 plus tax and fees, with a $19.95 ticket for locals (must have Nevada drivers license) plus tax and fees. For reservations call (702) 737-2515 or purchase tickets at www.saharavegas.com.

Well, gang, that's it for yet another week
I'm outa here!





CONTINUE ON TO...:


>It's The Norm Article Archives
>Las Vegas News - "Heard Around Town"
>Las Vegas Leisure Guide<