Went back to the LVH (formerly the Hilton Hotel) to visit with an old friend, and to see some of the changes he, and his producer, Steve Rossi, have made to an already wonderful show. The Rich Little Show, titled "Jimmy Stewart and Friends," is, without question, one of the best one-man shows I've seen in a very long time, and improving every evening. "The Presidents," was another wonderful presentation by Little a few years back, and I always thought it should've gone to Broadway. But, heck, what do I know? Personally, however, I believe Rich will make it to the "Great White Way," with this current effort.

Without question, the new show, which plays Saturdays through Wednesdays, in the Shimmer Cabaret is Little's Crowning Performance!

The opening is done very cleverly by a piano player, off-stage, playing a few theme songs from some of Stewart's films, while video clips play, showing Jimmy and Rich together over the years. Rich enters the stage (that has a few props) and looks out to the audience, and begins to tell the story of a young man who became, very possibly, one of the greatest actors of the 20th Century. About 10 minutes into the monologue, Rich looks out into the audiences and asks, "Harvey are you here?" And, with that simple request, the man who has been entertaining us for what seems a lifetime, is off and running.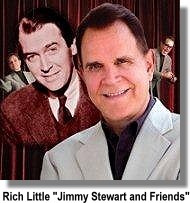 The show began with Jimmy being born in Indiana, Pennsylvania, on May 20, 1908. There are a few references to growing up in the small town, where his father owned a hardware store, graduating from a prep school (where he first stepped out on a stage), and eventually attending Princeton University, where he excelled in drama and music, and became a member of the Princeton Triangle Club.
From this point on, Little's ability to change personalities and voices is in command. When he talks of the friendship between Jimmy and Henry Fonda, you hear and visualize Fonda. Robert Stack is right there as is Clark Gable. Alfred Hitchcock comes and goes, as does Gary Cooper, Paul Lynde and John Wayne. Of course Ronald Reagan, Richard Nixon, and Johnny Carson are three more friends that played an important part in Stewart's life. All total, Rich does from 26 to 28 voices during the 90-minute presentation.
The closer is, in my opinion, a classic and becomes quite serious—in respect to the friendship the two men had over the years. Jimmy is now all alone, his beloved wife, Gloria, has passed on, as have most of his friends. It is July 2, 1997, and a stairway appears on stage. Rich walks towards the stairs, turns and with a tired Jimmy Stewart voice, calls out to Harvey to join him on stage. The two approach the stairs, they look back, and Stewart comments, as they walk up to Heaven, "Thank God…It's been a wonderful life!"
Well, gang, I have to tell ya, this writer had damp eyes, as did a lot of those sitting in the audience. Rich Little deserved and received a standing ovation for a performance well done. You won't see a better presentation anywhere! So, I recommend that you grab your phone, and call LVH for tickets right now. I have a funny feelin' it'll be SRO for quite some time!
THIS AND THAT QUICKLY:
Collectively, they've sold 70 million albums, won eight Grammy Awards, 14 Country Music Association Awards, 14 American Music Awards, seven People's Choice Awards and 26 Academy of Country Music Awards. Last Tuesday, at a live 'town-hall' press conference, The Venetian® Las Vegas, announced the biggest musical event in its history – Tim McGraw and Faith Hill "Soul2Soul." This limited engagement, which opens on Dec. 7 and covers 10 weekends through April 2013, will take place in the 1,815-seat Venetian Theater. A ticket pre-sale began Wednesday (Aug. 8th.), and tickets for the general public will go on sale Monday, Aug. 13.
TOP OF NEXT COLUMN
"Soul2Soul" at The Venetian will mark the first time in six years that McGraw and Hill have performed together in the United States. "Soul2Soul" will feature an all-new production with innovative lighting and set design technologies that were synonymous with the "Soul2Soul" concerts. The Venetian Theater will also be modified to accommodate this new production. These "Soul2Soul" concerts will include many of the No. 1 hits that have made them, both in their own right, two of the most significant entertainers of our generation.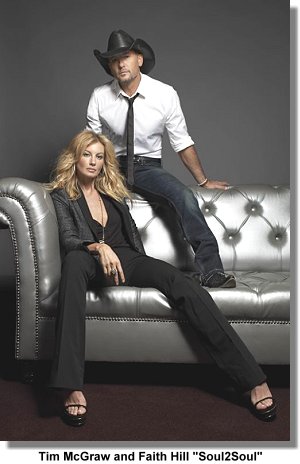 McGraw, whose hits include "Live Like You Were Dying," "Everywhere" and "Real Good Man," has sold more than 40 million records worldwide and dominated the charts with 32 No. 1 singles. Hill's nineteen-year career has been highlighted by the sale of more than 30 million records worldwide, during which time she has celebrated thirteen No. 1 singles and twenty No. 1 videos. She was the first female artist to have three studio albums – 1999's "Breathe," 2002's "Cry" and 2005's "Fireflies" – all debut consecutively at no. 1 on Billboard's Top Pop Album Chart and Country Chart. For the fifth consecutive year, Hill is once again the voice of NBC's Sunday Night Football's weekly show opening.
Ticket prices are $95.50, $175.50 and $255.50 and $295.50 inclusive of tax. A limited number of VIP Packages will be available for $1,000, inclusive of tax. Performance dates and times are subject to change. Tickets are available for purchase at any Venetian | Palazzo Box Office, online at ticketmaster.com or by phone at 888-TAF-SOUL.
---
Get The Eye of The Tiger during Fremont Street Experience's 'Rock of Vegas' summer concert series, which will feature a free concert by Survivor, Saturday, August 18 at 9 p.m. on the 1st Street Stage. Throughout the weekend, visitors can also enjoy free entertainment on three stages as the 100-day 'Rock of Vegas' summer concert series takes over downtown through Labor Day Weekend.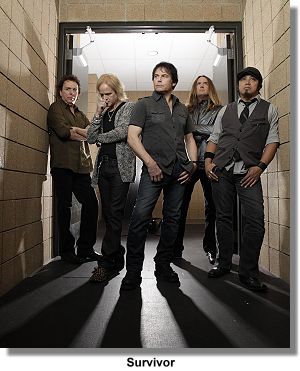 Survivor was formed in Chicago, Ill. in 1977 by Frankie Sullivan and Jim Peterik. By the end of 1978, they had signed a record deal with Scotti Bros. Records. Their first two records, the self-titled "Survivor" and "Premonition," helped to build a loyal fan base for the group, but their big break came with the 1982 release of "Eye of The Tiger." The title song for this record was expressly written for Rocky III, which brought the band national attention. "Eye of The Tiger" spent seven weeks at the No. 1 spot on the U.S. charts, won a Grammy, an Oscar nomination and was voted "Best New Song" by the People's Choice Awards.

'Rock of Vegas' Summer Concert Series will have something for everyone with three stages active every night. Fremont Street Experience's concert series features free headliner concerts from an exciting lineup of high-voltage rock 'n' rollers, including legendary singer of Mötley Crüe, Vince Neil, and the ultimate glam metal rocker, Dee Snider, singer of Twisted Sister. Viva Vision screen lights up nightly with shows featuring tributes to some of rock's greatest bands. The rockin' concert series kicks off Memorial Day Weekend continuing through Labor Day Weekend.

Well, gang, take my advice and stop in and visit with my friend, Rich Little and his friend, Jimmy Stewart. I'm outa here!

CONTINUE ON TO...:
>It's The Norm Article Archives
>Las Vegas News - "Heard Around Town"
>Las Vegas Leisure Guide