Deana Martin fits a stage like an old leather glove fits your hand. She has so much of her father's DNA, there's no wonder Deana is a legend already. Dean Martin has to be beaming down on his daughter from the Gold Stage, along with her Uncle Frank and Uncle Sammy (Sinatra and Davis, Jr.). Ms. Martin has worked very hard to get to where she is today, and that's in her book, "Memories Are Made of This."
The evening this writer caught her SRO performance at the Suncoast Hotel & Casino (Saturday, July 24), really turned out to be a very special night. Vera (Mrs. Robert) Goulet along with Peter and Barbara Justl, Nancy Barr and this writer, arrived just as the show was to begin.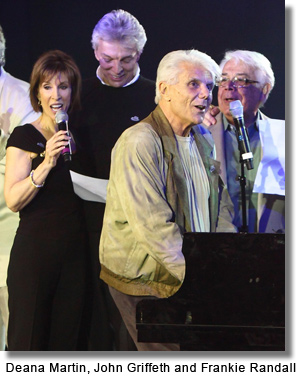 Vince Falcone, "Conductor to the Stars," had assembled a super fine band for the two night engagement: Joe Lano, guitar; Mike Mechem, drums; Bob Sachs, bass; and Dale Rampton, percussions. Of course, Deana sang a bunch of her dad's hits, such as "Everybody Loves Somebody," "That's Amore," "Sway," "Somebody Loves You," and "Ain't That a Kick in the Head!" But what turned a fabulous performance into a Super Duper Fantastic evening (it can only happen in Las Vegas) was who Ms. Martin's husband, John Griffeth, had waiting behind a door, which had been conveniently placed on stage.
The first knock (remember the door on the Dean Martin Television Show) came about midway through the 90-minute show. Deana walked over and opened the door (just like her father used to do) and out walked Frankie Randall, who was a long time friend of her father and especially Mr. Sinatra. After a brief chat, the two friends (they also perform together in a group called "That's Italian," which features Randall, Martin, Julius La Rosa, Pete Barbutti, and sometimes Dick Contino) did a duet of, "It Had to be You." It was beautiful!
The second knock at the door followed about 10 minutes later. Ms. Martin dutifully opened the door, and who was there, why Lena Prima, daughter of the legendary Louis Prima, who the Rat Pack (remember them?) used to watch while in Vegas a long time ago. A short talk about some favorite memories, the two ladies did a duet of Prima's hit, "That Old Black Magic." Well, let me tell you, it was a definite moment in time.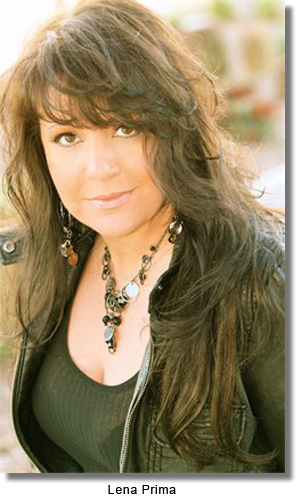 Ms. Martin returned to continue her show as planned, when there came a third knock at the door. And guess who was there this time? Well, like I said, it could only happen in Las Vegas, out stepped two guys who sorta grew up with Deana (well, at least with her younger brother, Dean Paul), Desi Arnaz, Jr and Billy Hinsche.  Hinsche and Arnaz were two members of a very famous Rock Band during the mid '60s called, "Dino, Desi and Billy." Dino, of course, was Dean Paul Martin, who was killed in an airplane accident in 1987. The three, Deana, Desi and Billy, managed to get through a very special song, "Memories Are Made of This." It was once again an extremely beautiful moment in time, and one the 400 plus members of the audience will never forget. And, which probably, will never happen again. Four wonderful people, who all had a strong connection to a very special man, Mr. Dean Martin and his family, were together once again on a stage. What more could you ask for?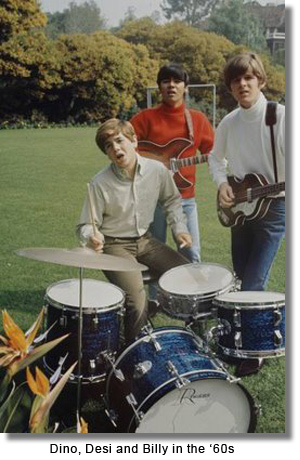 There was also about a 10-minute film showing rare photographs and such of Dean Martin and family, playing together and performing as a family. The entire evening was so darn special. And then we all joined to wish Deana's son, Mickey, happy birthday at a small after the show gathering.
I was going to review Ms. Martin's book in this column, but I feel I can hold on to that for a couple of weeks. I will tell you, however, I started the book (given to me by the author) on I believe Tuesday afternoon and didn't want to set it down, but I had to go to bed, and finished all 289 pages the following morning. She tells a fascinating story.
THIS AND THAT QUICKLY:
I can't wait until Sept. 3, when two of my favorite entertainers return to the Red Rock Resort. Of course I speak of Zowie Bowie, which is fronted by Chris Philips, and the beautiful Marley Taylor. They do everything and do it well, starting with hip-hop to the Big Band era (which is my personal favorite, and especially when they do the Frank Sinatra music). The group will be appearing in the Rock Lounge every Friday.
"I know I Came in Here for Something," billed as a middle age musical, and bound to be a very funny musical, will be presented in the Anthem Theater this Sunday, August 8. It'll feature Vic Moea, Susan Haller, Tom Dyer and Jeaneane Marie singing about 20 plus songs. Musical director is Laurence Sobel and it's produced by Gateway Arts Foundation and Carole Altman. Sounds to me like a fun show, and if my very special friend, Ms. Marie, is in it, then that's good enough for me to recommend it!
The Atomic Testing Museum, 755 E. Flamingo, will be holding the Second Annual Family Day, this Saturday, from 10:00 a.m. till 5:00 p.m. This year it's titled, "Journey Through Japan," and they will be commemorating the 65th Anniversary of the bombings of Hiroshima and Nagasaki, which brought the end to World War II. Last year more than 400 attended the event.
Well, gang, that's about it for another week. I'm outa here!
CONTINUE ON TO...:
>It's The Norm Article Archives
>Las Vegas News - "Heard Around Town"
>Las Vegas Leisure Guide<