It's with deep sadness that I start this week's column with the loss of a dear friend of more than 46 years. Babe Pier, who many consider one of the top impressionists of our time, and a wonderful boxing fan, passed way Tuesday, July 31, 2012, at the age of 82.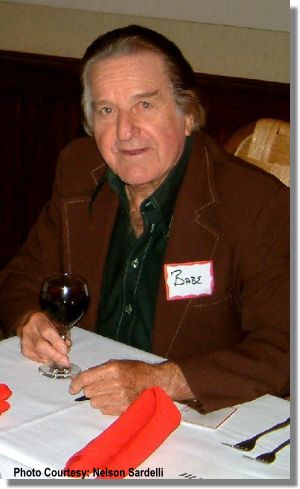 I first met Babe Pier when I was coming to Las Vegas with Joe Louis, the former Heavyweight Champion of the World, to catch a title fight at the old Convention Center in the early '60s. When I moved to Las Vegas in late 1965, as sports editor and columnist of the Las Vegas Sun, Pier was one of the first to welcome me. Over the years I would write about my friend whenever I could. Babe was more than just an impressionist; he was what you call, "Born Funny!" He was just naturally funny. Another thing about my friend that those who knew him well can attest to: He never met a person he didn't like. Honest! Every time we would run into each other he would greet you with the warmest smile, a great handshake and, upon departure, a kiss on the cheek.
What many boxing fans are not aware of is, that Babe was a devout champion for boxers of yesterday and today. I remember in early 1966, we had a major injury of a fighter at the old Silver Slipper on the Strip. A group of fight fans met at fight promoter, Bill Miller's, bar next door to the old Desert Inn, to help the injured fighter. Heading the group was Jim Deskin (Executive Director of the Nevada State Athletic Commission), Harry Krause (championship referee), Pepper Davis and Tony Reese (headliner comedy team at the Desert Inn), Joe Glaston (a boxing fan), Babe Pier, and this reporter. It was decided to hold a fundraiser fight to create and fund the Nevada Boxing Hall of Fame, with every dollar going into the fund. A percentage of all future fights be allocated to the Hall of Fame, and the first boxer to make a donation was Heavyweight Champion, Rocky Marciano. Every year, for the next few years, a fight was held to benefit the Hall. However, upon the arrival of major fights at the Strip Hotels, the Hall sorta faded away. I have no knowledge of what happened to the concept, the funds raised in those early days, and the amount spent on helping injured fighters.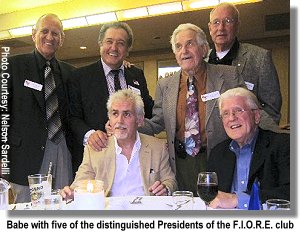 Babe was also well known for his comedic fights with other comedians, boxers, or celebrities. He would stage one of these funny fights in an actual ring with all the money going to some charity. The last one was held last year at Caesars Palace. He was also one of the first to sign up for a benefit, and if it was out-of-town he paid his own way! That's the kind of guy he was—he had a heart of gold.
TOP OF NEXT COLUMN
Babe Pier was a member of two of the funniest singing groups to ever work a stage—The Vagabonds and The Happy Jesters. Both groups were regulars in Las Vegas, and at the best nightclubs in America. Just a year or so ago he headlined in the Palm Spring Follies.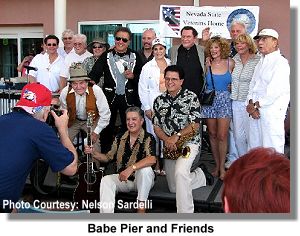 Babe is survived by his wife, Cindy. Thus far arrangements are being made at Palm Mortuary on North Main Street, with date and time to be announced.

THIS AND THAT QUICKLY:

Just wanted to remind you that the alternative pop band, 10,000 Maniacs, will be making its South Point Hotel & Resort debut, with a rare appearance this Friday through Sunday. The band is winding down its 30th anniversary with a summer tour throughout the United States.

As a popular element of college rock through the '80s, and the darlings of the MTV music video era, the U.S. based, alternative rock band 10,000 Maniacs have sold more than 10 million records worldwide. Dennis Drew, keyboardist, and bass player, Steven Gustafson, are the last two members of the original group still touring. Co-founder Robert Buck passed way in 2000. Back-up singer, and viola player, Mary Ramsey replaced original singer, Natalie Merchant, as the current lead singer, when Natalie left the band in 1993.

The current touring members of 10,000 Maniacs are Drew, Gustafson, Ramsey, Jeff Erickson, on guitar, and Jerome Augustyniak, on drums.

Showtime for The Maniacs will be 7:30 p.m., all three evenings. Tickets range in price from $35, $40 and $45, and may be purchased at the South Point box office.

Grimaldi's Pizzeria, famous for its award-winning, hand-tossed, coal-fired brick oven pizzas and calzones, celebrated its grand opening last Sunday (July 29), inside The Shoppes at The Palazzo. The event kicked off with CEO and President, Joey Ciolli, slicing into a ceremonial pizza with a golden pizza cutter, and taking the "first bite." Other highlights included performances by award-winning pizza tossers and a visit by special musical guest, Ol' Blue Eyes himself, "Frank Sinatra," whose swoon-worthy vocals delighted guests as they dined on signature coal-fired pizzas, and mini cannolis.

The grand opening also hosted a red carpet that was attended by Zowie Bowie, and newly wedded Murray and Chloe SawChuck, and Lefty of Tropicana's Laugh Factory, and the gentlemen of Chippendales.

Don't miss this summer's Holiday Jazz finale at The Boulevard Mall, part of the year's Imagination Celebration Jazz for Peace Series. The series is the final of six such events featuring the best internationally acclaimed Jazz musicians. The musical groups come together for the event, because they believe in its cause, which is to foster the message of local and global peace, and to show their support leading up to the final celebration of Imagination Celebration in Town Square Park on Saturday, October 13, 2012. The final evening of entertainment is also part of a broader community awareness and educational effort, to showcase the mission and vision of other local non-profit organizations during the event. Local Jazz artists participating in the series were coordinated by Entertainment Artistic Director, James Barela, lead musician of Blu7. The celebrity emcee for this weekend's event will be musician extraordinaire, Genevieve Dew, recording artist and the series host.

Well, gang, that's about it for me this week. I'm outa here!

CONTINUE ON TO...:
>It's The Norm Article Archives
>Las Vegas News - "Heard Around Town"
>Las Vegas Leisure Guide