Well, gang, the big day arrives this Monday, August 1, 2011. Yep, Monday will mark 80 years that everything really came to life for a little casino on the outskirts of a growing village, Las Vegas. You thought I was going to write about the mess in Washington D.C. didn't you? Now admit it! But, I am, of course, referring to the Railroad Pass Hotel & Casino, located on the old Boulder Highway, about four-miles from Boulder City and on the outer edge of Henderson.
It is truly an historic site, and one I hope never sees the fate of some of the iconic hotels on the Las Vegas Strip: Thunderbird, Dunes and Stardust to name a few. Anyhow, this Monday there will be a whole lot of invited guests congregating on the property, beginning at 11 a.m. The people will be there to honor the "Old Lady" of gaming properties, who began life with a license issued by the Sheriff of Clark County, Joe Keate, on July 7, 1931. The cost of the license at the time was $150.00. Today the Railroad Pass Hotel & Casino is listed by the State gaming authorities as holding license No.4, and is considered the oldest legally licensed casino in the nation.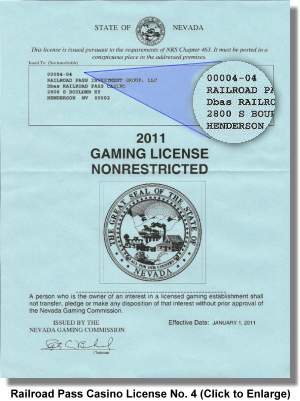 Following ceremonies for the dignitaries, invited guests, and media, the hotel will commence to treat the public to a bunch of special things during the week-long celebration, including 80 cent hotdogs and beer.
So, gang, take the time to drive out on U.S. 95 to the Railroad Pass Hotel, where you are not just a passing gambler, but you become a rare commodity: an appreciated customer. The Heritage Museum, and all its artifacts, is free and is open 24/7. And, gang, the food is terrific and extremely low priced. This is where locals are treated as locals!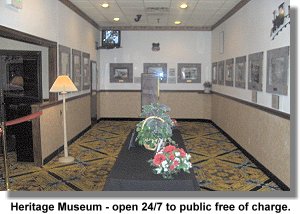 I have heard that a local musician, Jeff Jordan, is in need of financial help, as he has been under medical treatment, and of course, has no insurance. What else is new? Coming to his emotional/financial rescue, will be a group of local, as well as nationally known entertainers, including America's Got Talent winner and Sony recording artist Michael Grimm.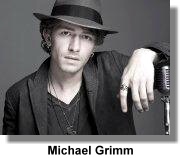 Grimm is set to headline an All Star Benefit for fellow musician and former band mate Jordan this coming Sunday, July 31st at 4 PM at the Ovation Room inside the Green Valley Ranch resort.
A prolific saxophone player and budding film composer, Jordan was hospitalized for an aortic aneurism, and other medical complications several weeks ago, and is now facing a long road to recovery. Like so many musicians, and self-employed people, across the Las Vegas Valley, Jeff has no health insurance, and is facing a medical and financial crisis.
In direct response to this growing dilemma within the Las Vegas arts community, Grimm and several other headliners have gotten involved, both to raise funds for Jeff's medical expenses and to bring awareness to this issue at large. In addition to Grimm, the benefit will have as its emcee, local entertainment favorite, Zowie Bowie, along with the following headliners: Mark Cohen, of TV's "Make Me Laugh" on Comedy Central; Broadway and television star Leigh Zimmerman, who recently starred in "Chicago" on Broadway; headliner Domenick Allen, former lead singer of Foreigner; Sean & John, twin tapping sensations from "America's Got Talent," and recording artist Beyoncé's world tour; Broadway star and local favorite, Reva Rice, currently appearing in "Vegas The Show; cast of "The Rat Pack is Back," performing at the Rio Hotel; Michelle Johnson, starring in "Nunsense" at the Hilton Hotel; perennial local favorite Lon Bronson and his 17-piece big band, and the Dave Perrico Group featuring Marley Taylor. Darlene Ryan, Michelle Johnson, Lon Bronson, and Adam Hoffman are co-producing the event.
Station Casinos has graciously offered the beautiful Ovation Room as a venue for the two-hour concert. Tickets are $20, and may be purchased online at greenvalleyranchresort.com/ entertainment/concerts.php or in person at any Stations Rewards Center. Doors open at 3 p.m. A PayPal account has also set up to receive donations to the Jeff Jordan Fund.
THIS AND THAT QUICKLY:
LAS VEGAS – The Golden Nugget Hotel & Casino will host their second annual Fall Beer Festival during a two-day event on October 14 & 15. This two-day festival brings together consumers, craft beer vendors, live music, great food and hundreds of beers in two very different events.
The first event kicks off Friday, October 14, with the All American Craft Beer Tasting, sponsored by Samuel Adams, from 7-10 P.M. in The Grand events center. Guests will have the opportunity to sample over 120 craft beer selections, and enjoy chef-inspired appetizers while listening to live music and mingling with some of America's hottest award-winning brew masters. One of the highlights of the evening will be the traditional "tapping of the kegs," featuring several seasonal artisan draft beers. Additionally, each guest will receive a commemorative glass as a souvenir. Tickets to the event can be purchased individually for $50*.
Rounding out the second day, guests will enjoy a traditional Oktoberfest Pool Party, sponsored by Paulaner Beer from Munich, Germany, at the property's award-winning pool and shark aquarium, The Tank, October 15, from 3-9 P.M. Admission is free and beer enthusiasts can enjoy 200 different international and domestic beers available for purchase while listening to an authentic German Oktoberfest band.
As an added incentive, guests interested in both events can receive discounted food and beer tickets for Saturday's Oktoberfest Pool Party with paid admission to Friday's All American Craft Beer Tasting.
Multi-talented entertainer and showman, Earl Turner, returns to the Suncoast Showroom for Labor Day weekend, September 3 and 4, each evening at 7:30 p.m.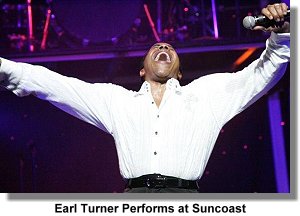 Turner began performing at the age of 13, and by age 19, was traveling the U.S. as a front man with various show bands. Trying his hand as a solo artist, Turner scored a Top 40 dance hit in Europe in the mid-1980s, "Love Caught You by Surprise."


Turner is a renowned Las Vegas performer, having appeared at numerous resorts and showrooms on and off the Las Vegas Strip. In 2004, Harrah's New Orleans transformed the Mansion Ballroom into The Earl Turner Theatre, where he performed for two years.

Tickets are available from $15.95, plus tax and convenience fees. Tickets can be purchased at any Coast Casinos box office, by calling 702.636.7075 or visiting suncoastcasino.com.

Well, gang, that's the news for this week. Don't forget, Al Jardine opens this coming Wednesday at the Riviera Hotel. We'll have a full report on opening night in our next column. I'm outa here!


CONTINUE ON TO...:
>It's The Norm Article Archives
>Las Vegas News - "Heard Around Town"
>Las Vegas Leisure Guide<