Well, gang, the waiting is over. The Comedy Stop is in its first week at the Sahara Hotel & Casino and it looks like a good marriage. Bob Kephart, who produces the show, appears to be happy, and the comics for this first week are ecstatic. And the 350 plus customers opening night got what they came for-continuous laughter.
The host for this first week (which ends Sunday evening) is the famous, Jimmie J.J. Walker, who gained national fame as J.J. Evans on the 70s sitcom, "Good Times." Walker is perfect as a host and has the audience in stitches for nearly 20 minutes. Next up was Rick Crom, a veteran performer who, incidentally, was an opening act the first week the Comedy Stop opened at that other hotel down the Strip.
Crom does stand up comedy as well as musical parodies. One of his jokes, aimed at a couple of Canadians in the audience, went like this: "I love Canada... we should all love Canada... we're going to need it for parking_there's a lot of it and it's right next door (pointing up). "And listen to me now_this is important... don't bring kids to Las Vegas... Never, never... I don't bring hookers to Disneyland, do I?"
Then it was the star of the evening, Louis Ramey's, turn to keep the crowd laughing. And he wasted no time in doing just that. The poor gal sitting front row was the brunt of many of his jokes (all clean mind you), but bent in such a way you knew what he was referring to. He began a routine about the time he was in this small town in Louisiana, Houma, when a lady in the audience screamed she was from that area.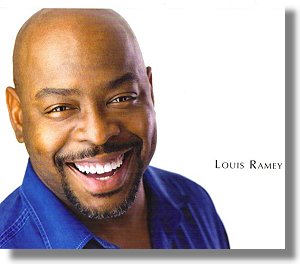 That worked perfect for Ramey and he kept going back and forth with her. One of Louis' lines was: "Just as I'm closing the act, this lady jumps up and starts yelling to everyone to remember the terror alert was still yellow_I told the lady, this is Houma, Al-Qaeda could wipe out the entire town and still only do $15,000 in damage." Louis' punch line was, "One of the guys said_Yep, that's right. Jimmy's got a new truck, but if he's out of town__" ???
This coming week, Kephart has booked another trio of outstanding comedians, headed up by the "Obama Man" himself, Greg Morton. Greg's latest musical creation has had more than three million hits on You Tube and is still going strong. Greg is a regular at the Comedy Stop in Atlantic City and in our village.
Morton's anxiety ridden persona is best described as someone who watches too much cable news. His two-minute rendition of the Star Wars Trilogy is considered a classic among stand up comedians!
Appearing with Morton is Butch Bradley, who is so darn energetic, he nearly sets the audience on fire. Chrissy Burns makes up the trio of great comedians that will be performing beginning Monday evening. Burns looks at the world as one huge buffet, and she dishes out an over-sized portion of laughter every night. "Chrissy is a hoot," according to producer Kephart.
The new venue in the Congo Room at the Sahara is perfect for the Comedy Stop. There's not a bad seat in the entire house. Showtime for the Comedy Stop is 9 p.m. nightly (seven days a week, with acts changed every Monday). There is a special ticket price for locals (with proof of residence) priced at $19.95 plus tax and fees. General admission is $24.95 plus tax and fee.
Was invited by a very nice lady to stop in and see the latest restaurant to settle down in Las Vegas. Well, to be honest, it was already here, but was just opening a second edition of the original, Capo's Italian Steakhouse. I have been in the first Capo's, over on Tropicana, so was really interested in seeing how they converted the old "Hooter's Restaurant," at 5675 W. Sahara Avenue, into a speakeasy.
The new Capo is much larger than the original, but different inside which is nice. It's more open, I would say, and has a much larger bar. It still has the hidden entrance (in keeping with the Chicago speakeasy theme). Here are a few things you will find inside: a private "roulette room" that seats 10, hidden behind a huge picture of Al Capone; a private theater/dining room that seats 20 and an outdoor smoking/cigar lounge.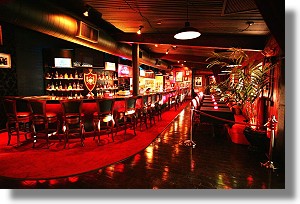 The menu is a four-page tribute to the mob theme. Under headings such as Temptations (appetizers), bathtub gin soups, syndicate salads, and made man pastas. House specialties "You Can't Refuse" and "The Last Ride," (desserts), there is similarly named items such as: the Genovese calamari, Tony Duck's soup, the Mob's meatball salad (which is dynamite), Uncle Pauly's Arrabiata pasta, Nathan Nails New York strip steak and the Rat Pack ribeye steak. I think you've got the idea.

And gang, the food is terrific, believe me. Appetizers start at $8.95; soups are $5.00 or $5.95, salads are $7.95 for Lucky Luciano's, or $8.95 for Nico's Caesar. Entrees range from $16.00 for pasta dishes to $39.95 for the Godfather's filet mignon. Hey, this is a fun restaurant and the service is great. They have live piano playing nightly.

Well, gang, that's about it for this week.
I'm outa here!




CONTINUE ON TO...:

>It's The Norm Article Archives
>Las Vegas News - "Heard Around Town"
>Las Vegas Leisure Guide<