Cork Proctor is one of those rare guys, who has lived a great and fruitful life, and has a ton of friends made over a career spanning nearly 60 years, as a drummer and a stand-up comedian. Now, he has decided to celebrate his 80th birthday, and his final stand-up gig, by allowing some of his buddies to roast him for charity.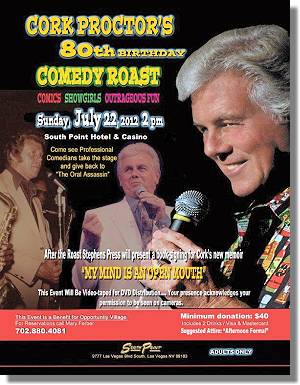 Anyhow, this Sunday at 1:30 p.m. the doors of the showroom at Michael Gaughan' s South Point Hotel & Casino, will swing open, for, hopefully, a full house of friends, to watch him be abused by a group of fellow comedians. It'll be the "Roast of Roasts"! Known as an assassin type of comedian over the years, Proctor will have to take the vocal abuse from the roasters, because he has to! It's for charity. Every penny of the $40.00 ticket will be going to Opportunity Village, a particular organization that is very close to his heart, and his ex-wife's heart.
Let me explain: Some 23 years ago Cork and Carolyn Hamilton tied the knot at Main Street Station, downtown. They requested a donation of $25.00 in lieu of gifts for those attending the reception, with the money again going to Opportunity Village. It was a wonderful way to help a good charity, while having some fun and celebrating a special occasion. So, following the divorce a couple of years ago, the two remained good friends. Carolyn even helped Proctor write a book about his unbelievable life, "My Mind is an Open Mouth." Stephens Press has published the book, and will sponsor a book signing event following the Roast. So, moving right along, Carolyn came up with an idea a while back to help out their favorite charity. How better to celebrate Cork's birthday than to turn the tables on her ex, and have a group of friends burn him at the stake. Thus the Roast! Carolyn sought the help of a close friend, producer and chorographer, Mistinquett, to help her put it all together. As an insider, I know of friends from as far away as Florida who are flying in to be there for his final gig.
The list of Roasters consists of at least 12 to 16 top comedians and a columnist. I'm not going to list them as some may get a paying gig, and be unable to be here this Sunday. Others, who wanted to be here, may not be able to make the trip because of illness or other commitments. The one I'm sure of, however, is the columnist: John L. Smith of the Las Vegas Review-Journal. He has definitely signed on. That, in itself, should be worth the trip to the South Point!
TOP OF NEXT COLUMN
So, gang, there is no excuse for not attending the "80th Birthday Roast of Cork Proctor," this Sunday, if you are truly a friend of the man. He has always been there when somebody needed an emcee, or a shoulder to cry on. And, Michael Gaughan has even thrown in two free beverages of your choice as a bonus. So, let's show our friend how much he is truly appreciated. It should be an SRO crowd! I hope so! Tickets are available by calling Mary Ferber at Opportunity Village, 702-880-4081. Tickets can also be purchased at the door on Sunday.

THIS AND THAT QUICKLY:

The 2012 Kobalt Tools 400 NASCAR Weekend, last March, made its largest economic impact on the Las Vegas community in the 15-year history of the event. This year marked the fourth consecutive year that the economic impact has seen an increase over the previous year.

This year's event, held March 9-11, contributed $240,605,600 to the local economy, according to figures released by the Las Vegas Convention and Visitors Authority. That represents a staggering 26.3-percent increase in economic impact over the 2011 event.

"This is tremendous news for our entire community," said LVMS President, Chris Powell. "For one weekend to generate almost a quarter of a billion dollars is a major shot in the arm for all local merchants. It's also a great indicator that NASCAR remains strong and is a major player in Southern Nevada. This is the biggest sporting event each year in Nevada, and we're proud of the role the speedway plays within the community. We also are very appreciative of the local businesses and government agencies that help make this a first-class event that keeps fans coming back year-after-year."

The LVCVA study found that 71 percent of fans attending the race came from out of town, and 13 percent traveled from out of the country. The study also reported that 75 percent of the attendees of this year's race stayed in a local hotel compared with 64 percent in 2011.

"Las Vegas and NASCAR continue to build on an already great partnership and the annual NASCAR Sprint Cup race is the largest single-day event in Las Vegas each year," said Rossi Ralenkotter, president and CEO of the Las Vegas Convention and Visitors Authority. "This year's race demonstrated once again that Las Vegas continues to be a fan favorite on the NASCAR circuit, and we look forward to many more years of successful events."

The race weekend included the Kobalt Tools 400 NASCAR Sprint Cup Series race, the Sam's Town 300 NASCAR Nationwide Series race, Stratosphere Pole Day and two nights of dirt-track racing for USAC and the World of Outlaws. Tickets for the 2013 NASCAR Weekend already are on sale at www.lvms.com or 1-800-644-4444.

Well, gang, that's about it for this week. See ya all at the "Roast of all Roasts." I'm outa here!

CONTINUE ON TO...:
>It's The Norm Article Archives
>Las Vegas News - "Heard Around Town"
>Las Vegas Leisure Guide