Sam's Town Hotel & Gambling Hall has launched a weekly afternoon variety show inside its 1100-seat "Sam's Town Live! Showroom. Variety Toast of the Town, is being produced by Ed Mathews' Desert Productions, every Thursday at 2 p.m.
"Toast of the Town,"will feature well-known Las Vegas entertainers in a variety show format. Musicians, singers, dancers, impressionists, magicians and comedians will rotate week-to-week inside Sam's Town Live!.
"We are delighted to present this weekly variety show to our Sam's Town guests," said Terry Jenkins, Corporate Director of Entertainment for Boyd Gaming. This format has been exceptionally successful at our Suncoast property, and our collaboration with Desert Productions will bring the best in Las Vegas talent to the Sam's Town Live! stage."
Desert Productions represents many successful musical artists and acts in Las Vegas, including Vocal Soup(Clint Holmes, Susan Anton, Domenick Allen and Martin Nievera), Shades of Sinatra, The Las Vegas Tenors and Lena Prima.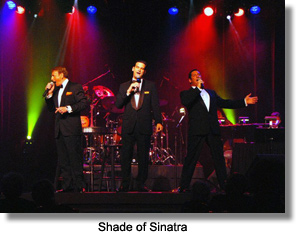 "My true love lies with recreating the vintage Vegas lounge experience. In Variety Toast of the Town,we are able to bring in a diverse and exciting group of performers every week," said Ed Mathews of Desert Productions. "There is nothing like the afternoon crowd and they are an extremely devoted audience."
Upcoming special guests for Variety Toast of the Towninclude Ronnie Rose from House of Blues Las Vegas, Mollie Tenant of Jubilee!,Tina Walsh from Phantom-The Las Vegas Spectacular, Robin Vincent and The Swing City Dolls, George De Mott of Voce Vegas, Michael Laygo of Society of Seven, Mark Giovi from the popular show Bite, Genevieve Dew who regularly performs with The Platters, Michelle Johnson who has performed with the likes of Gladys Knight and Sonny Turner, Teddy Davey of Las Vegas Tenors, Zowie Bowie and the comedy of Cork Proctor. Musical director for Variety Toast of the Townis Bill Fayne and Philip Mathews is co-producer.
The afternoon we visited the show Robin Vincent and Jack Walker (who was a principal male vocalist in The Folies Bergere and Jubilee!), were hosting the event. Ms. Vincent opened the show with a beautiful rendition of "Don't Cry For Me Argentina," followed by a duet with Walker of "Phantom of The Opera." The first of the variety acts were dancers Robert Selvan and Sarah Sutter from Jubilee! Ellie Smith, a very talented 13-year-old, who played the lead a while back in "Annie," sang "Johnny One Note" and "Tomorrow." This little bundle of dynamite has a huge future ahead of her, that's for sure.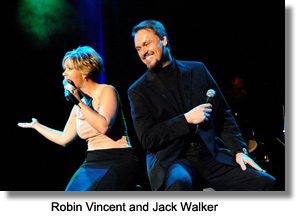 Comic Bruce "Big John" Mickelson­The BBQ Man, from the hit show, "Viva Las Vegas" at the Stratosphere, was next. The great Sonny Turner of the World famous Platters (Turner joined The Platters in 1959) was a giant hit with the SRO crowd as he sang "Only You," "With This Ring" and "My Prayer."
The show is beautifully lit, the sound is first rate, and the performance time is kept to a very tight 75-minutes. Entry is free to all B Connected Club members. Non-member entry is dependant on space availability. For further information call 702-456-7777 or visit www.samstownlv.com.
THIS AND THAT QUICKLY:
Rock & Rita's, a new club inside Circus Circus, hosted a jam packed VIP Grand Opening party with Kevin Burke and the cast of "Fantasy" the other evening. It was quite interesting to say the least. One of the clubs owners, David Tuttleman, stopped by our table and left without his famous bowling ball. Thank God he returned later and took it to another table. I understand he manufactures a branded bowling ball. The VIP list included Burke (of the "Defending the Caveman"), Nisha and Seema Sadekar (of the world of golf), and of course those beautiful ladies of "Fantasy." There was an exhibition of bartenders doing their "Flairing," while hot dog and hamburger sliders were generously passed out, to the definitely loud crowd of well wishers.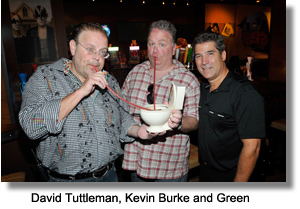 The beautiful daughter of a member of the real "Rat Pack," will be performing at the Suncoast Hotel & Casino, Saturday and Sunday, July 24-25. Deana Martin will perform her very special, "A Tribute to my Father Dean Martin" beginning at 7:30 p.m. I will be interviewing her on Monday, July 19, for this column on Friday, July 23. As many of you know, I knew the guys when they worked at the old Sands Hotel, and I seem to remember a gangly little girl who would sit out front and watch her dad perform (of course she was sitting with her mother). A few times, when I went back stage to see The Man (Mr. Frank Sinatra), I think I spotted her hanging out with her father. I'm going to ask Deana about those nights, and some other interesting questions. I think you'll enjoy this next column.
Well, gang, that's about it for another week.
I'm outa here!
CONTINUE ON TO...:
>It's The Norm Article Archives
>Las Vegas News - "Heard Around Town"
>Las Vegas Leisure Guide<