Mariann Mohos? That name really means very little to the average citizen. However, she has penned a very interesting, and funny true to life book, that every traveler needs to read. And, if every traveler was to purchase the book, it would become a major runaway hit in every bookstore in the country. However, I'm positive that will not happen—every traveler purchasing the book that is!
You see, Mohos spent a number of years working as a concierge in a various hotels. Being a concierge in any major hotel is a very interesting job, that's for sure. But, where Mariann worked was far more intriguing. She worked as a concierge in Las Vegas, where "What happens in Vegas, stays in Vegas!"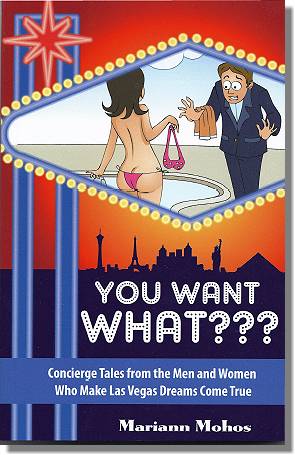 You got it right, she writes about her personal experiences in her new book, "You Want What???" It is 234 pages filled with little anecdotes from various concierges throughout Las Vegas. Some of the stories are absolutely unbelievable, while others are so darn funny, you are still laughing as you turn the page to another tidbit. One of the stores that intrigued me, involved a VIP (Very Important Person) guest at a prestigious Strip Hotel, who called from the pool. He needed help in replacing his girlfriend's delicate body piercing that was lost at the pool. Would she come immediately? The answer will amaze you. That is just one example of the hundreds of strange requests Mohos, and other concierges, receive on a daily basis.
It's a fast read too. You can order a copy of the book by going to Mohos web site: www.lasvegasconciergestories.com.
THIS AND THAT QUICKLY:
You can help support the homeless by purchasing a porcelain skull at The Corner Gallery, at 1325 Arizona Street in Boulder City, NV 89005, for $12. Decorate it any way you want to, and then donate it back to the gallery before October 1. Decorated skulls will be on display, and a silent auction will take place at the gallery during the month of October. The event will culminate in a "Day of the Dead" observance on Friday, October 28. The highest bidder will be announced and skulls will go to their new owners. There will be music, food and festivities! A percentage of the proceeds from the event will go to support Family Promise of Las Vegas. During the month of October the gallery will also have a remembrance altar. Feel free to bring in photos and mementos in memory of those who are no longer physically with us. Call (702) 501-9219 or e-mail thecornergallerybc@gmail.com for more information.
Actress/singer/comedienne Lisa Donovan, who has played main rooms in Las Vegas, and elsewhere, along side some of the greats of show business, takes her vows seriously, in the role of the Mother Superior in the musical production NUNSENSE at the Las Vegas Hilton. NUNSENSE is the world-famous musical comedy now playing daily except Fridays in the Shimmer Cabaret. Show times are 4 p.m. For further information call 702-732-5755.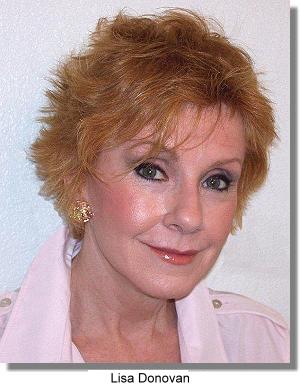 Piano! Las Vegas, performing at the "V Theater" inside the Miracle Mile Shops at Planet Hollywood Resort & Casino, is featuring comedy-magician Mike Hammer for the remainder of July. Hammer will open the show and return midway through, performing a variety of astounding magic tricks, ranging from escaping handcuffs to swallowing double-edged razor blades. Hammer is a triple threat; as an actor, comedian and magician. He has performed for audiences nationwide, ranging from college campuses and clubs, to corporate events. Hammer currently hosts his own variety show, Vegas Live, and is part of the comedy-magic duo, Spike and Hammer. Piano! Las Vegas™, starring Ryan Ahern, is backed by six of Las Vegas' finest musicians, who entertain audiences with exciting and lush arrangements. Piano! Las Vegas performances are set for 2:30 p.m. Mondays –Thursdays, and Saturdays.

While the Electric Daisy Carnival drew some 230,000 people, and the world's biggest names in the DJ industry to Las Vegas, there was one act that attendees didn't get a chance to see – and it's one that's truly For Popular Consumption (fpc). That's because the up-and-coming DJ known as "fpc," who hails from Quebec, Canada, was busy creating his own news as an invited guest to the prestigious three-day IIFA Film Awards in Toronto that took place that same weekend. Following a string of successful stints in Los Angeles, and Las Vegas in April and May, the latter including gigs at Posh Boutique Nightclub, the Artisan hotel, and the Brass Lounge at Hennessey's Tavern, "fpc" was honored to walk the green carpet at the extravaganza.

The brand new Plaza Hotel & Casino, downtown, will have a one-of-a-kind type bar concept, when its Swingers Club opens on August 24, along with the rest of the new hotel. Conceived by longtime Las Vegas entertainer, Anthony Cools, it will be different than any club now existing in our Village. According to Cools, it will have dueling pianos as the musical centerpiece of the bar (nothing new there), but then they will not be on a stage, but on the dance floor. What really makes the experience a total turn-on, will be the nine holes of mini golf, which will definitely place the Swingers Club on a new level of entertainment. The bar will be open from 11a.m. to 4 a.m., seven nights a week. Cools said they will be hiring approximately 30 staff members, and will begin the process of interviews today (Friday, July 15).




Well, gang, that's about it for another week of thrilling news. I'm outa here!



CONTINUE ON TO...:
>It's The Norm Article Archives
>Las Vegas News - "Heard Around Town"
>Las Vegas Leisure Guide<