Las Vegas Sun columnist John Katsilometes had recently covered a young man on a journey to Italy, where this very talented singer/composer, traveled to get inspiration for some new songs. I had been hearing a lot of chatter about this guy, who has the energy of a dozen singers, who loves "Crown Royal," and who just seems to have fun performing on a large stage, or in a small corner of a bar. Oh, his name? Frankie Moreno.

So naturally, I had to see for myself just what all the gossip and chatter was about. I called Kats (that's his nickname, hummmm), and arrangements were made for me to see him at his venue, the Stratosphere Hotel on the northern end of the Las Vegas Strip.

It's been some time since I heard a "live" brass section, and even longer for a "live string section," so that immediately told me something was different about this show: "This is not an ordinary singer!" The first song presented by Moreno, and his 10-piece band, was "As Long as I'm Singin," which was a salute to one of his singing icons (I'm sorta guessing on that), Bobby Darin.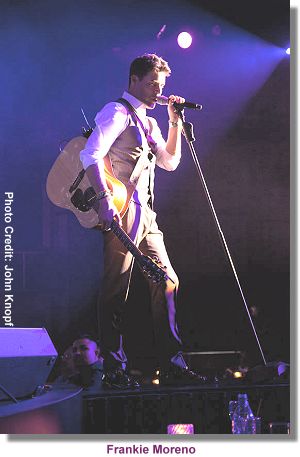 Now, in all honesty, I have to say one thing. The sound for my ears (which have been around for 79 years, and have been misused by sound for at least 60 of those years) was slightly over the top. But, the SRO crowd appeared to enjoy every song no matter how loud the band played.
Moreno definitely is a talented singer and performer. He is even a more proficient composer — performing at least 10 of his original songs during the nearly two-hours they "rock" the stage. These included titles like: "I Betcha," "Tangerine Honey," "Black Mascara," "Let's Fake a Honeymoon," and "Moonlight Matinee."
Frankie was born in Santa Cruz, California, and his career trajectory started upward at the age of 11, when the classically trained pianist landed a spot next to Ed McMahon on "Star Search." From what I learned, Moreno is currently working on his own album with Sony Masterworks, an opportunity that arose after Frankie collaborated on the "Eleanor Rigby" track, with world-renowned violinist, Joshua Bell, on his best-selling debut album, "At Home With Friends."
One also never knows who will stop by to see, for themselves, this future star. Heck I've heard that a number of headliners on the Strip (when they are in town), find their way to the Stratosphere, when Moreno is performing, as he is quickly becoming a favorite among music-lovers, as well as fellow entertainers, and celebrities. His unique style and sophisticated swagger have garnered the music industry's attention, whether on tour with Billy Currington, who was co-headlining with, Sugarland, or joining multi-platinum artists, Air Supply, on their world tour. Now, as the new headlining act at the Stratosphere Casino, Hotel & Tower; it's only fitting that this rising, and unique star, has a home at an iconic property.
TOP OF NEXT COLUMN
Moreno was recently picked by the Las Vegas Review-Journal staff in its 2012s "Best of Vegas," as "Best All-Around Performer." And, now I know why! What makes his show a fun stop is that it not only features Frankie singing and playing the piano, harmonica (another rarity), and drums, but also features two of the ladies from the "string section," which is truly unique. And a beautiful dancer, and "oh, yeah, and let us not forget the 'Crown Royal.'" If you are not familiar with the name, it's the top of the line (my opinion) of the Canadian whiskey, once owned and produced by Seagram's Distillery. Not only does Frankie consume a few shots during the show, but he pours a few shots for those sitting in the front row (I presume he does this every evening?), and members of his band. Other popular songs performed include, "Mack the Knife," "Daydream," "Birth of the Blues," "Eleanor Rigby," and the closer, a rousing Jerry Lee Lewis', "Rockin' My Life Away."
Wow, I'm wrung out from watching this guy rock for nearly two hours. It reminded me a lot of a young Sammy Davis, Jr., who always gave out with a 120 percent of his energy, and also never wanted to stop once he was on stage. I can't say enough about Frankie Moreno. He is climbing that precarious ladder to fame, and he will get there! There's not a doubt in my mind! Catch him in the Stratosphere Showroom, Wednesday through Saturday at 8 p.m. Tickets start at $39.99 plus tax. For reservations call 702-380-7777.
THIS AND THAT QUICKLY:
Accomplished actress, singer and former Las Vegas headliner, Lynda Carter, will perform standards, country hits and pop songs at the Suncoast Showroom, July 14 and 15. During her early years as a Las Vegas performer, Lynda was named "Miss Mint 400" (The iconic off-road race), and eventually went on to earn the title, "Miss World U.S.A.," which led her to hit the world stage in 1972. Soon after, she moved to Los Angeles, where she studied acting, sang and wrote songs. Following several guest spots on television series', Carter outperformed hundreds of actresses to land the role most associated with her long career – "Wonder Woman," where she starred for three seasons playing the iconic super hero. Lynda eventually returned to headline on the Las Vegas Strip in 1978.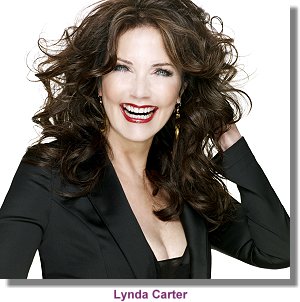 Carter also appeared as Matron "Mama" Morton in "Chicago" on London's West End. In addition to her acting career, Carter has produced and starred in five highly rated network television specials, several of which were Emmy®-nominated. She has appeared onstage with many popular show business veterans, including Ray Charles, Tom Jones, Kenny Rogers, Bob Hope, George Benson and Ben Vereen. In 1978, Carter released her debut CD, "Portrait." In 2009, she released "At Last," featuring a mix of jazz and blues, reaching No. 10 on the Billboard jazz album chart. Her latest album, "Crazy Little Things," a collection of covers of standards, country and pop songs, was released in 2011. Showtime each evening is 7:30 p.m. Tickets are available from $15.95, plus tax and fees. Tickets can be purchased at any Coast Casinos box office, or by calling 702.636.7075, or visiting www.suncoastcasino.com.
---
Went to see Stephen Sondheim's musical, "Company," at the LVH (formerly the Hilton) last Monday, and was pleasantly pleased with the RagTag Entertainment production. Bill Fayne was at the top of his musical game, conducting the 22-piece orchestra. There were 14 top-notch actors and singers on the showroom stage, and it is impossible to single out one performer over another—as they were all wonderful. I just wished I had more space to list everyone involved with the musical, but I will try and do that in another column. Needless to say, it was a night to remember. Another nice surprise was watching the Mrs. United States competitors arrive in the showroom, where competition started last night (Thursday) to award the 2012 crown.

Well, gang, that's about it for this week. I'm outa here!

CONTINUE ON TO...:
>It's The Norm Article Archives
>Las Vegas News - "Heard Around Town"
>Las Vegas Leisure Guide