There is one funny guy in town and Hooters Casino Hotel, at East Tropicana and the Las Vegas Strip, has him. He's not new to Las Vegas audiences, but he is new to holding down a show for more than 70 minutes. Oh, yeah, his name: Todd Paul!
Paul is doing his comedy/magic act inside the Night Owl Showroom at 7 p.m., Saturday through Thursday. It's been a long time since I saw Todd do his stand-up, and that was at, Bob Kephart's Comedy Stop, at the hotel on the corner (The Comedy Stop left the corner hotel after a run of 18 years).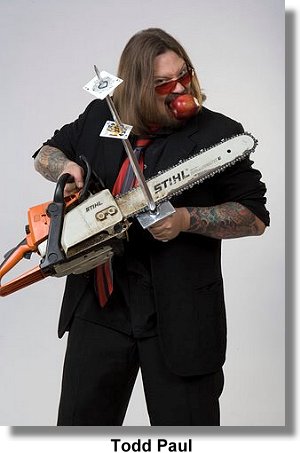 Todd has taken an old trick and re-worked it to perfection, and it's hilarious. Of course Paul starts out like all stand-ups-sorta picking on the audience, etc. For his first trick he announces that he needs a volunteer-and picks on a very large guy from the NASCAR section (his description). The trick starts out normally with the volunteer picking a card from a deck of cards. The comedy starts with Todd instructing the wary volunteer on what he is to do next, when told to tear the card in half-but only when he says to. Well, you know what comes next, he begins to give the instructions a couple of times, and un-wittingly the guy tears the card. Paul takes one corner and tells him to put it deep in his pocket.
What makes this a new way of doing the trick, is he uses a 3-D screen (you are given 3-D glasses upon entering the room) and of course the card appears on the screen. Good so far, but of course, we haven't seen everything yet. He gets another volunteer (the original guy's buddy) and the two now become stooges to further the gag.
Paul brings out a very tall Uni-cycle and a stool. The set up is a stroke of genius and I shall not give it all away. Needless to say, Todd uses a sword to stab at the deck and collect a card. That's all I'm telling about that trick.
Not only is Todd clever with his stand-up, but like he says during the act, he started his career "busking" (the art of performing in public places) on the streets and in the parks of San Francisco. He shows some of that early learning by juggling up to four glass balls (not the typical up in the air type) on his arms and in his hands. It is a very magical bit of juggling. y
For his final big trick of the evening, Paul gets two very good looking ladies to come on stage to assist him-he has an uncanny way of picking his volunteers. After losing his pants, he brings the girls a pair of Levis, and how he gets into them is again very clever and funny.

"I just have the knack for taking useless skills and making them humorous," Paul said. "My act could best be described as one part danger and two parts physical mayhem."

This writer has to agree with that statement. The Todd Paul show is well worth the price of admission, $24.95. Buy one ticket and the second one is free. Not a bad deal!

THIS AND THAT QUICKLY...

The Golden Nugget, downtown, is into its second week of promoting its $69,000 in cash and a new Chevrolet Camaro SS, as a tie-in with the Fremont Experience's "Summer of 69/Vegas or Bust" promotion. There are many ways to earn drawing tickets, including by playing the slots, card games or joining the 24 Karat Club...

A live orchestra, stunning showgirls and five concert grand pianos, make up the Lionardo Piano Follies, and that alone should get you to the Suncoast Hotel Casino showroom, July 24-26. Showtime is 8 p.m., with tickets priced at $19.95 plus tax....

"Praise," the show this writer raved about when it first appeared at the South Point Hotel Casino last April, returns this Sunday afternoon. Grammy winner, Larry Hart, thought up the concept, based on the world's 10 major religions. It's a comedy, a Broadway show and sorta Pop all mixed into a 90 minute presentation. Besides starring Hart, the show also features super fine singers: Darcus Speed, Diane Spann, MarQue, Jennifer Weatherly, Jeneane Marie, Paris Red and Jenevi, each of whom is a star on their own. If you missed it the first time, you do not want to miss it this time. I guarantee that you'll go away honestly entertained and feeling good. Tickets are priced from $25 to $35, with the show scheduled to kick off at 2:00 p.m.

Speaking of Bob Kephart's Comedy Stop, by the time you read this the ink will be dry on a batch of papers, that'll bring the famous club back to the Las Vegas Strip. Expect the announcement next week.

That's it for another week.
I'm outa here!





CONTINUE ON TO...:


>It's The Norm Article Archives
>Las Vegas News - "Heard Around Town"
>Las Vegas Leisure Guide<