Multi-talented actress, producer and recording artist, Connie Stevens, opened Wednesday (July 6) in the Starlite Theater inside the Riviera Hotel & Casino. Performing with Stevens is the accomplished actor and comedian, John Byner. Stevens and Byner will appear for a limited engagement, through July 17, with show times set for 7:30 p.m.
This reporter first met Connie in the early '80s at a benefit event in Palm Springs. A host of stars were on hand to help raise some money for a worthy cause (don't remember the cause), and I had accompanied Robert Goulet to the event (I was his publicist at the time). Stevens was one of the most vibrant ladies I had ever met (at that time, and in the later years when she performed in Las Vegas), and she was just starting to promote her personal line of healthy facial restorative products, Forever Spring, which I understand is worth millions today. She was telling everyone how great the product was, and she was positive it would make a difference for anyone who tried it. I guess a lot of people liked it! That was also where Robert and I first met John Travolta, and Goulet actually flew in a hot-air balloon as part of the promotion.
The next time I was in Stevens' company was when she played the Las Vegas Strip a few times, and then the surprise of surprises, Debbie Reynolds booked her to play in her showroom at the Debbie Reynolds Hotel on Convention Center Drive (since sold many times). I thought she was terrific and wrote same. However, a couple of reporters thought she was phoning the show in (that means lip syncing or not really giving her heart and soul to the performance), which of course required a rebuttal from yours truly. Hey, gang, if she's on that stage and working hard to entertain, then she deserved the respect of her audiences and peers. I believe Connie Stevens is a fantastic person who has had her share of reporter abuse, and has risen above it all to be a great lady of the stage. I am looking forward to seeing her once again this coming Wednesday.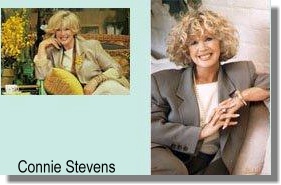 Connie's career in the entertainment industry spans more than 50 years. Her musical career began when she first sang in a group called The Three Debs at the age of 16, and then proceeded to record as a solo artist with the Warner Bros. label. Stevens recorded major hits in the 1960s, including "Kookie Kookie (Lend Me Your Comb)," a duet with Edd Byrnes, and "Sixteen Reasons." In her starring role on the hit series, "Hawaiian Eye," Stevens propelled to fame as of one of America's teen idols in the '60s. Her television work also includes "Maverick" as well as "77 Sunset Strip," "Wendy and Me" with George Burns and several other television roles. Over the years, Stevens' work included roles in films such as "Rock-A-Bye Baby," "Parrish," "The Grissom Gang," "Grease 2," and "Tapeheads."
Hailed as a "Man of a Thousand Impressions," Byner has appeared on hundreds of stages throughout the world, and has opened for some of the finest jazz greats, and legendary stars. This has been followed up with opening and headlining stints across the country including at Basin Street East, Copacabana, The Rainbow Room, and at Las Vegas showrooms such as Harrah's, The Sahara, The Sands, as well as Riviera's Comedy Club.
THIS AND THAT QUICKLY:
Las Vegas has a new market, and its located right downtown in the new Fremont East Entertainment District. It's an honest to goodness Farmer's Market, and will feature more than 15 different local farmers selling their home-grown produce. It is scheduled to be open from 10 a.m. to 1 p.m. on Thursdays, beginning July 14th. The market is located in a free-standing, yellow building, right behind the El Cortez Hotel & Casino, 115 N. 7th Street. It is free to the public and free parking is available in the El Cortez parking garage. There will be music playing during the time it's open.
Sponsored by Downtown FEED, which is an off-shoot of Project Dinner Table, the popular dinner series that features local growers and purveyors for a one-night-only multi-course menu served continuously at a table seating 150 guests. Project Dinner Table's founder and spoon-bender, Gina Gavan, helped to create Downtown FEED to fulfill the city's need, to be able to purchase from local growers and farmers.
I'm taking the liberty of extracting an editorial from the "Midsummer Magazine," by its publisher and editor, Bruce C. Lee. The magazine is part of the Utah Shakespeare Festival in Cedar City, which just kicked off its 50th year of presenting some of the best plays ever written. The following is exactly what Lee wrote:
In 1962, America's young space program launched Ranger 3 to study the moon, Johnny Carson took over as the host of NBC's Tonight Show, and Richard M. Nixon lost the California governor's race, stating in his concession speech (by the way this reporter, Norm Johnson, was in the press corps that day in Beverly Hills) that "You won't have Dick Nixon to kick around anymore." However, Ranger 3 missed the moon by 22,000 miles, Johnny Carson hosted the popular talk show for thirty years then retired, and a world witnessed the spectacular rise and tragic fall of Nixon.
Yet, 1962 was also the year the fledgling Utah Shakespeare Festival produced its first three plays: The Taming of the Shrew, Hamlet, and The Merchant of Venice. Although it started small and was basically unnoticed outside Utah, the Festival had staying power. Now celebrating its fiftieth year, a major feat for a non-profit organization, the Festival is known across the country and is admired by the theatre world. It has earned numerous awards, including the much-coveted Tony Award for Outstanding Regional Theatre; and has nurtured a base of loyal, almost fanatical, playgoers who return year after year to the beautiful scenery of southern Utah and the timeless stories created on the Festival stages.
It is a feat to be noted and to be proud of. Fred C. Adams, and his late-wife Barbara, were the founding force behind the Festival, and Fred still is a part of the vision behind this still-growing theatre company. Along the way, literally thousands of artists have worked onstage and behind the scenes to create the magic that has become known as "The Festival Experience."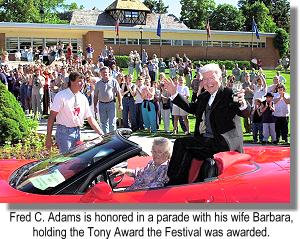 Thus, I hope the world will join with me in wishing the Festival and everyone associated with it, a happy, prosperous, and successful fiftieth season. Well done and thanks for letting me ride along.

Well, gang, that bit of writing just about covers it all, much better than this reporter could do. I'm outa here!


CONTINUE ON TO...:
>It's The Norm Article Archives
>Las Vegas News - "Heard Around Town"
>Las Vegas Leisure Guide<