The following column was originally released on July 23, 2004, in the Las Vegas Leisure Guide. It was one of my rare vacations, and turned out to be a wonderful week of seeing the beauty of the State of California, where I was born, but never quite saw its total beauty until this particular vacation. I discovered its interior beauty, as well as its coastal (which I had sorta known about growing up in San Diego). This week of driving through its interior and coastal regions was an eye-opener, and very possibly the best vacation of my lifetime. If you have the time to actually drive to a place you want to visit, and get to know it up close and personal, then I strongly suggest the following:

Column Continues Below Advertisement

---
Well, gang, we made it back successfully from a week of relaxing on the sands of California, and among the beautiful mountains of Sequoia National Park. We (my travel companion Cathy Bittinger) left the village (Las Vegas) a week ago Sunday morning and drove to the city of San Simeon - gateway to Hearst Castle. We checked into the Cavalier Hotel - the only hotel with rooms actually facing the beach. The first night we spent with a group from various locations, huddled around an outdoor fireplace that overlooked the cliffs. The hotel had three of these fire pits lit at sundown. We, of course, brought along a good bottle of local wine, and it was near midnight when we rolled into our room.
The next morning we drove to the waiting area for a bus ride up the mountain to the Castle. We had made advance reservations for "Tour One" on Monday and "Tour Two" on Tuesday. Let me tell you this very quickly - it is almost impossible to describe the tours or what you see during your 70 minutes. The Castle with all its opulence is an example of extravagance at its best. One could not even consider building and furnishing such a residence with today's dollars. It was party central during Mr. Hearst's and his lady fair, actress Marion Davies' heyday. Once on tour you are well informed of all the little things that took place at the castle by Park Service Guides, who are paid employees of the California Parks system. These men and ladies are well informed on the history of the Castle, and love nothing better than to answer every conceivable question asked. It's an experience you'll not soon forget. If you're like us, you'll want to go back and take the other three tours.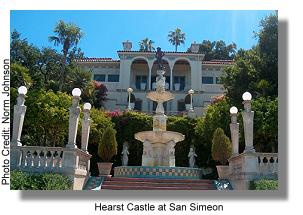 On Tuesday, following our tour, we proceeded to drive through the local wine country (making a few stops along the way) as we headed for Big Sur. Our destination was the Post Ranch Resort where we had reservations for my Cathy's birthday dinner. This is a five-star plus resort with rooms (we did not stay overnight) starting at around $745 per night. The restaurant is built out over a cliff and provides a spectacular view of the ocean below. And, the service - well let's just say it was fabulous. The drive back to San Simeon via U.S. 1 was something else. We were warned to drive during as much daylight as possible, as the road is only two lanes and very winding. That's putting it mildly as we kept turning left and right for nearly 80 miles. It was again an experience you must partake in.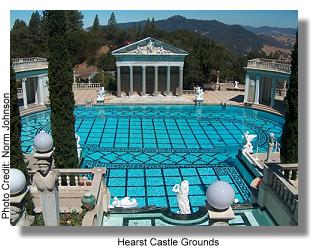 Wednesday was a free day of nothing scheduled. We drove down to Moro Bay, had lunch, looked around, and then on our way back stopped in at Harmony Winery where we did a wine tasting. We eventually purchased a few bottles (12) of its wonderful wines.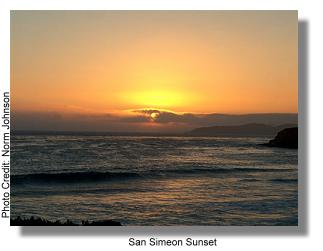 TOP OF NEXT COLUMN
That evening was another highlight as we decided to have dinner at the Moonstone Beach Bar & Grill, which of course has a fabulous view of the ocean and the spectacular sunset. Again the service and provisions were the best. The owner of the establishment, John MacKinnon, couldn't have been nicer. He knew us from nobody, but made us comfortable from the moment we saddled up to the bar to await our window table. The restaurant is located on U.S. 1 between San Simeon and California Highway 46. If you want to watch an unbelievable sunset while having your favorite beverage, with a great dinner, then believe me you want to stop at the Moonstone. It's that good!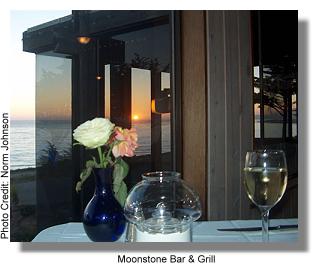 Thursday we drove to Sequoia National Park and checked into the Wuksachi Village Resort, where during dinner ran into a fellow Open Road Racer (you know the races from Ely, Nevada). He clued us into where to go and what to look for (being a retired Park Ranger).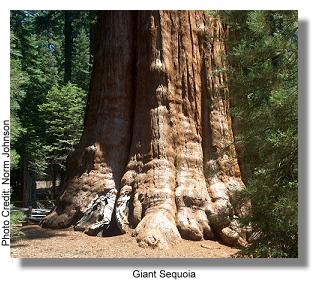 I have to say that the Giant Trees, and the entire Park, is without question awe inspiring and just spectacular. Having been born and raised in California it has taken me a long time to get to the Park, but I am so glad to have finally accomplished the trip. The oldest tree known to man is the Giant General Sherman Sequoia, which is nestled among a couple hundred of the giants. The Park Service has made the Giants easily accessible with walkways winding throughout the trees. I must repeat "it's an experience one must have during one's lifetime." Friday we spent touring the various locations with a "bar-be-cue" dinner, provided by the Park Rangers, at sunset in a meadow. That's where we discovered a deer and her fawn. She immediately ran away and left the fawn hidden among the plants. Of course we (other tourist and us) began to snap photos of the baby. That alone was worth the price of dinner.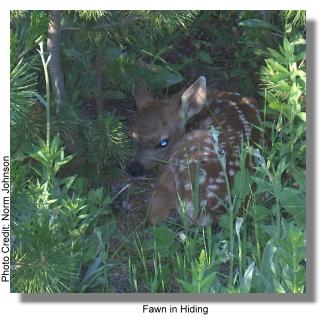 Our only regret as we left Sequoia and California Saturday was that we never saw a Bear. We saw lots of little critters (squirrels, chipmunks, etc) but no Bears. We talked to a few tourists who were fortunate to see a Black Bear crossing a road. But, hey, the main thing we did have was a fantastic vacation. We have decided the next vacation should include the Redwood Forest (actually part of the Sequoia family) in Northern California and Yosemite National Park. That's a goal well worth trying for!
---
THIS AND THAT QUICKLY:
Bill Fayne, one of the really good guys, and a wonderful singer/conductor, will be at the LVH hotel (formerly the Hilton over on Paradise Road) this Monday and Tuesday (July 9-10), with what I personally consider a fantastic production dedicated to a music man, Stephen Sondheim. I saw the fust production, when it was at another casino, and was blown away. There is a 22-piece orchestra (when was the last time you saw this on a stage?), along with a stellar cast of 14 singer/dancers doing their thing. Because of the above special column, I cannot list the cast (I really wanted to), but will follow up with a complete run down in a future column. Needless to say, this a deftnite winner and a must see! Tickets are priced at $25.00, with proceeds going to the Golden Rainbow Foundation, and are tax deductible. The Smith Center will continue with another special Sondheim show on Sunday, July 15 (more info next week).
That's it for this week. I'm outa here!