Nancy Barr and I went out to the Bootlegger Bistro last Sunday to meet up with an old (not in age) friend, who I have not heard sing in quite some time. And, I'm glad we did (Nancy is back from her visit with the Elks, the actual animals, in Yellowstone National Park). Michelle Rohl performed this time doing primarily "The Blues," with a couple of standards tossed in.
Ms. Rohl, who worked steady along the Las Vegas Strip, from the mid-eighties up to the birth of her baby girl, Shelby, eight years ago, was best known for her four years as a featured songstress for the Clint Holmes Show at Harrah's. Prior to joining Holmes, she was featured in the production revue, "Playboy's Girls of Rock'n Roll" at the Maxim Hotel/Casino from 1986 to 1990. Michelle was a beautiful singer and person then and is even more so today!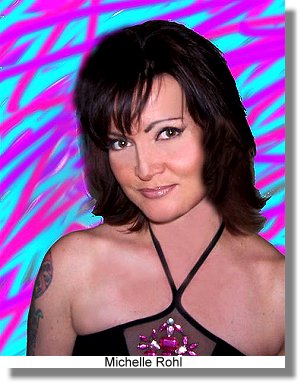 Her voice is perfect for the type of music she performed Sunday. The 80-minute show opened with Ms. Rohl singing a wonderful rendition of "I'm Ready," followed by the Bonnie Raitt hit, "Three Time the Loser." My favorite, however, was her very unique arrangement of "Over the Rainbow," which used her full range vocally. The band consisted of three fabulous musicians: Don Scott on bass, Brian Czach on drums and the great James Ralston, who backed Tina Turner for nearly 25 years, on lead guitar and vocals.
In keeping with the theme for the evening, when Michelle was told that a lady was celebrating her birthday in the audience, she sang "Happy Birthday to Jessica" in the "Blues tradition," very jazzy.
Of course it is impossible to do a "Blues" theme and not do a tribute to the "Father of Chicago Blues," Muddy Waters. Ms. Rohl sang the Paul Rodgers tribute song, "Muddy Water's Blues," and did it just as if he was in the audience. It was wonderful!
"God Knows" is an original song she wrote soon after her divorce. "I call it my divorce song," Michelle said. "The words explain everything."
THIS AND THAT QUICKLY...
One of the funniest guys in the business of stand-up comedy is Vinnie Favorito, who is firmly ensconced in Bugsy's Cabaret at the Flamingo Hotel, but did you know his passion is "Hold'em" poker? Well, to make a long story somewhat short, Favorito has entered the main event of the World Series of Poker, now underway at the Rio Hotel. Vinnie will start his session on Monday, July 6th. This is his third attempt to get to the final table of nine...

The Scintas return to Las Vegas, from a national tour, for a three night stand at the Suncoast Hotel/Casino, July 17-19. The Scintas are not your usual run-of-the-mill style of entertainers, nope--they do everything from comedy, to impressions to the bizarre, with little sister, Chrissi, well known for her stunning ballads and high notes. Showtime will be 8 p.m. with tickets starting at $29.95...

Comedy magician Mac King will travel to Beijing, China to participate in the 24th Annual World FISM (a huge magician invitational event) championships Sunday, July 26 through July 31. More than 2,000 magicians from around the world will be competing in various categories for the honor of being deemed "The World's Best" in a particular category. Good luck King...

The 100-seat Onyx Theater inside the Rack Clothing Store, 953 E. Sahara at Maryland Parkway, had a SRO crowd for the opening night of "Naked Boys Singing." The award-winning off-Broadway musical has been held over, until at least July 11, with shows on Thursday, Friday and Saturday at 10 p.m. and a 3 p.m. matinee on Sunday. Oh, yes, the boys are honestly naked...

Great news for those of us from Southern California, who can remember the wonderful hot dogs that made "Pink's" in Hollywood world famous. Pink's will open a new location inside Planet Hollywood at the south end of the property, with access available from foot traffic on the Las Vegas Strip. The new location will open in August and is expected to hire 30 to 35 locals for various positions...

Good buddy, Frankie Randall, returns to his roots July 15-16, when he performs in "Feinstein's at the Loews Regency," in New York. Frank Sinatra discovered Randall when the youngster worked as a piano/singer in the world famous nightclub, "Jilly's," and took Randall under his wing. In his later years "The Man" gifted Randall (as well as other singers) with arrangements to a number of the Sinatra standards. The two men remained life-long friends until his death in May of 1998.

Well, gang, that's about it for another week.
I'm outa here!



CONTINUE ON TO...:
>It's The Norm Article Archives
>Las Vegas News - "Heard Around Town"
>Las Vegas Leisure Guide<