One of the really nice guys, in the business of Showbiz, is a great friend of this writer. Of course I'm speaking of Clint Holmes, who will bring his powerful voice and magnetic stage presence back to the Suncoast Showroom this weekend, Saturday and Sunday, July 2 and 3, with show times set for 7:30 p.m.
Holmes' fans know him as more than just a singer. He's famous for making every performance an original, and captivating audiences with his charisma and signature style. Among his many recordings is the Top 10 smash hit "Playground In My Mind (My Name Is Michael)." His album "Edges," produced many other standout songs, including "Feel Like Makin' Love," the romantic "Shouldn't It Be Easy By Now," the playful "Gotta Get Up" and the thought-provoking "Let My Son See Africa."
With a long history of entertaining audiences in Las Vegas, Clint is known for his six-year run in his own show at Harrah's. Named Las Vegas' "Best Singer" four times and "Entertainer of the Year" three times by readers of the Las Vegas Review-Journal, Holmes' fame stretches far beyond Southern Nevada. He was also Atlantic City's "Entertainer of the Year" three times, and starred in Clint Holmes' Sophisticated Rhythms, a dynamic stage show that traveled through music from the 1940s to the present.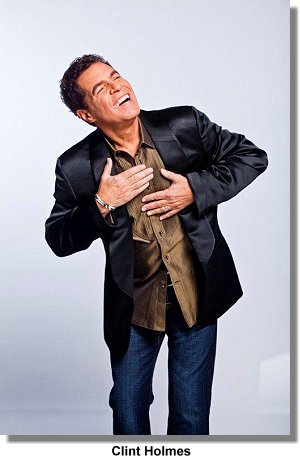 His 1996 critically acclaimed musical, Comfortable Shoes, which opened in New Jersey, was a poignant and uplifting journey into Holmes' interracial family's struggle to find its identity. In 2002, an updated version of the musical opened at The Royal George Theatre in Chicago. Among the show's rave reviews, the Chicago Tribune called it "a night of fully realized theatrical entertainment." Holmes has partnered with long-time friends Domenick Allen, Susan Anton and Martin Nievera as Vocal Soup—a showcase of solo performances, duets and group numbers. Following his performance at the Suncoast, Holmes will be going east to the Carlyle Hotel, in New York, where he will perform in the Café Carlyle doing a tribute to the late, Bobby Short.
Tickets are available starting from $15.95, plus tax and convenience fees and can be purchased by calling the Box Office at 702.636.7075 or by visiting the web site: www.suncoastcasino.com.
THIS AND THAT QUICKLY:
In addition to celebrating their 500th show at Imperial Palace on June 30, "Smokey Robinson Presents Australia's Human Nature – The Ultimate Celebration of the Motown Sound" will film the group's first PBS special at the Paris Theater inside Paris Las Vegas on Wednesday, July 6 and Thursday, July 7.
Produced by the renowned Ken Ehrlich, the special is set to air on PBS later this fall and will include an appearance by Smokey Robinson. The show starts at 7:30 p.m. each night. Tickets go on-sale at 10 a.m. Friday, June 24, and are $79 and $59 plus applicable fees and taxes. Tickets may be purchased by calling 877-374-7469 or online at www.parislasvegas.com.
"We have enjoyed bringing our high-energy selection of memorable Motown songs to our audience at Imperial Palace every night," said Andrew Tierney, one of the group's members. "This PBS special will give us the opportunity to share our show with an even broader audience. We expect fans watching at home to get on their feet and dance and sing along, just like the crowds in our theater night after night."
Named "Best Singers" by editors of the Las Vegas Review-Journal, the vocal quartets' contract was extended for two years through May of 2012, after only a year at the Imperial Palace. To further sing their praises, the 653-seat showroom in which the group performs was renamed the Human Nature Theater.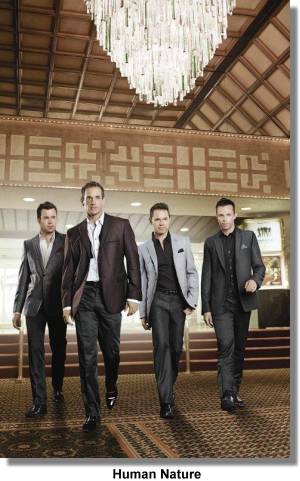 The four members of Human Nature - Toby Allen, Phil Burton, Andrew Tierney and Michael Tierney - perform many of Motown's greatest hits with distinctive and soulful harmonies. Known for their outstanding concert and stage performances, the group has opened for superstars Celine Dion and Michael Jackson and has made several international television appearances. The show performs six nights a week (dark Friday) in the Human Nature Theater at Imperial Palace. Tickets are $49.95 (plus tax and fees) and VIP $59.95 (plus tax and fees) and may be purchased by calling (888) 777-7664 or online at www.imperialpalace.com.
The hit making group, and Soul Train Hall of Fame members, The Pointer Sisters are set to perform their greatest hits of the '70s and '80s at The Orleans Showroom, July 16 and 17, each evening at 8 p.m.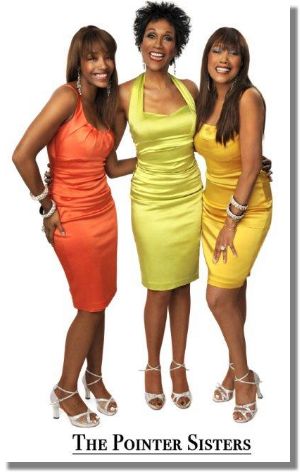 Prior to recording their first album in 1973, The Pointer Sisters, honed their singing skills in their father's church, The Church of God in West Oakland, California. The self-titled debut album produced the Billboard No. 11 single, "Yes We Can, Can."

Following the release of a live recording in 1974, the Sisters released a follow up studio album entitled "That's A Plenty," which generated "Fairytale," a hit song on both the Country and Pop charts. This song also garnered the groups' first Grammy Award® for Best Country Performance by a Duo or Group, and was later covered by Elvis Presley. With this hit, the Sisters became the first black female group to ever perform at the Grand Ole Opry and the first contemporary act to perform at the San Francisco Opera House.

The group continues touring and has performed with some of the greatest symphony orchestras in the world. In 2004, they recorded a live CD/DVD, which includes all of the favorite hits of the legendary group.

Showtime is 8 p.m. Tickets are available starting from $29.95, plus tax and convenience fees, and can be purchased by calling the Box Office at 702.365.7075 or by visiting www.orleanscasino.com.

Well, gang, that's about it for this week. Hope you enjoy a great Fourth of July weekend, but please make it a safe one. I'm outa here!


CONTINUE ON TO...:
>It's The Norm Article Archives
>Las Vegas News - "Heard Around Town"
>Las Vegas Leisure Guide<