It had been a couple of months since I last stopped by the Bootlegger Bistro, and visited with Kelly Clinton and the gang that run the Monday Night "Open Mic Cabaret." So, off we went, fellow columnist Nancy Barr and me, to catch the activity this particular evening, which I like to refer to as, "A bit of Old Vegas." I loved old Vegas, and was lucky to have a few years of seeing what it was like back "In the Day."
Kelly, in my opinion (and a lot of other residents of our fair village),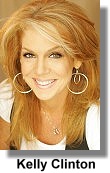 is one of the nicest, down-to-earth entertainers today. She has the sense and feel of what it was like to be an entertainer during the '50s, '60s and into the '70s (she is not that old gang), when the Las Vegas Strip, and even downtown, were considered the "Entertainment Capital of the World." We, columnists, etc., still wave those titles around now and then, but to be honest with you, it is not, nor will it ever be again, like the Good Old Days. It's gone forever, gang. But thank God we have entertainers like Clinton and her husband, Clint Holmes, who continue to try and bring those great days of yore back for us (even if it only for one night a week).
This particular evening, some old friends showed up to sing a song or two, along with a few new entertainers that have moved to the Village. Naturally, Kelly kicked off the show at 9 p.m. with her typical funny opening (she is really a fun-loving person). One of the guys, who a number of years ago got his first local break by appearing every Monday night at the original, "Celebrity Open Night," was a young singer by the name of Michael Cagle. He went on to work at the old Maxim Hotel/Casino, and eventually landed a long run at the Stardust Hotel. Michael has been on the road for the last four months, and just happened to stop by this particular night. I had not seen him in a couple of years, but wow, what a voice.
Another tremendous surprise was a newcomer to the Las Vegas entertainment scene (as far as I can remember), Mark O'Toole. O'Toole performs three nights a week at the "M Resort," and will be singing some of the songs from his new CD, to the public and media, Tuesday, June 28, at the resort. Here again, Clint and Kelly will be hosting the night. It can't get much better, gang. Naturally the public is invited for the special 6:30 p.m. show. I found O'Toole's voice to be quite nice, and like the title of his new CD, "The Crooner," he sings the songs made famous by such famous crooners as Bing Crosby and Frank Sinatra.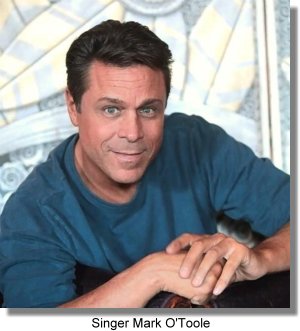 The Original member of the famous Supremes, Mary Wilson, who opened Wednesday night (June 22) in the Starlite Theater at the Riviera Hotel/Casino for a two-week run, was there to watch and listen to some of the new singers, who always stop by to show their un-discovered talent. They come every Monday, hoping to get that one big break (like Cagle who doggedly stuck in there every Monday night at the Bistro). Holmes joined Wilson in her booth, and encouraged her to step up to the stage and do one of her famous songs, which she did, using a couple of the young talents as backup singers. It was a tremendous evening for those young talents, and the audience. Of course, both Kelly and Holmes couldn't be more gracious and encouraging to these young, future entertainers, who will be at the right place, at the right time, and become our future performers and headliners.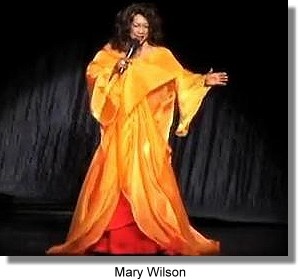 Another Vegas old-timer, who moved to Florida so he could get work (it seems a lot of our great entertainers, who really should be in a Las Vegas Hall of Fame, have to leave town to live and work), Carme, was here celebrating another birthday. Carme, who at one time worked just about every lounge in the Village, and opened for just about all the great entertainers of the past, got up and did a fantastic routine of "yodeling."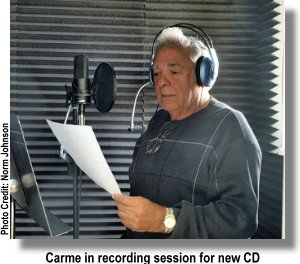 The SRO audience gave him a standing ovation, as did Holmes. Incidentally, Holmes will be performing next weekend at the Suncoast Hotel & Casino, so if you want to see talent, take an evening to see Clint Holmes!

Yeah, gang, Las Vegas is still alive and kicking. And, as long as we have entertainers like Clinton, Wilson and Holmes giving of their time and talent, to help the younger generation catch that Gold Ring, we will have great entertainment for decades to come.

THIS AND THAT QUICKLY:

Following a weekend of shows earlier this year at The Orleans Showroom, renowned funnyman with a knack for intelligent wordplay, and a longtime friend, Norm Crosby, brings his trademark act to the Suncoast Showroom, July 16 and 17, with show times set for 7:30 p.m. One of the best stand-up comedians, Sammy Shore, one of the few working clean (no four letter words) today, will open for Crosby.

Crosby is known as "The Master of the Malaprop," for his ability to substitute words for similar sounding words, to create a phrase that ultimately makes little sense, but is typically funny. His use of malapropisms and quick wit became lucrative as he began a stand-up career in the '50s, as part of a comedy act with Ethan Eichrodt. Following a smash run as part of this duo in Las Vegas, Crosby found success going solo, then going on to become a staple on the talk, variety and game show circuit in every decade since the '60s.

Crosby has performed or been a guest on multiple occasions on legendary television shows such as, The Merv Griffin Show, The Ed Sullivan Show, The Dean Martin Comedy Hour and The Tonight Show Starring Johnny Carson, among countless others. He has also appeared in popular game shows, including The Hollywood Squares, Liar's Club, Beat the Clock, and Celebrity Sweepstakes. In 2004, Crosby appeared on Last Comic Standing, as part of the "Roast Challenge."

Sammy Shore, founder of the Comedy Store on the Sunset Strip in Hollywood, and the comedian hand-picked by Colonel Parker to be Elvis Presley's opening act during Elvis' "Comeback Tour" in Las Vegas, now lives and works in Las Vegas.

Tickets are available starting from $15.95, plus tax and convenience fees, and can be purchased by calling the Suncoast Box Office at 702-636-7075 or visiting www.suncoastcasino.com.

The "V Theater" at Planet Hollywood, celebrated its 5th anniversary of "Stripper 101,"deemed to be one of the most popular pole dancing classes in the nation, yesterday, Thursday, June 23rd. As seen on E! News, the "The Girls Next Door" reality show, and in Cosmopolitan Magazine, Stripper 101 is considered by many, to be a great way to stage a fabulous bachelorette party or ladies' night out. Stripper 101 was voted the #1 way to unleash your sexy side, using real stripper poles, chairs, boas, high heels and drinks. It's perfect for women of all ages, shapes and sizes.

When you walk into Stripper 101, you're greeted by experienced, friendly instructors - former Las Vegas strippers turned "soccer moms." They will teach you sexy strip club moves, pole tricks… every seductive move to help you go from shy to "Oh, My!" "What we like to focus on in Stripper 101 is all of the positives of being a stripper… confidence, exhibitionism, beauty, and sensuality. There is no nudity, no men, just a group of girls dancing, laughing and having a blast in a safe environment," said Kendra Wilkinson, a stripper 101 instructor.

For more information about Stripper 101, go to www.stripper101.com or call 702.260.7200.

Well, gang, that's about it for another week. I'm outa here!



CONTINUE ON TO...:
>It's The Norm Article Archives
>Las Vegas News - "Heard Around Town"
>Las Vegas Leisure Guide<