Was invited to attend the Grand Opening of an art gallery the other evening. Randall's Fine Art & Custom Framing, 3585 S. Decatur Blvd. Suite "C," which was first established in 1994 as a framing business. Since then, it has grown into a successful company, with many products and services, ranging from fine art sales to custom framing. And, with staff experience of more than 20 years in custom framing, you know it's done right! Randall's has always had the highest regard for customer service, quality fine art, and unique framing designs.

Recently a positive new and exciting change has happened at Randall's Gallery. The gallery has taken on a bold new look featuring exciting, fresh, and stunning new fine art, and photography by several local artists. In this group we have Jerry Blank, Natasha Wilczak, Cindy Curtis, JVS, and the owner of the gallery himself, Randall Bruce! At the gallery we hope, with the introduction of local and international talent, we can expand the fine art business, and introduce our already established cliental to our Las Vegas visitors and residents. For more information call (702)-873-3224.

Growing up in a military family, Cindy Curtis has lived and traveled the world over. Being exposed to cultures far beyond the imagination, has impacted her depth as a person and in her artistic nature, to this day. Cindy's canvasses which are done in a traditional to contemporary style, with a Zen- like feeling, are filled with brilliant swirls of colors, Koi fish, and at times sparkling gems. This in result gives one a feeling of tranquility while gazing into them. She has a natural instinct to put her own emotions into her work which is what ties her style together.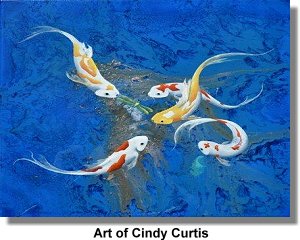 "My desire to create a sense of "spirituality" in each painting is foremost. I strive to pay respect to nature, life, and humanity. As this being the vision I wish to achieve in all my work, I wish for others to join me in this journey," Curtis explained.
Column Continues Below Advertisement
Jerry Blank's main body of work focuses around tribute paintings to jazz legends, rock and roll giants, sports greats and celebrated stars of the entertainment world. Most of his work is in an impressionist montage style, capturing images from the subject's career and life. In addition, Jerry has extensive paintings of tributes to European cityscapes, Las Vegas cityscapes, and various other subjects.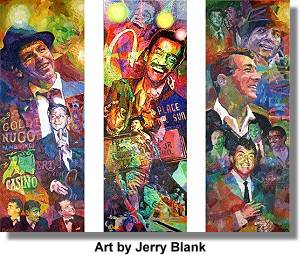 Spending most of his early career as a graphic designer, Jerry went to Paris in 2000 to paint, travel and speak French. Returning with fifty-one paintings after a year, his fine art career was launched. Now in full-sail, the journey continues. "Embrace art at all levels and art will embrace you and enhance your life." Blank said.
Coming from Poland at a young age, Natasha Wilcak was raised in Minnesota. After pursuing her studies at Drake University and graduating, she continued to travel the U.S. and Europe. Now, settling in Las Vegas, she is strongly pursuing a career in the art world. Wilcak' s paintings deal with a variety of subject matters and an obsession, of sorts, with detailing, consistently searching for suitable objects to recreate; an animal skull or an Indonesian doll, placing them within a surrealistic reality, maintaining that fine line between the real and the abstract.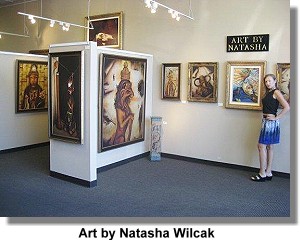 TOP OF NEXT COLUMN
Natasha's canvasses take an on-looker on a voyage from extreme realism to an uncanny blurred backdrop. These paintings become doorways to a particular moment or scene reinvented in Natasha's mind and coming to life on canvas. They involve realism, symbolism and at times a dream-like setting. It is her perception of reality which she expresses on canvas, and allows a diversity of people to admire. From the range of her themes, "I construct a common ground for my audience, melodically joining an array of cultures, placing them in a teahouse dream, and enveloping them in nostalgic memoirs of the ancient and the modern variety. It is the unique that ultimately unites us in art, love, and life," Wilcak stated.
THIS AND THAT QUICKLY:
Mistinguett Productions, Inc. will produce a Comedy Roast for long-time Nevadan, comedian Cork Proctor, and a very personal friend, on Sunday, July 22 at 2 p.m. at the South Point Hotel Casino. Proctor, a comedy legend who has performed for five decades in major hotel lounges and main rooms in Reno, Lake Tahoe, and Las Vegas, will celebrate his 80th birthday on the same day. Comedians who have been invited to roast Proctor are Kelly McDonald, Carme, Jac Hayden, Fielding West, Larry Omaha, Kenny Bob Davis, Jeff Wayne, Shecky Greene and Sammy Shore, among others.
Proctor's memoir, "My Mind is An Open Mouth," sponsored by UNLV's Arnold Shaw Popular Music Center and published by Stephens' Press, will debut at a book-signing immediately following the roast.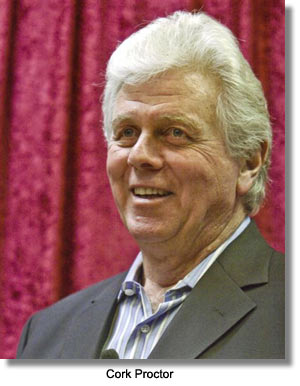 Mistinguett Productions, Inc. is a Las Vegas-based company formed in 2010 by producer, director and choreographer Mistinguett. Recognized in the entertainment industry as one of the most experienced director/choreographers of her time, Mistinguett, in conjunction with partner-producer Greg Thompson, has opened more than 400 shows on five continents over a 25-year period. She has collected eight "Show of the Year" awards for her work in Reno, Las Vegas and Atlantic City.
"This roast will be a lot of fun," says Mistinguett. "The public is invited to attend and requested donations will benefit Las Vegas charity Opportunity Village. For more information call (702)-420-7542, or e-mail mistinguett1@me.com.
---
On Sunday, June 24, Golden Rainbow will stage its 26th fundraising production, "Ribbon of Life," at The Smith Center for the Performing Arts at 1:00pm. Raising thousands of dollars for Golden Rainbow every year, "Ribbon of Life" has become one of the largest HIV/AIDS fundraisers in the state of Nevada. "Ribbon of Life" is an original production unlike any other in Las Vegas, featuring custom production numbers from the best singers, dancers and performers on the Las Vegas Strip. Already confirmed are Clint Holmes, Chippendales, Frank Marino's "Divas Las Vegas," Nevada Ballet Theater, "Human Nature," and many more. Showcasing new acts and talent, each year's "Ribbon of Life" audience is always surprised, thrilled and inspired by performances that are exclusive to the event. Tickets for Ribbon of Life start at $38, and are available by calling The Smith Center at (702)-749-2000.

Well, gang, that's about it for this week. I'm heading for the Deana Martin show at the South Point Hotel & Casino. The daughter of Dean Martin, will be performing her "Deana Sings Dino" show, this Friday and Saturday evening in the showroom, with show times set for 7:30 p.m. Call the box office at (702)-797-8055 for tickets starting at $15.

I'm outa here!






CONTINUE ON TO...:

>It's The Norm Article Archives
>Las Vegas News - "Heard Around Town"
>Las Vegas Leisure Guide