The show, "TWO OF A KIND," is an evening of comedy, song and pure entertainment for the whole family to enjoy, and a fascinating journey into the world of two of the most extraordinary impressionists and entertainers of our time. Rich Natole and Bethany Owen will deliver an original and unique Las Vegas entertainment experience, on Saturday, June 23, at the Italian American Club, 2333 E. Sahara Ave, with show time set for 8 p.m.

Natole is a multi-talented comic impressionist, who will take you on a wild and funny ride as a master mimic of dozens of the greatest celebrities in the world. With over 100 razor sharp comic impressions, Rich delivers fresh, original and hilariously funny material that will delight a world-wide audience of all ages. Fans that have seen his one-man show, "Voices of a Generation," will enjoy some of the new voices added recently like; Chris Rock, David Letterman, Jeff Foxworthy, Eddie Murphy, Mike Tyson, and Jerry Seinfeld. "I constantly strive to update the celebrities and the material. My crowd will always love the classic stars the most, but I work hard to make sure there is something for everyone in my show."

Natole has an uncanny ability to reproduce celebrity voices, their movements and personas and delivers it to the audience with terrific energy and charisma.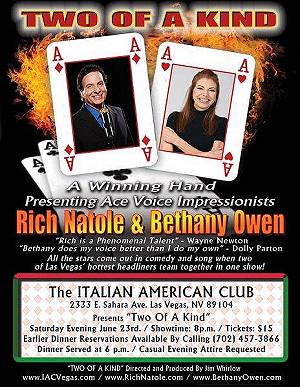 Owen, one of my favorite lady impressionists, was voted a two-time winner for, "Best Female Voice Impressionist," while performing at the Riviera Hotel for a number of years, as Barbra Streisand. Bethany celebrates the zany and fun side of celebrity personalities, through the use of comedic parody and musical vocal tributes to some of the world's most legendary female superstars of our time.
Owen continues to amaze audiences night after night with her incredible talent to mimic celebrity voices, as well as take on their character look, body language, and facial expressions. You'll experience the vocal and visual replications of Cher, Madonna, Marilyn Monroe, Liza Minnelli and Joan Rivers as well as super legends like Judy Garland, and some of the most down home country legend classics like Dolly Parton, Patsy Cline, Loretta Lynn and Tammy Wynette to current country divas Reba McEntire and Shania Twain, to name a few.
Good food at a reasonable price will be served at the Italian American Club beginning at 6 p.m. Tickets for "Two of a Kind," are priced at $15.00. For reservations, call (702) 457-3866
THIS AND THAT QUICKLY:
Two summer concerts will offer diverse entertainment for all ages, at two city of Las Vegas centers. "Blame it on the Walleye," which features singer/comedienne Richel Kompst, and her school of walleye back-up singers and band members, will take place at 2 p.m. Saturday, June 16, at the Charleston Heights Arts Center Theatre, 800 S. Brush St. The story is told through music and monologues featuring the Mistress of Ceremonies, Olga Torkelson, and a bevy of cameo impressions, including Doris Day, Ann-Margret, and the beloved Barbra Streisand. The show brings the audience through the diverse styles of music, from jazz to country, and Broadway to the Beatles. Tickets are priced at $10 in advance and $15 on event day.
DjangoVegas! will feature the Gonzalo Bergara Quartet, The Fishtank Ensemble, and The Hot Club of Las Vegas, in concert on Saturday, June 23, at 6 p.m. at the Historic Fifth Street School, 401 S. Fourth St. The G String Band will entertain in the courtyard during a pre-concert cocktail hour starting at 5 p.m., and during intermission. The concert is a celebration of the music of Django Reinhardt, and other gypsy jazz performers of the past and present. Concert tickets are priced at $10. For tickets go online to www.artslasvegas.org or call (702) 229-6383 or 229-3515.
TOP OF NEXT COLUMN
Classic rock fans can "travel down a dark desert highway and feel the cool wind in their hair," when, Hotel California "A Salute to the Eagles," reproduces the Grammy® Award-winning sounds of the legendary band at the Suncoast Showroom, June 30 and July 1. For more than two decades, Hotel California has traveled the world, and thrilled fans by replicating a showcase of Eagles' mega hits, including "Take It Easy," "Heartache Tonight" and "Hotel California." The band also pays tribute to the Eagles' later studio recordings, including "Get Over It" and "Love Will Keep Us Alive." The show likewise includes select titles from the solo work of the celebrated band members Don Henley, Glenn Frey and Joe Walsh.
The members of the band have shared billing or played with such artists as Peter Frampton, Smokey Robinson, Van Halen, James Brown and Huey Lewis and The News. Through a blend of vocal mastery and authentic instrumentation, including all specialty instruments, Hotel California delivers a stage spectacle that brings the magic and mystique of the Eagles' songs to life for fans of every generation.
Showtime each evening is 7:30 p.m. Tickets are available from $15.95, plus tax and convenience fees. Tickets can be purchased at any Coast Casinos box office, by calling 702.636.7075, or visiting www.suncoastcasino.com.
---
Known throughout the world as a premier Neil Diamond tribute artist, my buddy, Las Vegan Jay White pays tribute to the legendary performer at the Suncoast Showroom June 23 and 24. Performing as the "Sweet Caroline" singer since his first professional gig in 1982, White's physical and vocal embodiment of Diamond landed him a nearly nine-year stint in "Legends in Concert" on the Las Vegas Strip. White followed with an eight-year run of 2,000 shows, performing in as Diamond at the Riviera in a solo Las Vegas Strip show. White has appeared in many theaters, casinos and hotels throughout the world. He performed for President and Nancy Reagan, sang the National Anthem at dozens of professional sporting events, and appeared on a bill with Bob Hope for the American Legion.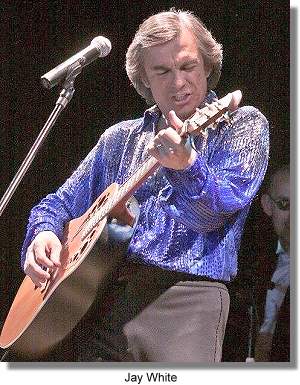 In addition to music and performing, White is an accomplished hockey player. Since his pro tryout with the IHL Kalamazoo Wings in the '70s, and his Olympic tryout in 1980, White continues to maintain his conditioning for both the ice and the stage. He is currently the emergency backup and practice goalie for the Las Vegas Wranglers.

Shows are nightly at 7:30 p.m. Tickets start at $15.95, plus tax & fees. Tickets can be purchased at any Coast Casinos box office, by visiting www.suncoastcasino.com, or by calling 702.636.7075,

Well, gang, that's about it for this week. I'm outa here!



CONTINUE ON TO...:

>It's The Norm Article Archives
>Las Vegas News - "Heard Around Town"
>Las Vegas Leisure Guide