Long-time friends and performers, Clint Holmes, Susan Anton, Domenick Allen and Martin Nievera will combine their talents onstage for the first time in Vocal Soup at the Suncoast Showroom, June 19, 20 and 21. They will also have a very special guest star, Vince Falcone, who has put together a 12-minute medley of songs from the Frank Sinatra songbook. Falcone was "The Mans" conductor for 10 years.
The 90-minute showcase of solo performances, duets and group numbers will leave fans wanting more as the stars of Vocal Soup fulfill a shared dream of rekindling the Las Vegas tradition of entertainers coming together in an "anything can happen" atmosphere. The show will feature a variety of musical genres, including rock `n' roll, hits from Foreigner, popular songs and standards, Broadway classics and originals, including the title song "Vocal Soup." Special guest Falcone will perform and conduct during a segment of the show dedicated to the music of "Ol' Blue Eyes."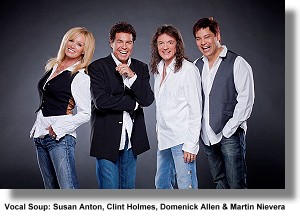 Each is an accomplished performer, Holmes, Anton, Allen and Nievera bring their individual vocal ranges and standout showmanship skills together for a rare group performance. Holmes, known for his powerful voice, magnetic stage presence and success in theater, enjoyed a six-year run in Clint Holmes at Harrah's, during which readers of the Las Vegas Review-Journal named him "Las Vegas' Best Singer." A charismatic performer with a smooth style, Holmes had a Top 10 smash hit with "Playground In My Mind (My Name Is Michael)." He's currently working on a theater project called JAM.

Susan Anton is known as one of the most enduring and versatile performers in show business, having achieved fame on Broadway, the big screen and in numerous television shows, including Night Court and Murder She Wrote. Anton, with her beautiful and free-spirited style, spent more than five years as special guest star with the Great Radio City Music Hall Spectacular and its renowned Rockettes at the Flamingo on the Strip.
Holmes and Anton, whose bond of friendship has spanned two decades, will perform alongside their friends Domenick Allen and Martin Nievera. Rock `n' roll legend Allen is a former member of the multi-platinum rock group Foreigner, known best for such hits as "I Want To Know What Love Is," "Double Vision" and "Cold As Ice." A professional actor, singer and musician, Allen also toured the world for four years with the famed pianist Liberace and appeared on the London stage in several productions. He co-starred with Helen Reddy in the musical Blood Brothers on Broadway and was a regular on the daytime soap opera Days of Our Lives.
Recording and television star Martin Nievera, who has 15 gold hits in Asia and is regarded as "The Concert King" and a heartthrob in his native Philippines, has performed at the Golden Nugget and other Las Vegas venues. He has dazzled crowds with his diverse repertoire, including his signature "On the Right Track," Broadway medleys and his swing rendition of Michael Jackson songs.
Tickets are now available starting from $29.95, plus tax. Showtime is 8 p.m. Tickets can be purchased by calling the Box Office at 702.636.7075 or visiting www.suncoastcasino.com.
THIS AND THAT QUICKLY...
The City of Henderson will celebrate Independence Day with a star-spangled evening filled with a variety of family-friendly events and a fireworks show on Saturday, July 4 from 6 p.m to 9 p.m. at the Henderson Events Plaza, 200 S. Water Street, in the downtown Water Street District. Admission to all events and parking is free...
La Scala Restaurant, 1020 E. Desert Inn Rd., will be the site of Jeanne Bavaro's Summer Season of Cabaret shows, beginning this Sunday (June 14). Teddy Davey, a member of the famed Las Vegas Tenors, will be the first of a great list of guest stars in a show titled, "To Italy With Love." Call 367-9805 for more information and future entertainers...
Dangerous Curves will be performing this Sunday at "Grace in the Desert" Episcopal Church in Summerlin with show time set for 7 p.m. They are asking for a $10 donation, and believe me, it's well worth it because these gals can sing up a storm...
Friend Marque Munday, a former dancer with the famous Rockettes and singer, will be the guest star Saturday, June 13, for the "Jazz at the Lake" series of productions, set on the edge of Lake Las Vegas Village Lawn, and it's free...
"Menopause - The Musical" has arrived at its new home, The Luxor Hotel/Casino, and from what I hear, it's a huge hit. Paige O'Hara, who has been with the show from its first night at the Las Vegas Hilton, told this reporter that the show has been expanded slightly and that the crowds have been fantastic...
Well, gang, that's about it for this week.
I'm outa here!

CONTINUE ON TO...:


>It's The Norm Article Archives
>Las Vegas News - "Heard Around Town"
>Las Vegas Leisure Guide<