Went to the Aruba Hotel, 1215 S. Las Vegas Blvd. the other evening to see a play produced by a relative unknown director/ producer to Las Vegas, George Damian, and titled "STRIP The Play." A friend of this writer for many years, who is assisting with the publicity for her friend (Phil Randall, who is slightly involved as stage manager), told me that the play had just recently had a successful run in Los Angeles, prior to its arrival in Las Vegas a few weeks ago. Got to be honest folks, it has its moments, but it also has its faults.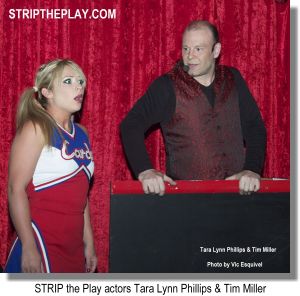 The actors, however, are terrific, especially Tara Lynn Phillips who plays Amanda, the undercover cop. The play is based (supposedly) on true stories, and is about a fictional Las Vegas strip club called The Sunset Lounge. Buck, the owner, has been murdered and now there's a crime to solve. That's when Amanda, a file clerk with the LV Metro Police, is asked to go undercover as "America," the actress stripping to pasties and pole dancing. I thought it definitely needed a wee bit of tightening, and informed the producer as such. Damian agreed, saying "It's a work in progress," and that he fully understood what I was telling him.
What I found extremely interesting was that George was from San Diego (where I'm from), and that his birthday was the same day as mine, Feb. 14th. That alone was enough for me to sit through the play. It is a fun story. The cast of 16 are all pros, especially the five girls playing the stripper roles: Oksana Babehenko, Erin Marie Sullivan, Stephanie D. Harris, Shannon Marlyse and Nyann Young. It's not easy using a pole, and from what I was told, these girls had to really learn the art of pole dancing, which meant getting those bodies in great shape.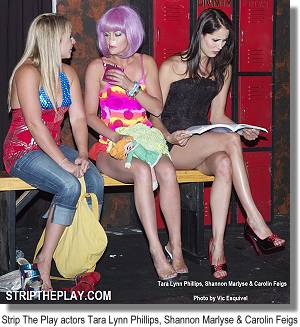 The remaining cast members include Chris Rodriguez, Tim Miller, Scott Roberts, Carolyn Feigns, Todd Simmonds, Jim Hike, Erica Wallace-Carter, Dennis P. Allard, Danielle Payton and Emilee Wilson.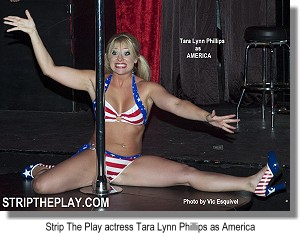 Shows are at 9 p.m., on Wednesdays only through July 13th. For ticket information or reservations call 1-800-838-3006, or check it out at, www.striptheplay.com. (Ed. Note: This show has closed as of June 16, 2011.)
The 2011 Las Vegas Film Festival is set to roll July 14 through 17, at the Las Vegas Hilton. The four-day event will showcase more than 40 original films and documentaries, adding a touch of culture and creativity to the Las Vegas entertainment scene.

"The Las Vegas Film Festival is gaining an international reputation for its vibrant film selections," said City of Las Vegas Mayor Oscar Goodman. "This year's festival is sure to be an amazing event that draws fans from around the world to our exciting city."

Kicking off this year's festival is the Las Vegas premiere of The Story, produced by The Ski Channel and starring ski legends and Olympic gold medalists, Bode Miller and Lindsay Vonn. "The best ski film I have ever seen," said professional free skier and world-record cliff jumper, Jamie Pierre. Prior to the premiere, there will be a red carpet with celebrities and filmmakers from this year's festival. A VIP party will follow the premiere at Benihana Village inside the Las Vegas Hilton.

Also on the schedule is a celebrity tribute and award presentation to actor and cult icon, Michael Madsen, star of Reservoir Dogs, Donnie Brasco and Kill Bill. Madsen is participating in a moderated discussion about his career and an audience Q&A following a special screening of his film, Vice. The first 500 reserved tickets are free at www.lvfilmfest.com.

There will also be another special tribute, this one to celebrity animator Chuck Jones – Looney Tunes, Tom and Jerry and How The Grinch Stole Christmas! – featuring screenings of a collection of his famous work, followed by a conversation and audience Q&A about the man many consider to be the greatest cartoonist of all time.

For the second year in a row, the festival will include two film blocks, showcasing a collection of short films by student filmmakers from UNLV and the College of Southern Nevada.

In addition to the screenings, the festival will host exclusive Las Vegas premieres, red carpet parties, VIP parties and galas, interactive filmmaker panels, a screenplay competition and a closing awards ceremony.

"This year's festival will bring some of the very finest independent cinema from around the world to Las Vegas," said Festival Director Milo Kostelecky. "We're showcasing a diverse range of award-winning films with something for everyone while promoting Las Vegas as a major filmmaking destination."

Tickets for the festival will be $8 for individual screenings and $25 for a five-film mini pass. In addition, the festival will offer all-day film passes for $50, an all-access pass for $100 and an all-access plus pass for $150. Special discounts are available for students and seniors. For a full schedule of events and to purchase tickets to film screenings, filmmaker panels and parties, please visit www.lvfilmfest.com.

THIS AND THAT:

Fusion Model Talent Search, a premiere Las Vegas professional model and talent search, will take place June 25 and June 26 at The V Theater in the Miracle Mile Shops at Planet Hollywood Hotel and Casino. The showcase will feature models, actors, singers, and dancers. Talented people of all ages will have the opportunity to be seen by agents and managers from the top agencies of Los Angeles, New York, and international cities representing a who's who of the entertainment and modeling industries.

Registration is open now to become another success story of Fusion Model Talent Search. Committed to discovering genuine, fresh talent, Fusion Model Talent Search will include one-on-one meetings, seminars and a question and answer session with the professionals. Runway, Print and Commercial Models are welcome.

To attend Fusion Model Talent Search, call (702) 737-3800 or visit the website at www.123pickme.com for open call audition locations.

Well, gang, that's about it for this week. I'm outa here!



CONTINUE ON TO...:
>It's The Norm Article Archives
>Las Vegas News - "Heard Around Town"
>Las Vegas Leisure Guide<