A very special lady, and a wonderful friend, will be visiting Las Vegas this month. Deana Martin is an influential American singer, actor and performer and the very proud daughter of iconic entertainer, Dean Martin. Martin will be performing in the showroom at the South Point Hotel & Casino/Spa, Friday and Saturday, June 22-23.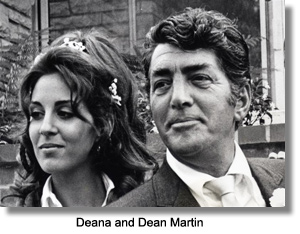 Deana achieved success early in her career in films, theater and television, then quickly added to her repertoire — recording artist, best-selling author, nationally syndicated radio host, licensed pilot, and entrepreneur. As an internationally acclaimed entertainer, hit recording artist and an in-demand performer, playing to sold-out audiences worldwide, Deana has become an instantly recognizable voice and figure in the pantheon of "The Great American Songbook."
Deana's 2006 debut CD release, "Memories Are Made of This," stayed in the top ten for 40 consecutive weeks. Another hit CD, "Volare," was released in 2009, and debuted on the Billboard charts at #7, and the Jazz chart at #22. "White Christmas," was another chart buster, released in 2011, and stayed on the top ten chart throughout the entire Christmas season.
A celebrated author, Martin found herself on the New York Times coveted Best Seller list with her 2004 memoir, "Memories Are Made of This: Dean Martin Through His Daughters Eyes." In it, Deana delights in sharing wonderful, never-before-told stories about her father and his "Pallies." To her they were known as, Uncle Frank (Sinatra) and Uncle Sammy (Davis, Jr.) – to the world, they were known as the, "Rat Pack."
Seeing Deana Martin in a live performance, you get the sense that there is nothing she cannot do. At the South Point, Deana will perform one of her most requested shows, "Deana Sings Dino," where she sings such hits made famous by her illustrious father as, "Memories Are Made of This," "That's Amore," and "Everybody Loves Somebody," and many more. Like her Dad, Deana makes it all look so easy, and audiences can't get enough.
Deana and her husband, John Griffeth, divide their time between Beverly Hills, CA and Branson, MO.
Tickets, priced at $15-$20-$25, are now on sale at the South Point box office 702-797-8055. Showtime for the Deana Martin show is 7:30 p.m.
---
Took my second trip to The Smith Center Saturday evening, to watch a consummate singer of songs do his thing for nearly 85 minutes. You could truly hear a pin drop most of the evening! The song man was just that wonderful! Of course, I'm talking about Clint Holmes!
This particular evening Holmes was doing a salute to one of the all-time great saloon singers of the last century, Bobby Short. Clint first introduced this tribute show at the Café Carlyle, which is tucked in a corner of the Carlyle Hotel on the upper east side of Manhattan, in New York, a few months ago. This is where Short sat down at a piano and entertained the people of New York, for six months out of the year, for more than 36 years of his life. If you ever heard Short play and sing, you were instantly mesmerized by the man who truly loved to entertain.
TOP OF NEXT COLUMN
Clint Holmes is the man, in my opinion, to finally step up, along with Michael Feinstein, to replace two of the greatest male saloon singers of our time: Bobby Short and Francis Albert Sinatra.
"Autumn in New York," was the appropriate opening song for the evening, which was followed by "I Happen to Like New York," which was then followed by Clint telling the SRO audience, a little bit about the man he was honoring. Holmes was backed by his very special band, led by Jeffrey Neiman on piano, Adam Shendal on drums and Keith Nelson on bass. Very quickly, Holmes went into a series of wonderful songs, written by some the greatest music makers ever, such as "Tea for Two," "Isn't it Romantic," "I've Got You Under My Skin," and one of my favorites, "Night and Day."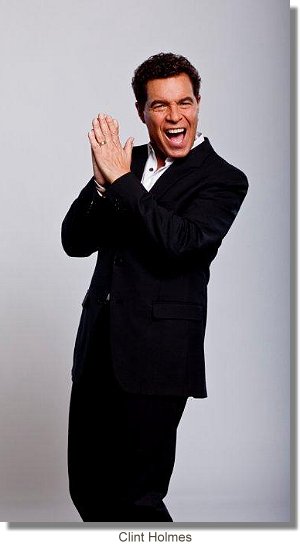 Between certain songs, Clint would go into little stories about the man New Yorkers often referred to as, "A Living Landmark." Midway through the show at The Smith Center, Holmes was joined on stage by three more musicians, Rocco Barbato on saxophone, Michael Ray Tyler on trumpet, and Mike Turnbull on trombone, to add a certain touch to the music to follow: such as, "Satin Doll," and "Just One of Those Things," which also included a bit of Holmes ability to perform some "scat." Other songs from the "Great American Song Book," presented by Holmes, included, "It Never Entered My Mind," "You're the Top" and a wonderful closer, "Every Time We Say Goodbye!"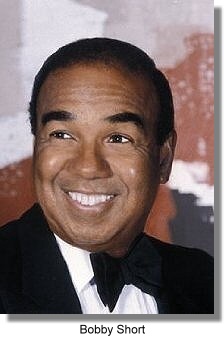 This writer had the pleasure of watching Mr. Short perform in Los Angeles, just before I left for Korea in 1950. He was at the Café Gala on Sunset Blvd. I also watched him one evening, in a small nightclub in New York, when I was on the road with the baseball team, the Los Angeles Angels, in the early '60s. Bobby Short was just coming into his own when I saw him the first time, and later he had the full attention of New York. And now, so does Clint Holmes. Clint's next appearance at The Smith Center will be Friday and Saturday, July 6-7 at 8:30 p.m., and Sunday at 2:00 p.m. Tickets range from $35 to $45, and honestly, there isn't a bad seat in the whole room. And, the sound is perfect!

Well, gang, that's about it for this week. I'm outa here!


CONTINUE ON TO...:
>It's The Norm Article Archives
>Las Vegas News - "Heard Around Town"
>Las Vegas Leisure Guide