Went to the Riviera Hotel & Casino the other evening to watch a living legend perform his fantastic impressions, the ones that Johnny Carson loved to watch him do on his "Tonight" television show, and which has carried him to the heights of stardom seldom reached by an impressionist. You might say this writer is slightly prejudiced, as not only is the entertainer a star, but the man is a wonderful friend of many years. Of course, I'm speaking of my buddy, Rich Little.
I have reviewed Little so many times, you might think I was his publicist. No I am not, and never have been. I just remember back when I first saw him performing in Las Vegas. He was a youngster out of Canada, and had just made it on national television; I believe it was Ed Sullivan's "Toast of the Town," which was televised every Sunday evening from New York. That appearance catapulted Rich right to the top of the ladder. I believe, had it not been for that appearance, Rich would've still made it to the top—but a bit slower. Talent will always prevail, and Little had it then, and still has it today.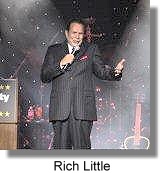 To be honest, some of the impressions leave the younger members of the audience scratching their head, but they react just like us older members do, as we sit there fondly remembering people like Jimmy Stewart, Jack Benny, Paul Lynde, and even a couple of Presidents, who have possibly faded from memory. I believe that's why we keep going back--to watch a perfectionist do his thing. And, Rich is smart enough to put new material into the show, and to freshen up some of the older routines. The young impressionists of today never fail to mention, how if it hadn't been for men such as Rich Little, or even the top banana, Frank Gorshin (the difference between Little and Gorshin, was that Frank had a rubber face, and could almost transform his appearance to look like the person he was doing. Rich does it too, but Frank was the best at that particular style).
So, if you want to see a man and his friends, take a shot at the Riviera before June 12. Tickets start at $29.95 plus fees, with a 7:30 p.m. show nightly, except Monday and Tuesday, when he takes a break.
THIS AND THAT QUICKLY:
Regarded show producer Ed Mathews brings back his block-busting hit, "Hit Parade the Show," a fully-scripted book musical, to the Suncoast Showroom, June 4 and 5, with an early show each evening at 7:30 p.m.
Column Continues Below Advertisement
Based on the old radio and television show formats, Hit Parade the Show takes the audience on a journey through time, illustrated by music and dance, made popular during the '50s and '60s. Snapshots of pivotal events such as post-World War II, and the progress of the "Hippie Movement," will be painted during the show, stirring up emotions of times past.
Hit Parade the Show, utilizes performers regularly featured in the weekly matinee variety show, "Suncoast Hit Parade." The cast this time around include the Lionardo Orchestra, Carmine Mandia, Mark Giovi, Genevieve Dew, Fifth Avenue Vocal Group, Ron Smith, Bobby Brooks Wilson, The Swing City Dolls, Charly Raymond, along with six fabulous dancers and narrator Nathan Tannenbaum.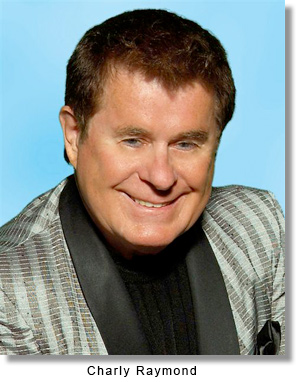 "This fully scripted production incorporates two decades of great music, reflective of the times they were introduced; including the birth of rock, pop and soul," Mathews said. "It is my hope that Hit Parade the Show, will be a living tribute to the past, and that it'll bring back only the fondest of memories."

Tickets are available starting from $15.95, plus tax and convenience fees. Call the Box Office at 702.636.7075 or visit www.suncoastcasino.com for more information.

The Luxor Hotel and Casino's steamy adult revue, Fantasy, continues to bring on the heat with its sexy Showgirl of the Month campaign. The Showgirl of the Month campaign showcases one gorgeous dancer each month, in conjunction with the 2011 FANTASY calendar. Fans and friends will have the opportunity to learn fun facts about their favorite performer, as well as check out exclusive photos posted only on Facebook and Twitter.

FANTASY's June Showgirl of the Month is Lindsay. The blonde bombshell loves to dance and calls dancing her "truest passion," having performed since the age of two. Lindsay loves the spotlight and always has dreamed of dancing on stage in Las Vegas.

The dancing beauty can be found showing off her moves with friends at Vegas hotspot "Wet Republic at MGM Grand," or playing with her English bulldog, Stella. Lindsay also dreams of one day being able to relax and soak up the sun while enjoying the stunning views in Australia and New Zealand.

To find out more about the Showgirl of the Month, visit www.FantasyLuxor.com, become a fan on Facebook, or follow on Twitter at www.twitter.com/fantasyluxor.

Well, gang, that's about it for this week. I'm outa here!

CONTINUE ON TO...:
>It's The Norm Article Archives
>Las Vegas News - "Heard Around Town"
>Las Vegas Leisure Guide<