Well, gang, as I state about this time every year, this is the greatest weekend of all the holiday weekends. Not only do we, as a nation, recognize the men and women who served in our armed forces, and now have white markers or crosses reminding us they were once here. But it also allows us, once again, to let the veterans who returned home from the conflict, know that ďThey Are Not Forgotten!Ē
Itís also the Sunday when I get up and prepare for a good solid 11 to 13 hours of the greatest racing in the world, beginning with the Indy 500, and ending with the checkered flag for the NASCAR Coca Cola 600 (thatís a total of 1,100 miles of intense auto racing). I know a lot of readers could care less about watching an auto race, and, hey, I understand. Thatís why you have picnics, baseball games and other events going on for people to attend. But, for me, itís auto racing, home made ľ pound hot dogs with onions, relish and mustard in a bun, a cold Coke and a cooler filled with my favorite beer (Coors) and more Cokes. My daughter, Robin, and her friend, Pat, share my love of auto racing. My other daughter, Denise, and her husband, Jeff, also share a loyalty to racing. The above four will be glued to the TV too. But, my baby daughter, Lisa, and her husband, Randy, could care less about it, as they are into golf and baseball.
As for my picks to win the two races, well here goes nothing: I believe the winner of the Indy 500 will come from the first or second row, with either Dario Franchitti or Scott Dixon getting the checkered flag. Marco Andretti is my long shot pick. Iím also looking for Danica Patrick to complete the race, and very possibly lead a few laps.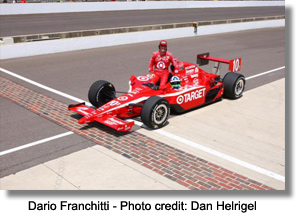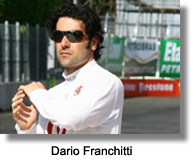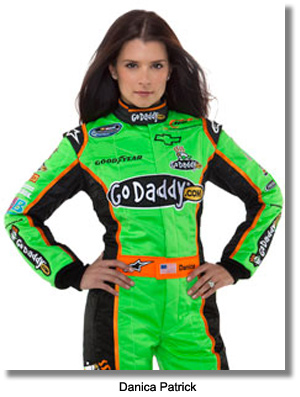 The Coca Cola 600 winner will be one of three drivers: Mark Martin, Kyle Busch or Jeff Gordon. Jimmy Johnson will not finish the race nor will Kurt Busch. Martin is the most likely winner, as he drives smart, not hurting the car or engine to stay in front every single lap. Mark will lay back in the top 15 playing a waiting game until the final 75 miles to go, and then heíll make his move to the front. Kyle will try to lead every lap, and the big test, will be to see if his engine stays alive for the entire 600 miles. And, Gordon, heck, heís a proven champion and needs to win this race real bad. So there you have it.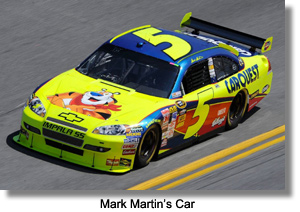 THIS AND THAT QUICKLY:
Geeze, itís hard to believe that June is right around the corner. Wow, how time does fly when youíre having fun. Vocal Soup, one of my favorite new groups, has moved from the smaller Suncoast Hotel/Casino showroom, to the much larger showroom at The Orleans for their June 12-13 engagement.
Following multiple sold out performances in 2009 (when the group was first formed), long-time friends and performers Clint Holmes, Susan Anton, Domenick Allen and Martin Nievera, will be back together and singing their songs over the weekend. Holmes came up with the idea of creating the old Las Vegas tradition of entertainers coming together to have fun in an ďanything can happenĒ atmosphere.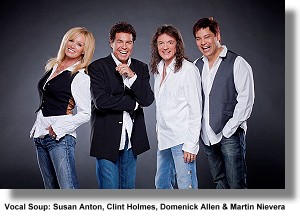 I remember when the great vaudeville star, Hank Henry, was working at the old Hacienda Hotel (where the Mandalay Bay Hotel now stands) and then at the Silver Slipper (it was next door to the Frontier Hotel/Casino). Every star on the Strip would stop by at least once during their stay in town, to see the master at work, and to have a few laughs. When they were in town performing at the Sands, Frank Sinatra and the guys in the Rat Pack were almost always in the Slipper after their show. And the fun would last until the sun came up, and then Dean Martin would yell out, ďGolf Time,Ē and away they would go. Gosh, those were the fun days.
Back to Vocal Soup and what the performers will be doing. The show will feature a variety of musical genres, including rock Ďn roll, hits from Foreigner (Allen was a member of the famous group), popular songs and standards, Broadway classics and originals, including their theme song, ďVocal Soup.Ē Showtime is 8 p.m. and tickets are available from $29.95 plus tax and fees. For reservations call (702) 365-7075.
Got a note from Susan Schooley, a lady in Cutler Bay, FL., who was quite upset with the Las Vegas Walk of Stars. She and a group were the original investors who put up the $15,000 for their favorite Las Vegas entertainer, Bobby Darin, to have a star. It was one of the first stars to be placed and is located in front of the Flamingo Hotel. During a recent visit, Susan and some of her friends visited the star, and to their horror found it in poor shape. She wrote me after reading one of my columns, asking who is responsible for the upkeep of the stars. I wonder about that also? Darinís star on the Hollywood Walk of Fame, located in front of Capital Records, is in great shape (and itís been there a long, long time). I forwarded the note to Tony Sacca, who also has a star and is a member of the committee (I think, not sure anymore). I promised Ms. Schooley that I would stay on top of this situation I promised Ms. Schooley. I am now wondering what some of the other stars are looking like? What does the $15,000 buy (I understand itís now up to $20,000)? If itís in bad shape it should be replaced!
Well, gang, thatís about it for this week. Iím outa here!
CONTINUE ON TO...:
>It's The Norm Article Archives
>Las Vegas News - "Heard Around Town"
>Las Vegas Leisure Guide<