Mary Wilson of the Supremes kept a diary throughout her 50 years in show business. In fact her two books, "Dream Girls" and "My Life As A Supreme" were best sellers, and were written from her diary's. This week she concludes sharing her Kentucky Derby entry's with us. See last week for the first part of this column. - Norm Johnson

"Barnstable Brown Gala" for Diabetes:
The Gala is always wild, with hundreds of people attending. This is the only time they get this many celebrities in this very plush suburban community. I heard that the Mayor lives just down the street. What I like is that the Barnstable's, who, by the way, were one of the sets of 'Double Mint' twins back in the day, always have a very eclectic group of celebrities, both old and new, including TV stars, sports figures, as well as musical stars, and all from different genres.
Our limo pulled up in front of this circus-like spectacular, with lights flashing. Police and people were everywhere. The house sits high on a hill, and they have it decorated like an outdoor Disneyland. There were disco-like areas with girls dancing. Walking the red carpet is always fun for me. The theme for this evening was diabetes. Too be frank, there were many celebrities there, and loads of reality stars that I had no clue as to who they were. I also noticed that a lot of the people appeared to be under the age of twenty-one. Thank God, when they announced my name, I heard the crowd yell out Mary, Mary!
The Gala was in full gear, as Darlene and I arrived around 9:00 p.m. The show had already started as we entered the huge VIP section. Freddy Jackson was going up to sing, and he threw me a kiss from the stage. Darlene and I ordered Mojitos-mint Juleps, and were they ever wonderful. 'Boyz II Men' did their thing on stage, as did Taylor Dayne. Travis Tritt and his wife, Theresa, were among the stars attending the gala. The hosts wanted me to go on, as they say I always get the crowd going. So up I go, and I give the band my song keys (as there is never any sound check or rehearsals). I sang 'Brown Sugar,' and then 'Stop In the Name of love." All the girls up front ran on stage to sing and do the hand motions with me. The VIP section was so crowded with celebrities, that it was very hard to talk with anyone. I ran into Wayne Brady, thinking he was Freddy Jackson -- imagine me thinking all black people look alike.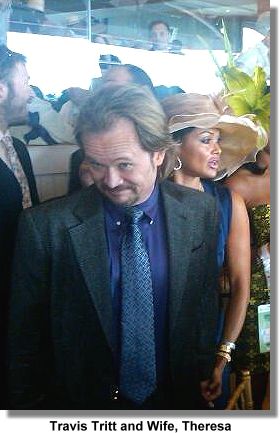 One of the sweetest men, Larry Birkhead, who is the father of Anna Nicole Smith's daughter, Dannielynn), came over and gave me a kiss. He said his daughter would be at the Derby tomorrow. I loved seeing 'Salt-n-Pepa' do their thing on stage, but it was so crowded I could not get up front. There were many other entertainers still to come, but Darlene and I left and ended up at the hotel bar again, and hung out with our same old friends, the ones we had met the night before. We were constantly running into them the whole weekend.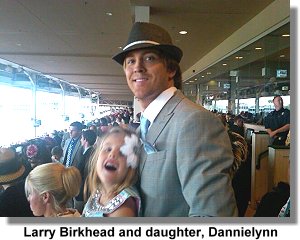 'HANG OVER' and all, I was up and ready to rock and roll by 1:00. Ok, that was pretty late I must admit. By the time our limo rolled into Churchhill Downs, the place was packed. Cars and limos were everywhere. All of the homes that surround the Downs were full of people waving cars into their driveways to park. I guess they make loads of money with parking on this particular weekend. Front yards were filled with families grilling hot dogs, and selling Derby memorabilia. The entire town is festive for the Derby. The red carpet was full, with people like Kate Gosselin, Super model Niki Taylor, even food network Guy Fieri and wife, and me.
Even though the weather forecast was dreary, no one seemed to care, because people were dressed in all the colors of the rainbow, and the track was just spectacular. It was a show of the fashions, which were so brilliant it was like the sun was shining brightly. Coming down on the hotel elevator, a handsome gentleman was carrying two hats, and he asked, Darlene and I, which one he should wear. It was definitely a never-ending fashion show, with big hats and the edgiest trends. Men and women color coordinated their outfits. I love that fashion and beauty is in again. The men in yellow, and even red suits, were just so sexy. The stilettos were a bit too high for me, but I do recall the days when we wore those high pointy shoes, in the sixties. Unfortunately they have left my toes pointy--not pretty. These girls are young and have years to find out the damage that can be done. After going through the red carpet with cameras and paparazzi, we were given those horrible wrist bands that never match your outfits, but get you into wherever you are assigned to enter. Today it only added to all the other colors, and I was assured that I could go everywhere. Once through the red carpet, we went outside where the fans are waiting to get autographs. This is always fun for me, because I have always enjoyed meeting the fans. I took pictures with them, signed autographs and remembered to ask for tips on what horse to bet on. One girl said bet on Animal Kingdom, so I told her I would.


Our police escorts, now we had two, took us up to the third floor where most of Barnstable's guests were located. We had table #10 on the Turf level, and at last I could start betting: not that I knew what I was doing. The first few bets, I threw my money away. I thought I was boxing my numbers, and ended up paying 60 bucks and the horses did not win. Mark Wayman, The Godfather in Vegas was there, and he gave me a few tips by text: one actually won in the Oaks, but of course I missed the Oaks. I asked everyone I knew for tips, and jotted them down in my little book, and I even remembered Animal Kingdom. I stopped by the Barnstable's dad and his new wife's table, and they gave me a few tips, which I actually won on. Larry Birkhead and his daughter, Dannielynn, were there and joined us at our table, Kate Gosselin was next to us, so Darlene hung out with her, and reported that she seemed very nice.

In my fifty years of showbiz, I have met and worked with many great stars, but rarely took pictures with or of them. But a few years ago I decided to start the practice. I got Salt-n-Pepa, Boyz II Men, Travis Tritt, Kate, and of course, my buddy at the Derby, Taylor Dayne, and anyone else I could stop. It's not always easy to get photos, as the security guards can be a bit rough, not to mention the stars can be a little aloof, even to me, and I have more credentials than most -- though not current. This often depends on how important or high they are in the ratings. I always make it a point to ask my security to be nice.
When the big derby race was to start, I checked all of my tips, and went up and made my bet. However, somehow, I did not see my pick for Animal Kingdom; probably those doggone wonderful mojitos! Anyway, we were all jumping up and down as the race was nearing the end, and I noticed Animal Kingdom moving closer to the front, and then looking down at my tickets 'WHAT A BUMMER." I had not bet on him. I drank two more mojitos, and went back to the hotel totally bummed out. After changing into comfy clothes, we spent the rest of the evening at Jeff Ruby's, again talking our way in and joining more friends to celebrate the wonderful Derby Weekend. Yes, we did stop in the hotel bar before turning in and packing. I had to stuff the big bourbon cake and bottle of Woodford Reserve (official bourbon) into my suitcase with another bottle of La Poire imported Grey Goose—all the time hoping it would not get broken in my suitcase. My new hat was so big that I had to wear it on the plane. Security would not let me carry it on as my third piece of carry on.

And, so now you know the rest of the story!
Touch

---

Well, gang, that's the end of the story. However, I would be remiss if I didn't mention that my friend, Mary Wilson, will be performing for two weeks at the Riviera Hotel & Casino, June 22-July 3, in the Starlite Theater. Another friend, Rich Little is currently appearing in the theater through June 12. Tickets begin at $29.95 plus fees.

Well, gang, I'm outa here!


CONTINUE ON TO...:
>It's The Norm Article Archives
>Las Vegas News - "Heard Around Town"
>Las Vegas Leisure Guide<