Yesterday, May 24, Gregory Popovich's Comedy Pet Theater celebrated its six-year anniversary performing at the V Theater, inside Miracle Mile Shops at Planet Hollywood Resort & Casino. To mark the special occasion, Popovich is offering locals $24 tickets through the end of the month.

Comedy Pet Theater is, without question, a most beloved family show, and features an amazing cast of house cats, dogs, and parrots, plus geese and mice! Critics describe the show as a unique blend of physical comedy, world-champion juggling, and the extraordinary talents of the more than 30 performing pets. Popovich has rescued these animals from shelters all over the country, and has transformed them into Las Vegas stars.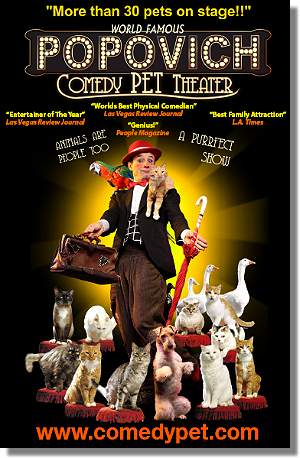 Popovich is a fifth generation circus performer who learned early on how to develop strong bonds with animals. Gregory released his first book, "You CAN Train Your Cat," in late 2009, and has been featured on The Tonight Show, David Letterman, and in USA Today and People Magazine.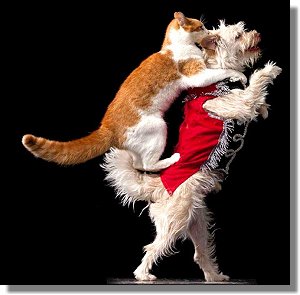 Locals who would like to take advantage of this special ticket offer must show their Nevada I.D. at the V Theater box office at least one hour prior to show time. This offer cannot be applied to prior purchase, or combined with any other ticket offer. Seats are limited and management reserves all rights. Price does not include taxes and fees. Comedy Pet Theater runs daily at 4pm (dark Wednesdays). For more information, log onto VTheater.com or call 702.260.7200.
---
Unlike "American Idol" and "America's Got Talent" where the contests feature mixed genres of music and talent, the Texaco Country Showdown is all about country music. Highway Country (KIXW/KIXF) is hosting the local level "America's Largest Country Music Talent Search." Every year, the contest draws a large audience every year to Don Laughlin's Riverside Hotel & Casino in Laughlin, Nev. The finals will be held on Thursday, June 28, 2012, at 6 p.m., in The Starview Room.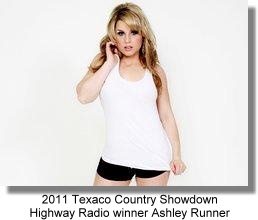 Talent comes from all over. Last year's winner was Ashley Runner from Rancho Cucamonga, Calif., and the 2008 winner was 18-year-old Matthew (Matt) Reeves from Arkansas, who went on to represent the West Region as one of five national finalists, appearing in the televised National Finals shot at the historic Ryman Auditorium in Nashville, Tenn. Local winners advance to more than 40 state contests, where the prizes include $1,000 in cash, and the opportunity to compete at one of five regional contests in the fall. The final five regional winners receive an all-expense-paid trip to the National Finals in Nashville, to compete for $100,000 and the coveted National Title.
"Some very talented artists competed last year in Laughlin. It's a great opportunity for local talent to get discovered," said Lance Todd, program director for Highway Radio.
The contest is open to vocal and/or instrumental performers, and welcomes individual acts or groups with up to seven members to compete. Acts must not have performed on a record charted in the top 100 country format on "Billboard," "Radio and Records," or the "Gavin Report," within 18 months preceding the local competition. A $20 entry fee is required along with an audition demo. Highway Country will accept tapes, CDs, DVDs and MP3s, from which 10 finalists and two alternates will be chosen to compete at the Riverside Hotel & Casino.
Entry forms can be picked up or obtained by contacting Las Vegas Highway Radio sales office at (702) 737-9899 to have one mailed, or by emailing sales@highwayradio.com with your address. The final day for entries will be May 29, 2012, at 5 p.m. No Exceptions will be made. Interested applicants are advised to call or email for their entry forms today!
TOP OF NEXT COLUMN
THIS AND THAT QUICKLY:
Known throughout the world as a premier Neil Diamond tribute artist, Las Vegan Jay White will pay tribute to the legendary performer at the Suncoast Hotel and Casino June 23-24.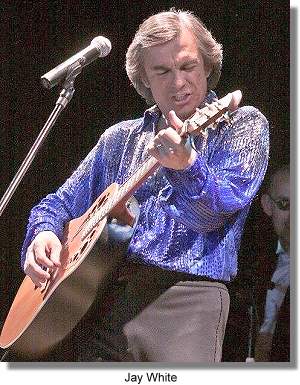 Performing as the "Sweet Caroline" singer since White's first professional gig in 1982, his physical and vocal embodiment of Diamond landed him a nearly nine-year stint in "Legends in Concert" on the Las Vegas Strip. Jay followed with an eight-year run of 2,000 shows, performing in a solo Las Vegas Strip show as Diamond. White has appeared in many theaters, casinos and hotels throughout the world. He has performed for Presidents, and Nancy Reagan. White has performed the National Anthem at dozens of professional sporting events, and appeared on a bill with Bob Hope for the American Legion. In addition to music and performing, White is an accomplished hockey player. Since his pro tryout with the IHL Kalamazoo Wings in the '70s, and his Olympic tryout in 1980, Jay continues to maintain his conditioning for both the ice and the stage. He is currently the emergency backup and practice goalie for the Las Vegas Wranglers. Suncoast showtime each evening is 7:30 p.m. Tickets are available from $15.95, plus tax and convenience fees, and can be purchased at any Coast Casinos box office, or by calling 702.636.7075, or visiting www.suncoastcasino.com.

Tina, star of the #1 Las Vegas dinner theater show, "Tony n' Tina's Wedding," was spotted talking to the celebrity super couple Brangelina, about their recent engagement. Is Tina now making 'crazy wedding' demands for her upcoming wedding? Did Tina's conversation with the Hollywood couple cause her to hesitate? Not really… we have the real story!

The demands of any wedding are great. Tina has reportedly been packing her trousseau, dealing with the chef and baker about the menu, the jeweler about her rings, and the florist about her bouquets. No cold feet here, just an exhausted Bride-to-Be who wanted to be refreshed for her memorable moment. "Tony n' Tina's Wedding," first opened in New York City in 1988, and began its celebration in Las Vegas at Rio All-Suite Hotel & Casino in 2002, quickly becoming the #1 dinner theater in Las Vegas. The highly-anticipated celebration at Bally's Las Vegas is scheduled for Saturday, June 9th at 7 p.m., with a fresh new look and a hilarious new feel. A perfect way to celebrate your time in Vegas! Fun for all ages and sexy enough to start the perfect girl's night out!

If a happy couple gets married at any Caesars Entertainment chapel in Las Vegas, the Wedding Capital of the World, the bride and groom will receive two free tickets to the show. Tickets for WICKED, the most anticipated musical production of the 2012-2013 season, are now on sale to the general public at the box office of The Smith Center for the Performing Arts, 361 Symphony Park Avenue. Any remaining tickets will be available for purchase online at www.TheSmithCenter.com or by phone at 702-749-2000. Due to pre-existing sales to subscribers and groups, there is a limited inventory of WICKED tickets to start with. Patrons are urged to purchase their tickets early. WICKED will play August 29 - October 7 in Reynolds Hall at The Smith Center. Ticket prices begin at $39.

LAST MINUTE BULLETIN: Theater owner and show producer David Saxe is on a mission to defend his company's reputation following untrue and defamatory allegations filed in a frivolous lawsuit in Clark County Court by five independent contractors.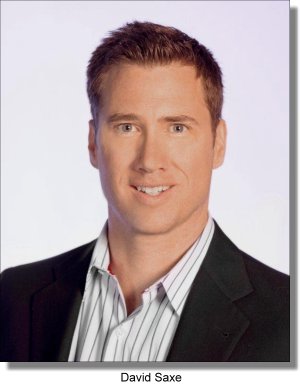 Saxe, owner of Stripper101, is challenging the plaintiffs to take a lie-detector test, and he's putting $1 million on the line to prove their claims are 100% false. "Since they like to lie to get money, I figured this would be an even better opportunity for them," said Saxe. The lawsuit stems from the installation of security cameras inside the Stripper 101 studio. Five of the stripper instructors filed a lawsuit against Saxe and 16 other individuals and companies, accusing them of using the cameras to watch the instructors change their clothes. The plaintiffs also claim that they "have been required to engage the services of physicians, physical therapists and other health care providers for purposes of care and treatment of the injuries sustained as a result of the discovery of the video cameras" and are demanding in excess of $1.75 million.

"Lawsuits can take years and I can't wait another day to clear my name, that's why I am challenging my accusers to a lie-detector test," said Saxe. "If they pass, I will pay them $1 million. If they fail, they only have to pay $500,000, which I will then donate to a charity that helps business owners fight extortion and malicious prosecution."

Well, gang, that's about it for another week. I'm outa here!


CONTINUE ON TO...:
>It's The Norm Article Archives
>Las Vegas News - "Heard Around Town"
>Las Vegas Leisure Guide