What makes a "Legend" a Legend? Athletes like Babe Ruth, Mickey Mantle and Sandy Kofax are legends for what they did while playing baseball. Bob Hope, Jack Benny, Red Skelton and George Burns (with Gracie Allen) are legends for their work on radio and television. Cary Grant, John Wayne and Bette Davis are legends for what they created on film.
Then there are the legends of stand-up comedy: Milton Berle, Redd Foxx, Professor Irwin Corey and Jonathan Winters. Another legend, who has stayed away from Las Vegas for far too long, and who performed before three SRO crowds last weekend at the Suncoast, is at the top of the Legends list as far as this writer is concerned. We are, of course, referring to Shecky Greene!
Greene is more than just a stand-up comic: Shecky is a first class story teller, and a very capable vocalist, who can sing an aria with the best baritone or tenor. But, it's when he starts telling stories, that Greene shines like a star in the Milky Way. He is at his best-because he never finishes the story right then. He may start out telling a story about his friend, Buddy Hackett, and midway, stop, and begin a new story about Bill Cosby, again stopping and going into a dissertation about his beloved mother. By the end of his 90 plus minutes, Greene will actually come back and complete those unfinished stories. Another great thing about Shecky is he doesn't have to use foul language to have his audience laughing. His story about an elderly gentleman having trouble with his penis is a classic, as is Shecky's first use of the classic word, "ka ka" on the "Tonight Show" starring Johnny Carson. How the brass at NBC called him into their office and read him the riot act for using an obscene word on television. Obscure? Obscene I don't think so.
Most of Greene's routines are based around true stories, either involving himself, a fellow actor, comedian or his family. One of the little things he uses as a running bit (gag) is when he calls off stage to his wife, Marie, for help on a story or to tell her, "see I told you it wasn't funny," and she yells back. It's classic Shecky Greene.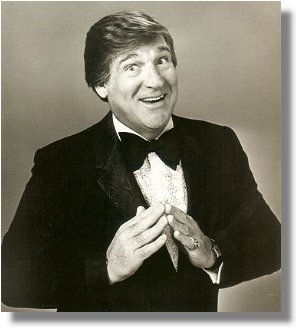 We had the opportunity to go backstage and talk to him, along with a number of other friends. We asked if he knew, if and when he would be coming back to Vegas? He tapped me on the shoulder, grinned and hunched his shoulders. The entertainment director, Terry Jenkins, was there along with the Casino Manager and the General Manager. We got the impression that Mr. Greene will be much in demand since he had SRO audiences for all three performances.
Mr. Shecky Greene is, without question, a true Legend of Comedy!
I was privileged and honored to be one of the invited guests to attend the Memorial Service for our friend, Danny Gans, in his theater at the Encore yesterday. Elaine Wynn, dressed magnificently in a white suit, opened the service with a very wonderful memory of her friend, and then introduced 19-year-old Andrew Gans. Young Gans recalled some great moments spent with his father and, naturally, he threw in a couple zingers about playing baseball with his idol-who at one time was headed for the big leagues as a third baseman. Pastor Gary Morefield then led the invocation and told of his first meetings with Danny and how much Gans loved Christ.
Steve Wynn recalled some funny times spent with his star, and revealed that they (Steve, Danny and Chip Lightman) were just about ready to sign the paperwork for a new CD, when Danny disappeared. That was the unusual part of this particular service: the word disappeared was used quite frequently by many of the speakers.
One of the special speakers, who was not listed on the program, was Donny Osmond. Donny told us about his long term friendship with Gans, and how Danny was responsible (along with Lightman) for booking he and his sister, Marie, into the Flamingo Hotel. Osmond had a hard time reading the last text message sent to him by Danny, the night that would be his last day on earth: It was nightly ritual between the two men
Danny's two daughters, Amy and Emily, along with Andrew, took us into their private life, and what it was like living with, and having a famous dad. One story was when his wife, Julie, would ask him to go shopping for a couple of items, and how he would head for Walgreen's (his favorite place to shop) and return with bags and bags of goodies. Another was that if they only knew how famous he really was, and that he would be disappearing so soon, they wouldn't have had him always taking out the trash.
The Victory Choir sang a couple of rousing numbers and closed out the service with "When The Saints Go Marching In."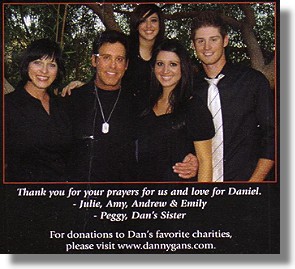 It was really a wonderful and beautiful ending for a great guy. A Danny Gans only comes around once in a lifetime-and I was fortunate to have known him. He will be missed!

That's it for this week,
I'm outa here!




CONTINUE ON TO...:


>It's The Norm Article Archives
>Las Vegas News - "Heard Around Town"
>Las Vegas Leisure Guide<