Mary Wilson of the Supremes kept a diary throughout her 50 years in show business. In fact her two books, "Dream Girls" and "My Life As A Supreme" were best sellers, and were written from her diary's. This week she is sharing her Kentucky Derby entry's with us.

- Norm Johnson

The Barnstable-Brown Party Invitation:

Dear Mary:
We are extending an invitation for you to be our guest at the running of the Kentucky Derby on Saturday, May 7, 2011. This includes Louisville's premier fundraising event, the "Barnstable-Brown Celebrity Gala" for Diabetes, to be held Derby-eve May 6, 2011.

As our honored quest, you and your companion will receive first-class airfare, luxury accommodations, police escorts, national media attention, limousines, and the most exciting two minutes in sports--the Kentucky Derby!

Churchill Downs officially sponsors the Gala to benefit diabetes research and diabetes awareness. Please help us find a cure for the third leading cause of death by disease in the nation.

The guest list furnished with the invitation was like a who's who, of showbiz.

137th running of the Kentucky Derby

A journal by Mary Wilson:

May 3, 4th

This is my fifth Kentucky Derby. I've only missed one year since I started attending, and that was because I had a paying gig in 2010. I was really bummed out when I realized I would not be able to attend. I was introduced to the Kentucky Derby when my publicist asked me if I wanted to do some public relations for a diabetes fundraiser. When I was informed it would be held in Louisville, Kentucky, and would involve the Kentucky Derby, well that really got my attention. I had been going to horse races since way back in the sixties, when we (The Supremes) did shows in nightclubs like the Latin Quarter, which had a race track right up the street. But the Kentucky Derby. Wow, all I could think about were the 'Hats".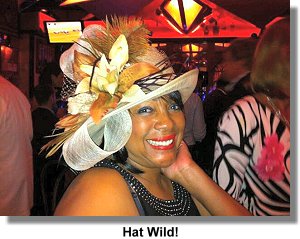 As a member of The Supremes, we were always involved in charitable work. Most were chosen for us. I now choose my charitable work based on my personal beliefs, and relationships with them. Diabetes is very prevalent in the black community, and in my own family, as my father had his leg amputated because of diabetes.
The Derby weekend starts May 5, however, because of previous engagements with my company, which included the Humpty Dumpty Institute on May 4, I had to take a flight out of Las Vegas on May 3, and make a short detour to Washington DC. I first met with Ambassador Houda Nonoo of Bahrain, and then off to Honorable Esther Coopersmith, who has worked and hosted every statesmen from the Kennedys, Carters, Sadat, President Johnson all the way to the Clintons. I believe I also saw a photo of Coopersmith and President Obama at her beautiful mansion on Ambassador Row. We spoke about not only my performing, but bringing my Supreme gown exhibit there, and she may be giving me an introduction to Queen Noor when they open the woman's museum in Jordon. Then I was off to perform at the Sri Lanka Embassy. As I am the spokesperson for the Land mine Clearances program established by the Humpty Dumpty Institute around the world, this was a very special performance. I had been to Sri Lanka while there was still a war going on in Jaffe. The Ambassador, Jaliya Wickramasuriya, hosted the party to introduce our new program, which will provide over one million people with life-saving medication and health education. My performance was a 30-minute set, with just my pianist, Mark Zier. The next morning I flew out on an early flight, and arrived in Louisville at 10:30 a.m. Thursday.
May 5, 2011
I was exhausted, naturally, and was expecting to catch a little nap, but everyone on the plane was also attending the Derby, so the excitement was there. And, so were the hat boxes! They were all over the plane, and the flight attendant even had to make an announcement to make room for the hats. People were so friendly, and, of course, everyone was talking about the races. Two very frisky young men found out who I was, so I had to give out autographs to most on board. One elderly woman, Sharon, was a bit nervous, so I told her I would look after her until we landed. Her son would be picking her up. It is amazing how close people can become when certain events happen here in America. I recall the same warm feeling I saw in New York, after 9/11. The entire plane was jovial.
My police escort was waiting for me at the entry to the security area, and to my amazement, it was a female officer, Cherie Smith. These escorts are appointed to all of the celebrities, and they accompany you everywhere you go.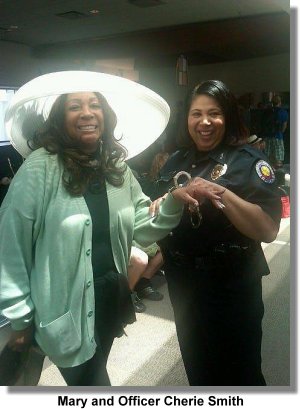 "Run For The Roses"
Officer Smith dropped me at the Galt House Hotel, which is the official host hotel for the Derby. "The Run For The Roses" theme of the Derby was evident, with beautiful roses throughout the lobby. I was already exhausted, so, instead of running around all afternoon, I went to bed after setting the alarm for a 7:00 p.m. dinner. Bette Davis said it best, "getting old ain't for sissies." I can remember when I stayed up for two weeks while working in Las Vegas, back in the sixties and seventies, and never even got sleepy.
Itinerary
May 6, 2011
Oaks………………….Gates open 11 AM
Barnstable Party…………8:00PM
May 7, 2011
Derby…………………Gates open 11:00 AM
The Oaks is always the day before the Derby, and it was my intention to go because I usually miss it. If you are a real gambler, you always attend both the Oaks and the Derby. We found out that dinner reservations are a must, and people book months in advance for dinner. My favorite restaurant is 'Jeff Ruby's, which is connected to the hotel, and is the hottest ticket in town. However, my friend Darlene and I had to eat somewhere else, plus we had to pay $75.00, and, though it was an excellent meal, it was way too quiet.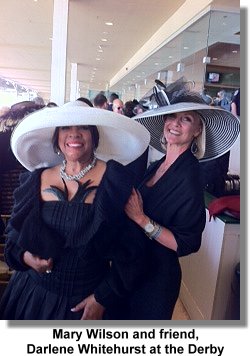 Our escort took us back to Ruby's after dinner, where we talked and begged our way inside. It was jumping! There was a hot live band, and Taylor Dayne got up and sang as did others. There were no tables, but we met a group of great people, one was an owner of a horse entered in the Oaks the next day. That's when I made up my mind to get tips, and to be sure and lay a bet on those tips, plus add one or two that I chose on my own. Many Mint Juleps later, and a stop at the hotel bar, Darlene and I went to our rooms.

Well, we did not make it to the Oaks. Darlene called at 11:00 a.m. and said she was very ill, and I was not feeling so swift myself. The escort called and asked what were our plans for the day. "Call back in an hour," I told her. Then I found out that my hat designer could not send the hat I had ordered out in time. That was a bummer. Officer Cherie Smith took me to a very up -scale mall, where we spent all afternoon shopping for a hat, as well as jewelry. Of course, I had to change my entire outfit to match the new hat. A girl has to look sharp at the Kentucky Derby, you know!

TO BE CONTINUED NEXT WEEK.

Well, gang, that's about it for this week. Be sure to tune in next week. I'm outa here!


CONTINUE ON TO...:
>It's The Norm Article Archives
>Las Vegas News - "Heard Around Town"
>Las Vegas Leisure Guide<