Regis Galerie, a high-end art collections boutique located in The Grand Canal Shoppes at The Venetian, hosted a grand unveiling of its exclusive Dean Martin bronze sculpture, "The King of Cool," designed to pay homage to the legendary entertainer.

This writer's friend, Deana Martin, daughter of Dean, attended the event to celebrate her father's contributions to the city and the sentimental tribute Regis Galerie portrays in the limited edition sculpture – of which only 300 were produced. Regis Galerie designated a percentage of sales from the event day ($3,500) to be donated to American Lung Association in Nevada.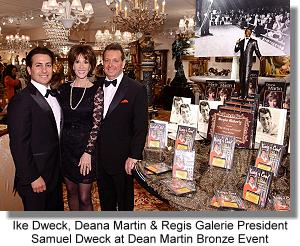 "The King of Cool" is the third piece in Regis Galerie's signature Rat Pack Bronze Collection. The Collection also features sculptures of Frank Sinatra from "Pal Joey" and Sinatra along with Dean Martin and Sammy Davis, Jr. performing together.
"Our family has always had a passion for the Rat Pack and the rich history of its' members," said Ike Dweck, general manager of Regis Galerie. "As one of the most iconic musicians of our time, we are excited to honor Dean Martin and share his legacy that is embodied in this piece."
Los Angeles-based artist, Lance Richlin, was commissioned by Regis Galerie to design the limited edition sculpture that depicts a young Dean Martin performing on a marble staircase. Richlin specializes in sculptures, drawings and paintings and has created several pieces for Regis Galerie over the years. You may check out the gallery by going to: Facebook at www.facebook.com/RegisGalerie, and on Twitter @RegisGalerie.
---
University of Nevada Las Vegas (UNLV) Arnold Shaw Popular Music Center and Stephens Press have announced the forthcoming publication of Cork Proctor's memoir, "My Mind is An Open Mouth: A Life Behind the Mic." The Arnold Shaw Center is sponsoring publication through the LifeStories Books imprint of Stephens Press.
Cork Proctor is a Nevada comedy legend, having performed for five decades in major hotel lounges and main rooms in Reno, Lake Tahoe, and Las Vegas. He has opened for stars such as the Supremes and Mel Tillis. His memoir describes how he began as a Reno musician, playing drums, and rose to a comedy career that has taken him all over the US and Caribbean.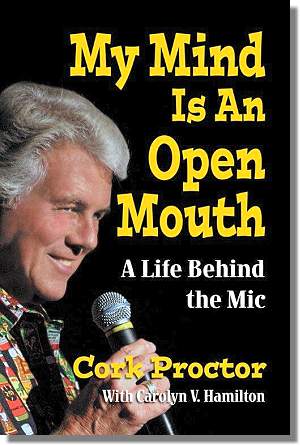 The book will be dedicated to three entertainment columnists who supported Las Vegas entertainers during the era: Bill Willard, Forrest Duke, and Joe Delaney.
"As befitting a much-admired comedian, Cork's narrative is poignant, upbeat, and at times, hysterically funny" said Carolyn Hayes Uber, president of Stephens Press "and we're honored to have the opportunity to share his life story with fans and friends as well as preserve a slice of the Las Vegas entertainment history."
The book will debut on Proctor's 80th birthday, July 22, at a Comedy Roast at the South Point Hotel/Casino in Las Vegas. The Comedy Roast will benefit Proctor's favorite charity, Opportunity Village. My Mind is an Open Mouth," will be available as an eBook at major online retailers including Amazon.com, iTunes.com, BN.com, and Kobo and the print edition will be available from the publisher, online book retailers, and Las Vegas bookstores.
TOP OF NEXT COLUMN
THIS AND THAT QUICKLY:
Mary Wilson, who opens this Friday, May 11th at The Smith Center with the hit show, James Gavin's "Stormy Weather: The Lena Horne Project," spent a few days at the Kentucky Derby last weekend, where she attended, not only the Derby, but a few special parties. "Stormy Weather," will be performed at 8:30 p.m. Friday, and 7 p.m. Saturday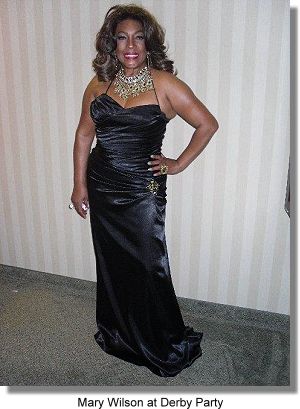 The Mentalist, known internationally for his remarkable ability to get inside the minds of others, is celebrating seven-years of performing in Las Vegas on May 15th. To mark this special occasion, the V Theater inside Miracle Mile Shops at Planet Hollywood is offering $7 tickets to locals now through May 20th.
The Mentalist star, Gerry McCambridge, combines his unique skills with comedy and magic to astound audiences, turning skeptics into believers. Among his many national television appearances, McCambridge was best known as the executive producer and star of the NBC primetime TV show, "The Mentalist in 2004." He also appeared on the reality show "Phenomenon" with Criss Angel.
A true stand-out in his field, Gerry was awarded "Mentalist of the Decade" by the International Magicians Society and the Las Vegas Weekly voted The Mentalist one of the "ten shows you absolutely have to see" in Las Vegas.
Locals who would like to take advantage of this limited time special offer must present their Nevada IDs at the V Theater box office when purchasing show tickets. This offer cannot be applied to prior purchase. Seating is limited. (Please note: special pricing does not include taxes and fees). The Mentalist takes the stage Thursday through Tuesday at 7:30pm at V Theater. For more information, go to www.VTheater.com.
The 33rd Annual San Gennaro Feast, at the Rio All-Suite Hotel & Casino Las Vegas, is now underway. Comedian Louie Anderson has been named the Grand Marshal, and Lena Prima has been named Grand Lady. At 7 p.m., Thursday special guest Mayor Carolyn Goodman, along with Father Dave Cassaleggio gave the blessing over The Feast and officially proclaimed the Feast open.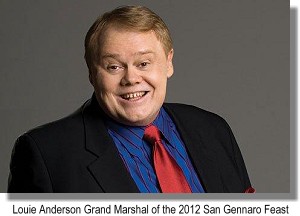 The San Gennaro Feast will run May 9-13 in the northeast parking lot at the Rio, where the event was held last September with record crowds. The gastronomic festival and love affair with Italy will feature more than 70 restaurant food booths, 60 amusement rides and midway games including a petting zoo, pony rides and the 250-foot Slingshot Ride, and complimentary headliner entertainment, coordinated and hosted by Tony Sacca, who has been part of the event for more than 25 years. The Feast goes from 4 – 11p.m. Wednesday and Thursday; 4 p.m. – midnight on Friday; 11 a.m. – midnight on Saturday; and 11 a.m. – 11 p.m. on Sunday. There is free parking in the Masquerade Garage and Rio Pavilion self-parking. Tickets are $8 for adults and $7 for seniors at the gate with $6 coupons on the Website www.sangennarofeast.com. Children 54 inches and under are free. For discount tickets or group rates, visit www.sangennarofeast.com.

Well, gang, that's about it for this week. I'm outa here!


CONTINUE ON TO...:
>It's The Norm Article Archives
>Las Vegas News - "Heard Around Town"
>Las Vegas Leisure Guide