Took a trip down memory lane the other evening, when we answered the call to go see an honest-to-God living legend, the seven-time Grammy Award-winning performer, Gladys Knight, in the newly transformed Tropicana Las Vegas Hotel & Casino. The show, produced by Freestyle Mac, takes place in the renamed Gladys Knight Theater, formerly known as the Tiffany Theater.
Knight showcased her fan favorites, such as "Midnight Train to Georgia," as well as newer hits including her December 2010 single "Settle," the other evening before a Standing Room Only crowd, composed of fans, media and VIPs. Knight was joined on stage by four back up singers and dancers, along with an outstanding band. She also highlighted such memory making hits as, "Every Beat of My Heart," "If I Were Your Woman," "You're the Best Thing That Ever Happened to Me" and "I Heard It Through the Grapevine."
The multi-award winning, Merald "Bubba" Knight, Gladys' brother and one of the original members of the Pips, is a featured part of Knight's show, as well. Bubba took time during a pre-show private party to greet old friends and take photos with many of the VIPs. He was truly enjoying his return to the Strip, and working with his sister once again.
"I'm thrilled to be returning to the Las Vegas Strip, and am extremely happy to be back home to stay for a while. It's always been a dream of mine to have my own showroom, and I'm excited to showcase songs ranging from both my greatest hits to my new album," Knight commented during the 90-minute performance.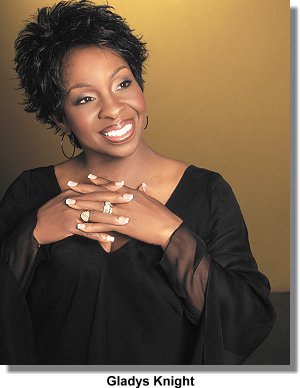 "We are extremely excited to add Gladys Knight as part of our overall transformation of Tropicana Las Vegas," Tom McCartney, President and Chief Operating Officer of Tropicana Las Vegas, said earlier that evening. "We believe her intimate and up-close performance fits in perfectly with our strategy of exceeding our guest's expectations."
The Empress of Soul will come and go, scheduled around numerous previously booked engagement, and the Tropicana has agreed to allow her to fulfill those bookings in her multi-month contact. One of those special engagements will take place this coming weekend.
Knight will share her love of trains and join Amtrak in its 40th anniversary year to celebrate National Train Day 2011, this Saturday, May 7. She will sing her signature song, "Midnight Train to Georgia," to help commemorate the 142nd anniversary of the transcontinental railroad's inception, by bringing to life the rich history of how the railroad industry and train travel transformed America. Ms. Knight will serve as national spokesperson and host the signature event at Washington, D.C.'s acclaimed Union Station where she will open the festivities.
The show at the Tropicana can be seen Tuesday through Thursday at 8 p.m. and Friday and Saturday at 9 p.m. All ages are welcome when accompanied by an adult. Tickets can be purchased through the Tropicana Box Office by calling (702) 739-2411 or by visiting www.troplv.com.
THIS AND THAT QUICKLY:
Another living legend, and a former member of the famous gang of unbelievable singers, who helped to bring to the world what is known as the Motown sound (Ms. Knight was another), Mary Wilson will be singing her heart out on the Strip, when she opens at the Riviera Hotel on June 22 for a 12 night engagement. The former Supreme will perform one show nightly with times and prices to be announced.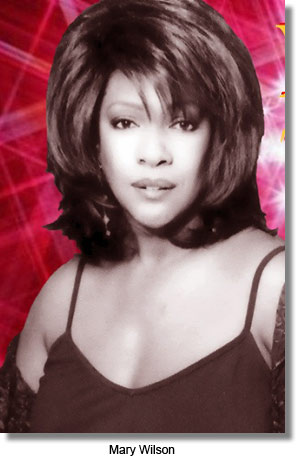 Piano! Las Vegas is offering something new, a backstage experience at V Theater inside Miracle Mile Shops at Planet Hollywood Resort & Casino, featuring access to the pre-show rehearsal and a meet and greet with Ryan Ahern, star of the show.

For only $44.99, the Backstage Experience features: a private meet and greet with Ryan Ahern in his dressing room, VIP seating, and the opportunity to watch Ahern warm up with his band during the pre-show rehearsal. Guests of the Backstage Experience will also receive a free CD. The experience begins at 1:45 p.m. at the V Theater Box Office. Las Vegans receive 50% off admission to the Backstage Experience. For more information, please visit http://www.pianolasvegas.com or call the V Theater Box Office at (866) 932-1818.

The Ford Ironman will return to its host city, St. George, Utah, for its second year this Saturday, May 7. The grueling contest will start with a 2.4 mile swim at Sand Hollow, followed by a 112 mile bike ride through beautiful southern Utah, wrapping up with a 26.2 mile marathon.

The Ironman challenge began when a group of United States Navy Seals decided to create something different as a contest, and came up with the Ironman challenge. The Ironman has grown to become one of the most recognized endurance events in the world. Originally a combination of the Waikiki Rough Water swim, the Around Oahu Bike Race and the Honolulu Marathon. The Ironman series includes 28 events, held throughout the world, that qualify athletes for the Ford Ironman World Championship held every October in Kona, Hawaii.

Well, gang, that's about it for another week. I'm outa here!



CONTINUE ON TO...:
>It's The Norm Article Archives
>Las Vegas News - "Heard Around Town"
>Las Vegas Leisure Guide<