Nelson Sardelli, an international singing star who calls Las Vegas his home, has stepped up to the plate once again, to raise funds for the people of the central region of Abruzzo, Italy, where a devastating earthquake struck on April 6, 2009. According to officials, it will take more than $15.9 billion to rebuild the historic area, and to help the people survive while they rebuild. At last count, some 300 deaths have been reported with more than 40,000 homeless.
"An Affair of the Heart....to Italy with Love," is the title of the huge benefit that will take place at The Orleans showroom on Sunday, May 17th. The show, with Sardelli as the Master of Ceremonies, will kick off at 1:00 p.m. and end around 4 p.m. Doors will open at noon and tickets can be purchased in advance, or in person, at the Orleans box office. Admission is only $35.00.

As of this writing the team roster for this particular benefit has a total of 36 plus entertainers, who have signed on to help hit a homerun for the people of central Italy. They include Shecky Greene (who is headlining that weekend at The Orleans), Rich Little, Lance Burton, Frank Scinta, Phyllis McGuire, Clint Holmes, Sammy Shore, Frankie Randall, Dennis Bono, Lorraine Hunt-Bono, Kelly Clinton, Artie Schroeck, Linda November, Carme Pitrello, Cork Proctor and Peter Anthony to name just a few of the terrific entertainers who have volunteered. Others also participating are: Pete Barbutti, Charlie Callas, Babe Pier, Lena Prima, Joe Sirola, Denis Clemente, Kathleen Dunbar, Paul Campanella, Mark Giovi, Sal Richards, Michaelina Bellamy, Nik Mastrangelo, Gabriella Versace, Mafalda, Jeanne Brei, Allan Tramont, Joni Illi, Loretta St. John, Ronnie Rose and Robert Ensler.
The last time such a fund raiser was staged at The Orleans, Norman Kaye was the recipient of more than $21,000, which went to help defray his medical bills. This time out, Nelson and his team members, along with the co-sponsor Augustus Society of Las Vegas, hope to raise more than $35,000, with every penny going to the Relief Fund. The Orleans has donated the showroom, stage crew, tickets and other internal costs, so that every red penny will go where it's supposed to go-to the people of Italy!
So, gang, it's up to us to make this possible. If you can't make it to the live event, and feel you want to make a donation, you may send a tax deductible check to, Las Vegas Italian Relief Fund, Bank of Las Vegas; account #304007411, 6001 S. Decatur Blvd., Las Vegas, Nv. 89118.
THIS AND THAT QUICKLY...
Carme Pitrello (who will be part of the above mentioned Italian earthquake benefit) has written a novel. And what a novel it is, folks! It's about a mob hit man who becomes a huge singing star and as he travels the world entertaining, begins killing again for the mob. Believe me, when I say this, it is a great read.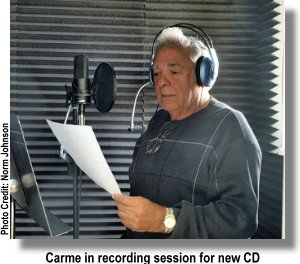 If you order the book, "Sing Deadly," you will also receive a special CD with three great songs by the author. To order an autographed copy, send a check for $22.50 to: Carme Pitrello, 15515 Redington Drive, Redington Beach, Fl, 33708. Price includes tax and shipping...
Went to the Wyrick Theater the other evening to see and listen to, very possibly, the best Elvis impersonator working today, Trent Carlini. I was really expecting to see a tight presentation and something different for a change in the new show, "Elvolution." As you regular readers know, I knew the King, having played touch football, etc with him during his Hollywood days, and I was here when he opened at the International Hotel in 1969.
But, what I saw was a show trying its hardest to bring something new, but not delivering despite an effort by Carlini and his staff to do so. There are too many costume changes (a narrator should at least explain why the different costumes), and they are not necessarily in the right order, some of the songs are not among Elvis' top 15, and no "Jailhouse Rock" number. Carlini does deliver with his fabulous voice and looks, but that alone will not carry the show.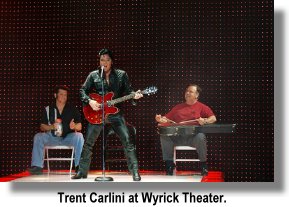 In one scene, where Carlini changes into an all black leather suit and roars on stage riding a motorcycle, there is a great chance to actually re-create Elvis' comeback appearance in 1968 on NBC Television. But, instead of using real live musicians, Trent brings two guys out of the audience to fake assisting him. It is, in my opinion, a bad move on his part. I also heard, but have not verified it with the production people, that the musicians (supposedly his band) are not actually performing live--except for the keyboard and backup vocalist, even though they are supposedly seen during two songs, way back in the shadows of the stage.
The Wyrick stage is really big, folks, and Trent could fill a lot of that space by using a live band behind him (not hidden behind the big electric signs). It would add so much to the performance. In another section of the show, a film is run supposedly depicting Las Vegas when Elvis was at the International Hotel (now the Hilton), beginning on July 1, 1969. Bad move, because the film dates the modern day Las Vegas, not the Las Vegas of the '60s and '70s. There is so much film and photos available of Elvis during the years he was performing in our little village, that it's a shame not to have a real film of the era.
For the ladies and young women in the audience, Carlini does give away a lot of scaves during another two songs, recreating what Elvis did during his concert days. This is a little more of what everyone probably expected.
All told, Trent Carlini and "Elvolution," is a decent effort to depict Elvis in various times of his life. I think Carlini has the right idea, but he should sit down and re-think the show with his producers. It's not too late! With ticket prices for "Elvolution" starting at $70.00 plus tax and fee, that could turn out to be an obstacle But, hey, what do I know, I'm just a writer!
MORE THIS AND THAT QUICKLY...
This Saturday, John Stuart is turning over his Legends Ranch for a benefit to help raise a defense fund for Trina Johnson-Finn, the impressionist who was arrested Feb. 27 in South America and is presently still sitting in a jail cell in Suriname, for supposedly passing herself off as the real Toni Braxton. Actually, the promoter was the one responsible for advertising that Ms. Johnson-Finn was the real Braxton, when he knew that she was an impersonator. There will be all kinds of entertainment and food beginning at noon and lasting until around 8 p.m. The address of the Legends Ranch is 8213 Rancho Destino, 89123. Admission ranges from $10 to VIP treatment at $40. This, too, is for a worthwhile cause too...
Well, gang, I ran long this week.
I'm outa here!


CONTINUE ON TO...:


>It's The Norm Article Archives
>Las Vegas News - "Heard Around Town"
>Las Vegas Leisure Guide<