Drove out to the South Point Hotel & Casino the other evening, to indulge in its great Chinese dinners (the portions are huge), and then to visit with an old friend, Tony Orlando.
Orlando has been coming to our little village (Las Vegas) for more than three decades (he's been in showbiz for fifty years), and I've been attending his shows for just as long. I believe I was one of the first to review Tony, when he appeared at the Riviera Hotel & Casino.

It's most interesting, folks, to watch an entertainer grow from a young, energized person to an older, energized, and dynamic entertainer. Tony, who I watched Saturday evening, has it all today: Energy, great presentation, an extremely honest-to-God love for what he is doing with his life now, and an audience that loves him to death. Tony's audience may be a wee bit filled with gray hair, but that just proves one thing to me—his staying power will never fade away. Like his 1977 hit album, "Living for the Music," Tony lives to entertain.
I could go into all the songs he sang Saturday, but needless to say they included his hits, "Candida," "Tie a Yellow Ribbon Round the Ole Oak Tree," "Knock Three Times," and a selection of songs from when he appeared on Broadway in "Smokey Joe's Café," "Barnum," and in his touring show, "Juke Box Dreams." What I enjoy about Tony Orlando, and what I believe endears him to his audiences everywhere, is the passion he exudes when it comes to his (and our) beloved veterans. Orlando doesn't do this to get the audience to applaud, or to stand up as if he was getting a standing ovation (like a few entertainers pull off all the time). It is, however, his way of honoring every man or women who ever served.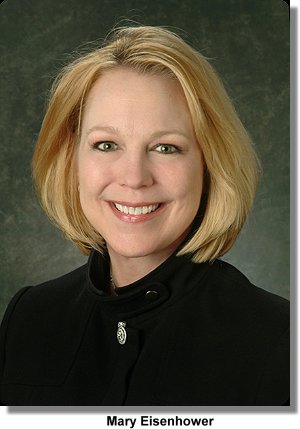 This particular evening, one of the greatest names ever associated with a war was spoken by Tony, when he introduced Mary Eisenhower, granddaughter of General Dwight D. Eisenhower, who later became our 34th President. Ms. Eisenhower was honored with the "Yellow Ribbon Medal of Freedom," which was created by Orlando, as part of an annual salute to veterans staged by Tony in Branson, every Veterans Day in November. Tony also recognizes veterans in every show, by asking those who served during World War II, Korea, Iraq, Viet Nam, and other battles, to stand and be honored. It's an honest emotion from his heart to those veterans, and to the ones who never made it home.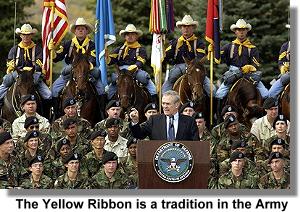 Heck, I could write a book about Tony, but that's already been accomplished. Needless to tell ya, when Tony Orlando next appears at the South Point Hotel & Casino, please do yourself a favor, and head out for a solid 80 plus minutes of fabulous entertainment.
THIS AND THAT QUICKLY:
A longtime friend of mine, is out in front again, doing exactly what he was doing when I first met him in 1967at the downtown Mint Hotel (now the Horseshoe). Sean Grady, who was the Maitre D' Extraordinaire for the "Top Of The Mint," and other fine restaurants in Las Vegas, has been named Maitre D' for The Conductor's Room at the Railroad Pass Hotel & Casino in Henderson. Curt Thompson, director of operations for the property, made the announcement.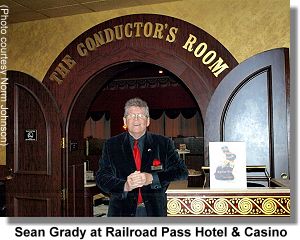 "Sean is one of those rare personalities, that can remember faces from forty years ago, and very possibly remember your favorite drink, and, after a couple of visits, he'll never forget your name," Thompson said. "We are delighted to have him aboard."

Sean Grady has had an outstanding career, not only in Southern Nevada, but in Atlantic City as well. After Grady's tenure at the Mint Hotel, Bill Bennett (who later went on to purchase Circus-Circus and build an empire), left the Mint as its General Manager, and took command of its sister property, the Sahara Hotel & Casino on the Las Vegas Strip. Bennett called Sean and asked him if he would like to take over the Congo Room Showroom and Don the Beachcomber restaurant. Of course the offer was accepted. Grady stayed for a few years, and was then asked to go to Lake Tahoe and take charge of the dining rooms at the Sahara Tahoe Hotel & Casino. Sean returned to Las Vegas in 1983, as Maitre D' for the Cabaret Room at the Frontier Hotel & Casino, where he stayed until an "offer he couldn't refuse," was made to him by a group in Atlantic City.

After an extensive stay in Atlantic City, Grady returned to Las Vegas in 2005, and was named Maitre D' at the Bootlegger Bistro, owned and operated by Lorraine Hunt-Bono, who at one time (when Sean, Thompson and I were all there)was the evening entertainment as a beautiful singer. She was quite young at the time. Just goes to prove--what goes around, comes around, and we do live in a small world!

Good news gang. Bill Acosta has had the implant device to cure his Parkinson tremors turned on and it's working. On March 16th his doctors implanted on the right side of his brain a Deep Brain Stimulation device (DBD). A couple weeks later, he returned to have some batteries installed, and was told that, by the end of April, he would be ready to have the device turned on. Well, I got a call Monday from Jeanne Bavaro, Bill's former wife and manager, telling me the device had been turned on, and was working perfectly. Bill was able to pick up a cup of tea without shaking for the first time in years.

Gee, gang, time goes by fast when you're writing about people you really like. I'm outa here!




CONTINUE ON TO...:
>It's The Norm Article Archives
>Las Vegas News - "Heard Around Town"
>Las Vegas Leisure Guide<