My baby daughter, Lisa (sheís 49), called me Monday night, and asked me what I was doing Tuesday? Naturally I replied, ďnothiní, why?Ē Then she explained, that a co-worker (Lisa works at Wynn) told her about Cold Creek, and that if you go there youíll see some wonderful wild Mustang horses. Lisa (day off) was baby-sitting my great-grand-daughter (she just turned one), Imani, so I said letís go.
For those of you who live in Las Vegas, itís about a 35 minute drive out I-95, en route to Beatty, which is a gateway to Death Valley. Itís located next to the prison, located on the left of the highway as you drive northeast. After you turn left, and head up towards the snow capped-mountains on a narrow two-lane road, you wonder if the trip was worth it. Itís definitely worth it. Soon, you spot piles of brown droppings alongside the road (now you know you are near some horses). Imani has fallen asleep in the car seat, Lisa is driving and Iím looking for a horse, any horse. Suddenly Lisa yells, ďThereís one dad!Ē I look where sheís pointing and all I see is cactus. Then a brown and another white object appeared in my vision. I take off the sunglasses so I can see better, and just like that, thereís about a dozen wild Mustangs feeding on green grass, in an open range, next to a natural creek.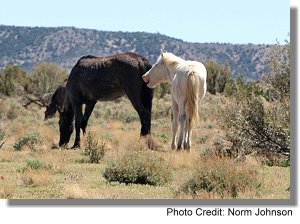 They are so majestic. The huge Stallion is definitely the boss. And, heís watching us, as we get out of the truck to take photos. The Mustangs are wild, mind you, and we were warned not to feed them, but to expect them to come up to you, and look you over. Well, gang, the Mustangs didnít run away, and they did sorta inspect usóbut from, maybe 20 feet away. We took photos and then drove up to the little colony, turned around and came down the road, stopping one more time to take a couple more photos. Well, I rolled down the window, and guess what happened?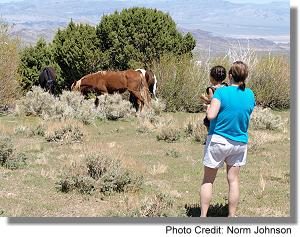 One of the Mustangs, a beautiful brown one, casually walked up to the truck, and stuck his nose inside. I very slowly touched his forehead, and he didnít flinch. It was one of those rare moments in time. A wild animal was checking us out, up close and personal. I guess we passed, because he didnít take a bite out of me. Imani was screaming as we drove away. She did not want to leave, and was definitely excited, as were her mom and this writer.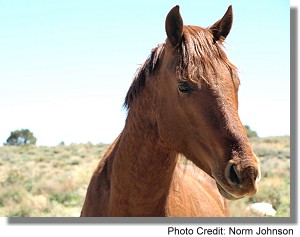 The beloved Bureau of Land Management (BLM) says the horses need to be taken away. Where else can you get this close to a beautiful, wonderful, majestic wild animalóand not be scared. If the BLM has its way (so Iíve been told), the next generation will not be able to do what we just did. Imani will not be able to take her children to see a Mustang running wild in an open range. And, gang, that would be a shame!!!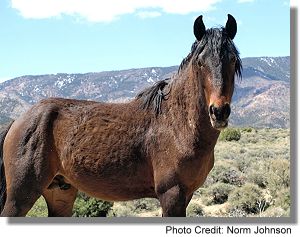 Saturday, Nancy Barr, Jackie Brett, Mel Carter and I, drove out to Boulder City to ride a train. Now this is not just any train, itís part of the Nevada Southern Railway, which is part of the Nevada State Railroad Museum. Curt Thompson, Director of Operations for the Railroad Pass Hotel & Casino, had made arrangement for us to meet, Greg Corbin, who runs the operation at the old train depot, 600 Yucca (look for the Taco Bell sign on your left as you begin to enter Boulder City). Not to worry, there is lots of free parking space available. Corbin had our tickets and we opted to ride in the open air car.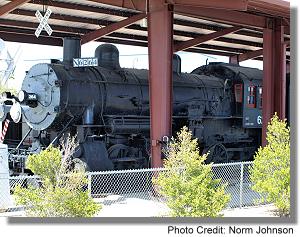 This particular day, a fake train robbery was to take place as the train stopped at the Railroad Pass Hotel & Casino. Thatís one of the reasons we were invited to go on the trip. We learned that there were about 35 re-enactors, from Arizona, Nevada and California, who had volunteered to be aboard the train.
The Hotel & Casino sponsors the event three times a year. ďWe do very well every weekend, but when the re-enactors are here, every train trip is sold out,Ē Corbin explained. Following the robbery, and a safe return to the depot (normally the round-trip takes about 45-minutes), we were given a tour of the gigantic train engines that have been restored by local volunteers. Corbin explained that one of the engines had to be divided into three pieces, so it could be trucked to the Boulder City Museum for restoration.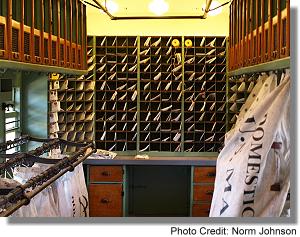 There is a realistic restored U.S. Mail Car, that is very interesting, and two small engines that were used at the Atomic Testing Grounds outside of Las Vegas. All, in all, it was a fun trip. And, the real nice thing about the museum, itís totally free. The train ride runs every Saturday and Sunday at 10, 11:30 a.m., 1:00 and 2:30 p.m. Tickets are $10 for adults and $5 for children 4 through 11. Children younger than four ride free.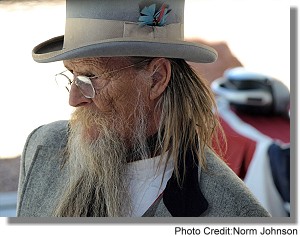 Incidentally, the re-enactors will be in competition at the Gold Strike Hotel & Casino in Jean, NV. as part of the ďGrand National Competition of the Old West,Ē May 14-15. You can watch them compete in gunfight skits, fast draw, etc., and the cost is only $5 per person, with kids under five free.

Well, gang, hope you enjoy the photos. Iím outa here!


CONTINUE ON TO...:
>It's The Norm Article Archives
>Las Vegas News - "Heard Around Town"
>Las Vegas Leisure Guide<