Ran into an old friend the other day, when I decided to check out that white hotel/casino you pass as you drive out I-95, heading to Arizona and parts unknown. I was personally heading to Boulder City to see a friend, when he called my cell, and suggested we meet at the white building—called Railroad Pass Hotel & Casino.
It had been quite a long time since I had been inside the establishment. At one time, when I had my boat at Lake Mead, we would stop at the casino on the way home, and have them cook our fish (if we were lucky and caught one or two). The promotion was free, and the cooks prepared our catch beautifully. To make a long story short, I ran into another old buddy, who I worked with in the late '60s at the old Mint Hotel (now the Horseshoe) downtown, Curt Thompson. Thompson is Director of Operations for the property, and he began to fill me in on events, and some of the history of the Railroad Pass Hotel & Casino. Before I knew it, I had a story.
Railroad Pass Hotel & Casino, located in the hills of Henderson on the way to Boulder City, will celebrate its 80th Anniversary on Monday, August 1, 2011. Plans are underway to commemorate the oldest existing casino in Nevada, part of the MGM Resort International Family, with various events to take place at the resort during a week of exciting activities.
In 1931, then Nevada State Governor, Fred B. Balzare, signed a bill, authorizing the licensing of gambling, thereby making Nevada the first State in the Union to legally allow gaming. The first four licenses were issued, and Railroad Pass' future owner, F.J. Warren of Los Angeles, Calif., was given State license #4, on July 7, 1931. The number one license was never issued, and numbers two and three have long since expired.
"We are very cognizant of the importance of our place in the history of gambling in Nevada, and particularly in Southern Nevada," Curt Thompson, Director of Operations for the Railroad Pass Hotel & Casino, said. "We hope to invite as many of the old-timers, as we can find, to be part of the events taking place that week."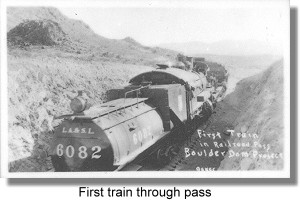 Railroad Pass came into existence, as work began at Boulder Canyon in 1931, to build what was to become, at that time, the largest dam in the world. In anticipation of the dam, Union Pacific Railroad began laying track in 1929, from Las Vegas to Boulder City, through Railroad Pass. On January 31, 1931, the first train rumbled through the pass carrying lumber for creation of a dam workers camp outside Boulder City.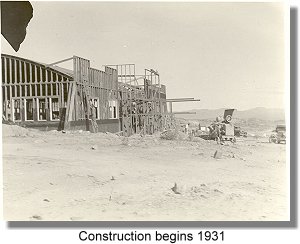 Building of the Railroad Pass Club began on June 4, 1931, and was completed in mid-July. At the time, only a dirt road existed from Las Vegas to Boulder City. The road was paved in 1932. On July 25, 1931, a soft opening of the club was held by manager, O.T. Buck.
If you happen to be one of those old-timers, who used to stop in at the casino and partake of its libations, food or whatever during its early days when it was called the Railroad Pass Club, then you should stop in and say hello. Ask for Curt Thompson, he'd be glad to hear what you remember from those early days.

So, now you know what's going on at the white building you pass on the left side of the highway, as you are on your way to Boulder City, the Dam or the new bridge over the Colorado River. And, oh yea, the food is out-of-sight. While you are at the Railroad Pass, stop in and visit the museum inside the casino. It's really quite interesting.

THIS AND THAT QUICKLY:

The 7th annual Señoras of Excellence and Señores of Distinction Awards Gala will be held Saturday, May 7, 2011 at Wynn Las Vegas in the Latour Ballroom at 3131 Las Vegas Blvd. South. The celebration will kick off at 6:30 p.m. with a hosted cocktail reception and silent auction, followed by an awards ceremony, dinner, entertainment and an after-party at Casa Don Juilio. The dress is Black-Tie optional. Proceeds will benefit The Latin Chamber of Commerce Community Foundation Scholarship Fund, a 501(c) (3) organization. Contact Sandy Peltyn at 702-375-0173 or Trish Williamson at 702-429-1623.

The Strip's hottest new stage production, "VEGAS! The Show," is moving to seven days a week starting May 1st. The production opened at the Saxe Theater inside Miracle Mile Shops at Planet Hollywood in June, 2010, featuring a cast of more than 40 singers, dancers, showgirls, and a live big band orchestra. Performances have been selling out, so to accommodate audiences, producer David Saxe is extending the show schedule from six days to seven days a week with performances at 7pm and 9pm nightly.

"VEGAS! The Show," tells the story of the most exciting and influential entertainers who made Vegas… Vegas, including The Rat Pack and Elvis! Critics call it the "best of Las Vegas all in one show."

For more information about the show, cast or to view video clips, log onto www.vegastheshow.com or call the Saxe Theater box office at 702.260.7200.

The Corner Gallery in Boulder City is staging a benefit, in conjunction "Cinco de Mayo." You are invited to purchase a 5" x 5" canvas anytime from now forward, for $5, take it home and paint/decorate/whatever, and donate your creation back to the Gallery prior to the benefit gathering on May 5, 2011. Canvases will be displayed, and a silent auction will take place at the Gallery at 8:00 p.m. The event will culminate in a "Cinco de Mayo" observance at 6:00 p.m. The Highest bidders will be announced at the party, and artwork will go to their new owners. There will be food and festivities! This is a fundraiser for the homeless of Clark County, in support of Family Promise of Las Vegas (familypromiselv.com.

Well, gang, that's about it for this week. I'm outa here!


CONTINUE ON TO...:
>It's The Norm Article Archives
>Las Vegas News - "Heard Around Town"
>Las Vegas Leisure Guide<