If you were wondering what happened to last Friday's column, the simple answer is that I was at Desert Springs Hospital, when I normally write the column. I had some blockage in my right side carotid artery, which needed taking care of.
Let me tell you something I think is very important. Most of the time, a hospital visit is not something anyone really wants—except when you are perhaps visiting another person. I am no exception! However, I had a choice of where to have the procedure done, and I asked Dr. Agrawol if I could go to Desert Springs. So, Tuesday morning, accompanied by my three daughters, Robin, Denise and Lisa, and my dear friend, Nancy Barr, I checked in and began the task of getting prepared for the procedure. I want to tell you right now, before I go any further, from pre-booking to departure, I had no bad experiences. Every step was carefully planned, and every person encountered was polite, informative and seemed to care about you (as a patient). The family was kept well informed as I moved through the pre-procedure steps.
The procedure I was undergoing is fairly new, according to my friend and cardiologist, Dr. Tali Arik (who I always go to when facing any procedure), and who unfortunately is not on my HMO plan. I was told by Dr. Arik that Dr. Agrawol is one of two local doctors doing the procedure called, "Carotid Stenting," instead of the former method (which I had about 15 years ago), of actual surgery to roto-rooter the artery (my words).
Well, gang, I was in the operating room (no cutting, just insertion into an artery at an area near the groin) for about an hour. I had been given a slight sedative so that I was awake during the entire event, thereby able to answer questions--if I sensed this or felt that. It was easy as pie. And the gang (kids and Nancy) was able to watch it after it was over, and they saw the blockage (it was at 92 percent). I really want to thank Dr. Agrawol, and his staff, as he was very professional, and his assistant nurses were always telling me what he was doing, as he did it. I arrived in the operating room gray faced, and left pink.
My next experience was in ICU, where you go to recover from the procedure. You either stay for a few hours or, in my case, an overnighter to just make sure I did not have a problem. The first person I encountered was Donald Messier, RN. Man, believe me when I tell you this, if every RN was as courteous and efficient as Messier, people would be in a better mood about going to a hospital. Messier would respond quickly to my button call, and always had a terrific smile, and manner about him, that every nurse or RN should emulate.
My next official visitor was Dr. Nakeisha Curry, who didn't just come in and say hello and goodbye. Dr. Curry actually pulled up a chair and sat with me for a few minutes, asking me critical questions and answering every question I asked. My "case manager," Cheryl, was very informative and professional as well.
I was scheduled to get out of the hospital the next day (Wednesday), but Dr. Curry and Cheryl both suggested I stay an extra night, as I might have a slight infection and they wanted to treat me with a strong antibiotic. I was hesitant, but agreed. Dr. Curry promised that she would see me at 9:30 a.m. the next morning. She was there at 9:45 a.m. and said everything looked much better, and that I could go home.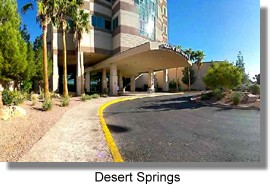 Now for the one experience that seems to bug a lot of people when they have to be hospitalized—the food. I have to tell ya, my experience at Desert Springs (every time I have been there), is nothing but praise for the three meals a day I received. They were well prepared, attractively presented, and really delicious. The menu offered a variety of entrees, etc. You can't go wrong ordering your meals. It's all good.
So, gang, since 1995 I have been in just about every hospital in Las Vegas, starting with Sunrise Hospital where I had my first heart surgery. And, I am now, and will always be, a firm believer in selecting Desert Springs Hospital as my first choice. Politeness and efficiency goes a long way in making a person feel good. And they have it in spades at Desert Springs. I congratulate the entire staff, and especially the ICU unit, for a job well done every day of the year.
THIS AND THAT QUICKLY:
Superstar drag racer, and fan favorite Melanie Troxel, will pull double-duty when the NHRA tour arrives at the Las Vegas Motor Speedway's "The Strip," for this weekend's 12th annual SummitRacing.com Nationals, doubling her chances to take home her first trophy of the 2011 season.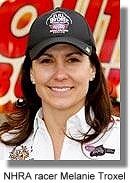 The decorated racer will pilot both the In-N-Out Burger Toyota Funny Car in the Full Throttle Series and the Roadrage.com Camaro in the Get Screened America Pro Mod Drag Racing Series. She is the only female competitor in either category.
Troxel said an extended test session following the recently completed Gatornationals has gone a long way toward raising her to contender status in both cars. Everything gets underway Friday and runs through Sunday, with all the big guns on hand to do battle on the famous ¼ mile track.
VOICES 3-makes their Las Vegas debut performance at the SUNCOAST Hotel Casino on April 16-17 at 7:30 pm. The group is comprised of three veteran entertainers whose faces and voices are familiar to Las Vegas audiences. BILL FAYNE has been a popular entertainer, music director, pianist, singer, arranger, composer and producer for over 10 years in Vegas, and over a 40 year music career as musical director for singers Clint Holmes, Kathie Lee Gifford, Ann Jillian, Suzanne Somers and many others. He created THE LAS VEGAS TENORS and VOCI VEGAS and now brings us VOICES 3! The other two important parts of the group are Teddy Davey and Chris Coyne. The new group will also feature Mollie Tennant from JUBILEE! and surprise special guests, as well as a great orchestra made up of some of the best musicians in Las Vegas!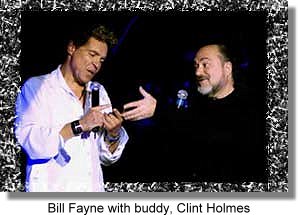 Bill Fayne will also be performing at the Starbright Theater this weekend. Fayne will present his personal biographical show, "A Musical Life," on Saturday at 7 p.m. and Sunday at 3 p.m. As usual, residents of the complex only pay $15, while the rest of us ante up $18.00. This is sure to be a heck of a show, and one never knows who may show up to sing a song or two — think Clint, Domenick or Susan? One never knows who to expect. That's one of the things that makes Bill so interesting.
Well, gang, next column I'll have a report on the Mob Experience at the Tropicana Hotel. I took the tour, and it is fantastic and one well worth a visit. But, for now, I'm outa here!
CONTINUE ON TO...:
>It's The Norm Article Archives
>Las Vegas News - "Heard Around Town"
>Las Vegas Leisure Guide<