Hey, gang, guess who will be one of the headliners at the New Smith Center this coming May. It's our local supreme, and one of the founders of the world famous "Supremes," Mary Wilson. Wilson will be performing in the new Smith Center for the Performing Arts, in a tribute show aptly name, Stormy Weather: The Lena Horne Project. Starring Wilson, "Stormy Weather," is about Hollywood's first African-American goddess, Lena Horne, from her reign at MGM's "dream factory," to a fabled night club seductress, and civil rights icon. The show is based on the book written by James Gavin in 2009, with three performances set for May 11 at 8:30 p.m., and May 12 at 7:00 p.m. and 9:30 p.m.

Gavin is an integral part of the production, as he also narrates this multi-media theatrical experience. Mike Renzi (seven-time Emmy Award--winner), who served as the musical director for Lena Horne's show, "The Lady and Her Music," on Broadway in 1981, created the orchestrations for this show.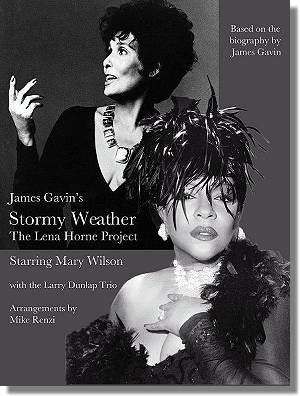 Stormy Weather is a "living, breathing, biography," combining story, song and visual images from James' wealth of material and hundreds of interviews – several with Horne herself – to give us the defining portrait of an American icon, and includes the evening at the Academy Awards in 2002, when Halle Berry thanked Lena Horne for paving the way for her to become the first black recipient of the award for Best Actress.
A sample of songs in this concert include "Ill Wind (You're Blowin' Me No Good," by Harold Arlen and Ted Koehler; "Stormy Weather" (Arlen-Koehler); "Why Was I Born?" by Jerome Kern and Oscar Hammerstein II); "A Lady Must Live" by Richard Rodgers and Lorenz Hart; "It's All Right with Me" by Cole Porter; "Honeysuckle Rose" by Fats Waller and Andy Razaf, and many others made popular by Horne. The beautiful Lena Horne became a pioneering star for African Americans in the '40s and '50s. From the Cotton Club's glory days and the back lots of Hollywood studios to the glitzy but bigoted resorts of Las Vegas, this behind-the scenes look is as much a story of the limits of the American dream as it is a masterful, ground-breaking biography. The book was on Oprah's summer reading list in 2009.
Mary is not trying to do an impression of the famous lady she portrays on stage. "I grew up admiring Ms. Lena, and who doesn't remember those great songs she sang. I'm simply singing the music as a tribute to her and her life. It's that simple! "
THIS AND THAT QUICKLY:
The biggest names in professional drag racing are coming to our village to compete in this weekend's 13th annual NHRA SummitRacing.com Nationals at The Strip at Las Vegas Motor Speedway. The NHRA Full Throttle Drag Racing Series national event – one of two held each year at The Strip at LVMS – will feature Top Fuel Dragster, Funny Car and Pro Stock professional categories. Ron Capps is The Strip at LVMS' most recent Funny Car victor, having won the 2011 NHRA Big O Tires Nationals in October with a pass of 311 mph over teammate Johnny Gray. "Vegas is one of my five favorite race tracks," Capps said. "Las Vegas is always fun, but nothing is more fun than winning on Sunday."
Antron Brown is the defending NHRA SummitRacing.com Nationals Top Fuel Dragster champion. The 36-year-old New Jersey native defeated Brandon Bernstein with a 318-mph pass down the Las Vegas drag strip. Brown is the only racer in NHRA history to win races and lead the standings in both the Top Fuel Dragster and Pro Stock Motorcycle categories. He has 32 career wins, 29 career No. 1 Qualifier Awards and is competing in his fifth season in Top Fuel after spending 10 years in the Pro Stock Motorcycle class.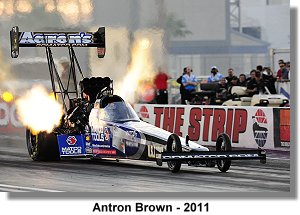 TOP OF NEXT COLUMN
Pro Stock fans will want to keep an eye on Jason Line, who clinched the 2011 NHRA Full Throttle Drag Racing Series Pro Stock championship here in the next-to-last event on the schedule. Line and teammate, Greg Anderson, each have won one NHRA national event so far this season. Their team owner, Ken Black, is based in Vegas. "It's a big deal every year when we go to Vegas because of it being Ken's hometown and combined with the fact that this is a Summit-sponsored race," Anderson said. "With all of the brass coming out to cheer us on, it means there is a lot of added pressure and emphasis on doing well. The good thing about this year's race is that we're coming in on a high, so we're hoping to continue that roll, and put two Summit Pontiacs in the final round so we can put that big smile on everyone's face again. It feels good to be going in with a little positive momentum."
The weekend kicks off on Thursday from 6-7:30 p.m. with a free NHRA driver autograph session at the New York New York Hotel & Casino. More than 25 drivers are expected to participate (including Capps, Brown, Anderson and Line), and the first 200 fans in line will receive a free Summit racing hat. Tickets for the NHRA SummitRacing.com Nationals may be purchased online at www.LVMS.com, at the LVMS ticket office or by calling (702) 644-4444.
The Mint 400 broke a few records over the weekend. It had probably the biggest turnout of spectators (excluding New Year's Eve) during its parade of special vehicles, and the pit contest, held downtown under the canopy on Thursday evening. It was estimated that more than 18,000 lined the parade route, winding its way through the throngs from 8th street to 3rd street.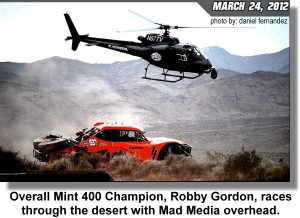 On Saturday, the Bureau of Land Management estimated that more than 27,000 spectators (a lot more were turned away as the spectator areas became full), spent the day watching the 325 Off-Road racers fight the dust, rocks and Nevada desert for the magical words—"I finished the Mint 400," the toughest, meanest, dirtiest race in the world. Unofficial results show that 147 vehicles finished the required laps in the race. Robby Gordon, of Indy and NASCAR fame, won the overall championship, carrying on a tradition set by his father, Bobby, back in the original days of The Great American Off-Road race. And, another tradition was also continued, when Rob MacCachren of Las Vegas, took the checkered flag as first overall in his class.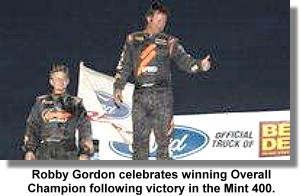 Mel Larson, who was the Grand Marshall for the 2012 Mint 400, along with this writer (I originated the race in 1967-68, when I was an executive with the Del Webb Corporation), and K.J. Howe, who mentored the race beginning around 1975, were honored at the awards banquet held Sunday at the Golden Nugget.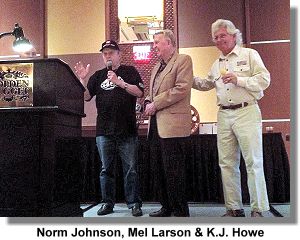 Former Las Vegas journalist, Murray Westgate, is back in town from his new home in Thailand, visiting with many of his old friends. Murray stopped by to chat with, Cork Proctor and this reporter, and in so doing, brought along an advertisement for a former Las Vegas performer. He just wanted to show you don't need to work in Las Vegas to be successful. The ad was for Olivia Newton-John, and the ticket prices ran from 1,500 Baht ($49.99) to 6,000 Baht ($195.00), and the auditorium was sold out.

Well, gang, that's about it for this week. I'm outa here!

CONTINUE ON TO...:

>It's The Norm Article Archives
>Las Vegas News - "Heard Around Town"
>Las Vegas Leisure Guide