Well, gang, the Mint 400 is just a few hours away from making its re-start of a glorious future in the history of Off-Road Racing. At 1:00 p.m., Saturday, March 24, 2012, Mel Larson, will raise the green flag and the New Mint 400, will officially be underway, from Jean, Nv.

Larson, who helped guide the race into its days of glory during the early'70s, taking over in its third year, from its creator, this writer, has been named Grand Marshall by the Martelli brothers, Matt and Josh, of Mad Media. Mad Media purchased the rights to the race last year.

A total of 325 vehicles from around the world, have entered the New Mint 400, with another 100 plus on standby. The Bureau of Land Management, who controls the land where the race will be run, has limited the number of entries to 325.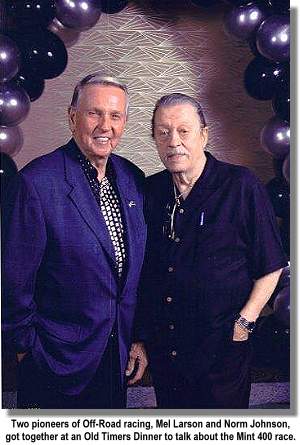 "Having Mel Larson and Norm Johnson as part of its renewal process has been very important to us," Matt Martelli said. "And they have helped considerably in its promotion, and in providing advice when needed."
The biggest difference in the New Mint 400 is the addition of off-road race promoter, Casey Folks, who owns The Best in the Desert organization (considered by many competitors as the best and most trustworthy promoter in off-road racing). Folks, who not only competed in the early days of the Mint, but won it a couple of times riding a motorcycle, was the only choice, according to Josh Martelli. "We considered only one man, and had he not agreed to promote the race, along with us, we may not have purchased the rights to the race."
"It's been an honor to once again be a part of the Mint 400," Johnson said. "I've met a number of the new young chargers, who started watching the Mint when they were just kids, and you can't find a better bunch of young men, and women. And, the equipment they race today is the biggest change. It's like comparing a bicycle to a fine tuned motorcycle. It's absolutely mind blowing!"
THIS AND THAT QUICKLY:
A free National Hot Rod Association (NHRA) driver autograph session will take place Thursday, March 29, at The New York New York Hotel & Casino from 6-7:30 p.m. The event is the traditional kick-off for the annual Full Throttle Drag Racing Series' and the NHRA SummitRacing.com Nationals, held on The Strip at Las Vegas Motor Speedway. The autograph session will be held outdoors – weather permitting – on the Brooklyn Bridge in front of the casino, and will feature several show cars. Drivers scheduled to participate in the autograph session include: Tony Schumacher, Antron Brown, Greg Anderson, Jason Line, Spencer Massey, Ron Capps, Jack Beckman, Matt Hagan, Johnny Gray, David Grubnic, Mike Neff, Jeg Coughlin Jr., Jeff Arend, Shawn Langdon, Khalid alBalooshi, Alexis Dejoria, Tim Wilkerson, Bob Tasca III, Terry Haddock, Bob Bode, Shane Gray, Allen Johnson, Terry McMillen, Sean Langdon, Morgan Lucas, Brandon Bernstein, Steve Torrence, T.J. Zizzo, Roger Brogdon, Erica Enders, Larry Morgan, Ronnie Humphrey and Jon Capps.
The 13th annual NHRA SummitRacing.com Nationals begins on Friday, March 30. Spectator gates will open each day at 7:30 a.m. Four pro qualifying sessions will take place over Friday and Saturday, with final eliminations for the Top Fuel Dragster, Funny Car and Pro Stock categories beginning on Sunday at 11 a.m.
What is Nitro Generation? It is the generation of racers that have participated in the National Hot Rod Association (NHRA). It is the generation of fans who have attended NHRA events over the course of the 60-plus year history. It's the one thing they both have in common: all have shared and passed along their passion for the greatest of American sports, NHRA, to other family members and friends.
TOP OF NEXT COLUMN
In 2012, the NHRA is saluting the Nitro Generation, the drivers, and the fans who have made the NHRA what it is today – the world's largest motorsports sanctioning body. NHRA has many racers who have followed in the tire tracks of their parents. Some are racing today, either in different categories or against each other. For example, 15-time Funny Car champ, John Force, 62, will be competing against his youngest daughter, 23-year-old Courtney Force, this season. There are many examples of NHRA Nitro Generation in the NHRA pit area.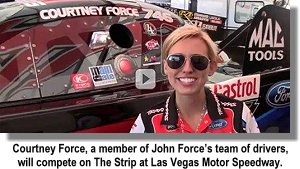 Courtney will enter will enter the family business in 2012 as driver of the Traxxas Ford Mustang in the NHRA Full Throttle Drag Racing Series. A winner in the Top Alcohol Dragster category in the NHRA Lucas Oil Drag Racing Series, she will be the fourth driver in the John Force Racing Funny Car stable. Courtney will join her dad, the winner of 133 NHRA events, 2009 world champ Robert Hight, and double-duty specialist Mike Neff, who also serves as his own crew chief. Courtney's lone TAD victory came at Pacific Raceway in Seattle in 2009. Along with Alexis DeJoria and Khalid alBalooshi, she will be one of several high profile rookie drivers competing for the $20,000 Auto Club Road to the Future Award in 2012. Courtney's older sister, Ashley, became the first female to win a Funny Car race in 2008, winning the Mac Tools U.S. Nationals at Indianapolis two times, and finished a career-high second in the point standings in 2009. Ashley put her driving career on hold, after the 2010 season, to focus on starting a family. She and her husband, Dan Hood, welcomed a son, Jacob John Hood, into the world last August.
Las Vegas headliner Rick Faugno currently performs his self-titled show in The Lounge at the Palms Casino Resort on Tuesday nights. The show has moved to a 10 p.m. start time and, in promotion and for a limited time, at a $10 ticket price. In addition, Nevada residents will have the opportunity to purchase two tickets for the price of one. In Faugno's one-man show, audiences experience a combination of the upbeat New Classic Vegas styles of Blues, Jazz, Soul, Pop, Rock, and Latin genre. His journey of self-expression includes music by innovative performers such as James Brown, Sammy Davis, Jr., Michael Jackson, and Frank Sinatra, as well as original tracks Faugno wrote himself.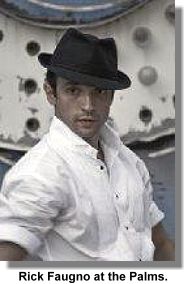 Want to let people know what happens after they hail a cab? That's simple! Write a book about it. Join my friend, Steve Wilson, at Eccoci Fashions, 750 S. Rampart, on March 31, at 5 p.m., as he celebrates the publishing of "Las Vegas Taxicab Confidential." Wilson's book, a delightful, witty, and sometimes acerbic recalling of the sights and sounds he's seen on the Strip and beyond, gives more than a glimpse of life as a cabbie in Vegas.

Readers will learn about how to become a cabbie; the intricacies of navigating hotels and airport, and strip club "politics" when picking up customers, and some of the strange and unusual sights seen by Steven. Come and meet Steven, purchase an autographed copy of the book, and hear him read excerpts from the book, taken from chapters with such titles as Truly a Blonde, I Love Tattoos, and Lauren the Eater.

Well, gang, that's about it for this week. I'm outa here!


CONTINUE ON TO...:


>It's The Norm Article Archives
>Las Vegas News - "Heard Around Town"
>Las Vegas Leisure Guide